Introduction: In this article, Melissa Davenport Berry continues her series profiling descendants of the Mayflower settlers, focusing on the pioneers who founded Seattle, Washington. Melissa is a genealogist who has a blog, AnceStory Archives, and a Facebook group, New England Family Genealogy and History.
I continue with the Mayflower "Who's Who" descendants series. The Seattle Daily Times did a great feature on the Mayflower Society members of Seattle, Washington, who on 21 December 1922 honored their courageous Pilgrim ancestors who crossed the vast Atlantic in 1620.
The date when the Mayflower made landfall at the shores of Plymouth, Massachusetts, is hallowed as Forefather's Day.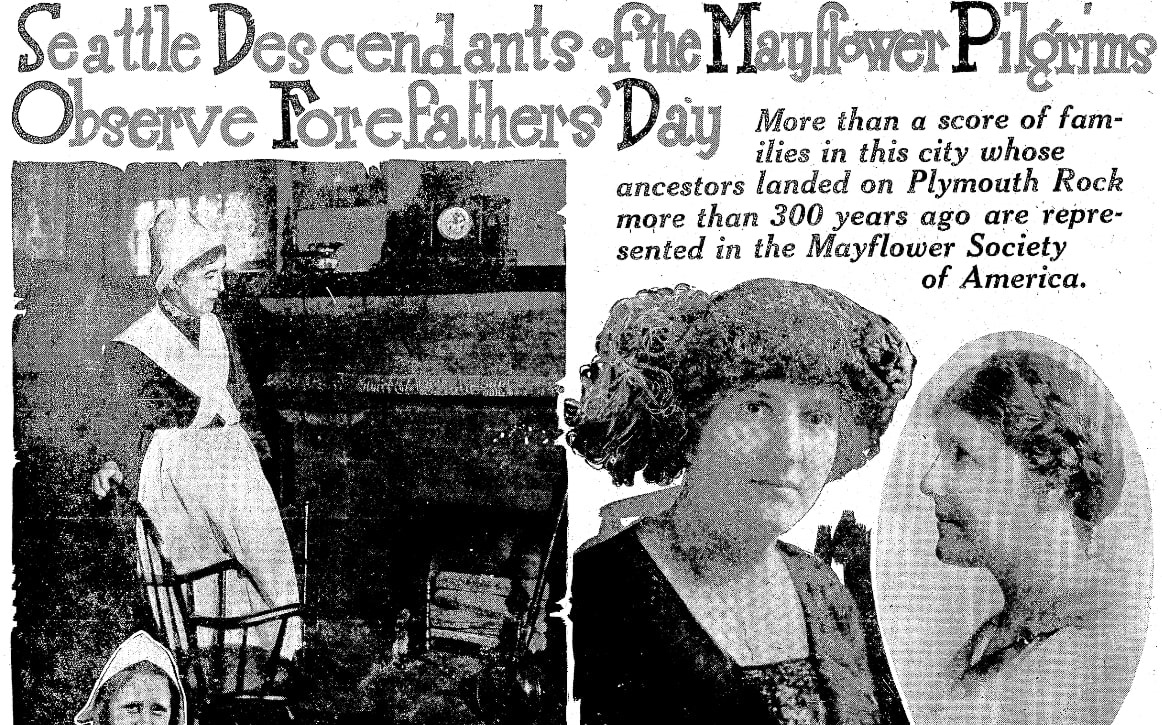 Several Mayflower Society members are pictured in the article, such as: Merle Wilson Denny, son of Arthur Wilson Denny and Catherine "Kate" Orr; and his cousin Mrs. Florence (Denny) Heliker, daughter of Rolland Herschel Denny and Alice Martha Kellogg, and wife of Winthrop G. Heliker. Both members are descendants of Elder William Brewster.
They are descended from Arthur Armstrong Denny, son of John Denny and Sarah Sally Wilson, and his wife Mary Ann Boren, daughter of Richard Freeman Boren and Sally "Mary" Latimer. Like their Pilgrim ancestors, these families journeyed far and settled a new colony known as Alki Point (which became Seattle) in 1851. And they intermarried with the settler family lines.
As this article reports:
"From this same William Bradford, who was governor of the little colony for thirty-one years, are descended a number of Washington residents, among them Mrs. Enegren, Mrs. Cecile Enegren Garland, Mrs. Helen Enegren Garrison of Seattle, Mrs. Annette Fitch Nelson of Everett, Mrs. Mary A. McKinley Walker of Aberdeen, Mrs. Mabel F. Hopkins of Elma.

"Father of the Pilgrim Fathers is the title given to the worthy Elder William Brewster, who preached 'powerfully and profitably' in the first years of Plymouth Colony, and his pioneer spirit was handed down through the centuries to his ancestors, until some of them, more than two centuries after he arrived in Plymouth, also landed on a strange shore – this time the sandy beach of Puget Sound [a deep inlet of the eastern North Pacific Ocean indenting northwestern Washington]. Descended from Arthur A. Denny, one of the fathers of Seattle, as well as from the Father of the Pilgrim Fathers, are these members of the Mayflower Society, among them Mrs. Florence Denny Heliker, Roland H. Denny, Merle W. Denny, Mrs. Helen Denny Carnahan, Mrs. Caroline Denny Bamford, Mrs. Edith Denny Lamping, all of Seattle, and Mrs. Mable Denny Thompson of Walla Walla."
In 1905 the city hosted a dedication memorial to these pioneer families.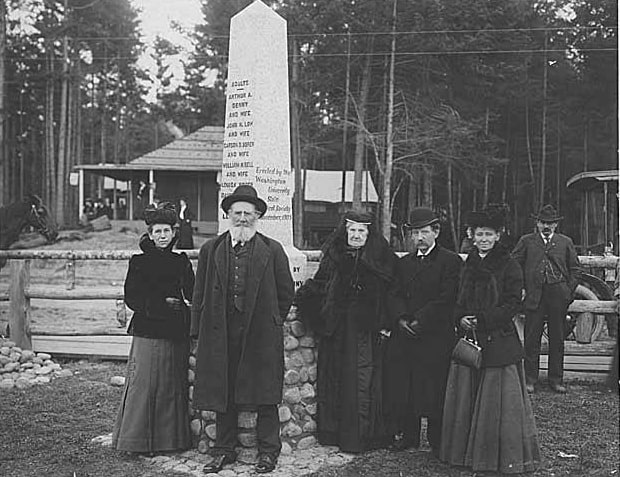 Another rededication ceremony was initiated in 1926 with a special delivery from Plymouth: "a stone from the site of the original Plymouth Rock." This was an inspiring drama in which Seattle merged with Plymouth. The details of this ceremony were reported in the Seattle Daily Times.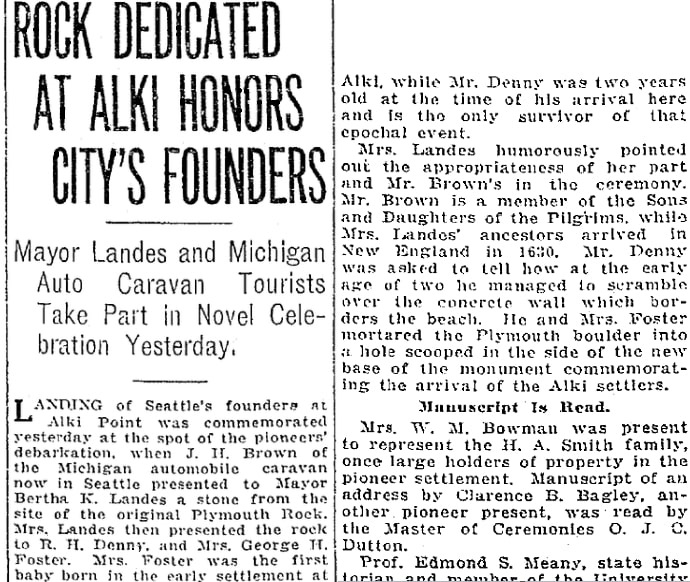 The event was sponsored by J. H. Brown and the Michigan Auto Club, of which he was president.
Merle Denny, then the Governor of the Mayflower Society of the State of Washington, was present and represented the fourth generation of Denny's since the family settled.
Brown presented a stone from the site of the original Plymouth Rock, given to him by Mayor Elbridge of Plymouth, to Mayor Bertha K. Landes – who then presented it to Roland Herschel Denny and Mrs. George H. Foster (Amelia "Nettie" Antionette Low, wife of Frank Herman Foster, son of Silas Herman Foster and Philander Comstock).
Mrs. Foster was the first baby born in the settlement at Alki Point, to John Nathan Low and Lydia Colburn, on 8 October 1852. Roland, son of Arthur Armstrong and Mary Ann Boren, was just two years old when the family arrived and was the last survivor of the epochal event.
Plymouth's Mayor Elbridge suggested the setting of such a rock in Seattle, partly to recognize the spread of the country from coast to coast, and also to honor the part played by Massachusetts citizens in the early development of Washington state.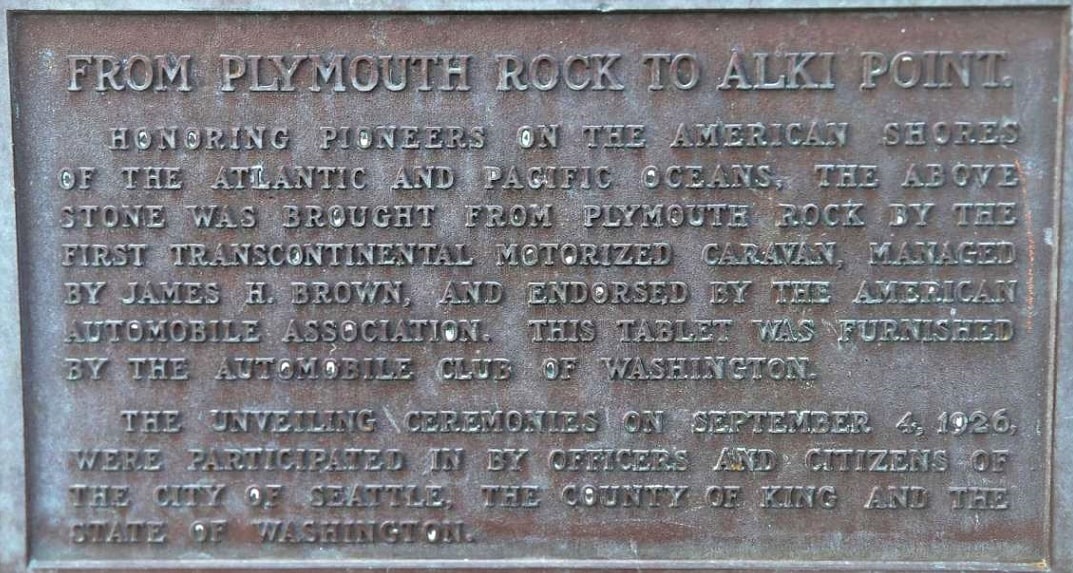 A bronze tablet is part of the monument. It reads:
"From Plymouth Rock to Alki Point. Honoring pioneers on the American shores of the Atlantic and Pacific Oceans, the above stone was brought from Plymouth Rock by the first transcontinental motorized caravan, managed by James H. Brown …"
More Mayflower Society stories on the way!
Note: Just as an online collection of newspapers, such as GenealogyBank's Historical Newspaper Archives, helped tell the stories of the Mayflower descendants who settled Seattle, they can tell you stories about your ancestors that can't be found anywhere else. Come look today and see what you can discover!
Additional Note on the header image: Mayflower generations: Louisa Boren Denny (1827-1916) with her great-great-grandnephew, Rolland Denny Lamping (1907-1980), son of George Butler Lamping and Edith Dillon Denny and the great-grandson of Arthur and Mary Ann Denny in Seattle, circa 1912. Credit: Wikimedia Commons.
Related Articles: