Introduction: In this article, Melissa Davenport Berry continues her series profiling descendants of the Mayflower settlers, focusing on Clara Endicott Sears. Melissa is a genealogist who has a blog, AnceStory Archives, and a Facebook group, New England Family Genealogy and History.
With this article, I continue with my series "Who's Who" of Mayflower descendants. I found a fascinating lady: Boston Brahmin Clara Endicott Sears (1863-1960), a ninth-generation lineal descendant of William Brewster.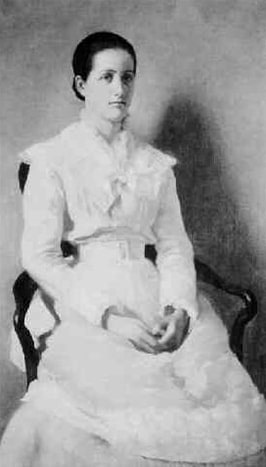 She was proud of her heritage and an active member of the Massachusetts Society of Mayflower Descendants. In 1948 Life magazine featured her in "Life Visits the Mayflower Descendants." Miss Clara devoted her life to historic preservation and philanthropy. She is a true Colonial Dame.
An obit in the Boston Herald on Saturday, 26 March 1960, gave some details of her life:
"Miss Clara Endicott Sears, 97, of Boston and Harvard, author, collector and founder of Fruitlands and the Wayside Museum, both in Harvard, died yesterday at the Hotel Vendome, where she maintained her residence.

"Born in Boston Dec. 16, 1863, she was the daughter of Knyvet Winthrop Sears and Mary Crowninshield (Peabody) Sears. She was a descendant of Governor John Winthrop, the first colonial governor of Massachusetts, on her paternal side, and Governor John Endicott, on her maternal side, as well as of six other colonial governors."
More interesting details:
"After her debut in Boston, she spent many years traveling in various parts of the world, collecting items with which to decorate her homes in Boston and Harvard.

"The country home overlooked Fruitlands, where Bronson Alcott, the transcendentalist, and the English mystics attempted to create a utopian existence in 1843. She undertook the restoration of this house to be furnished as a historical museum of that episode, and collected much of the original furniture, books and papers related to it."
She later added three other museums to display her Indian relics and art objects – for the founding of these museums, she was given a gold medal from the National Society of New England Women in 1942.
The obit listed her many memberships, including:
Massachusetts Society of the Colonial Dames of America
Society of Mayflower Descendants
Academy of Social Science in New England and New York
Historic Genealogical Society
Society for the Preservation of New England Antiquities
Boston Authors Club
New England Poetry Club
Chilton Club
Women's City Club of Boston
Sears was also an author. As her obituary reported:
"Some of the books she wrote were the result of her researches in connection with her museums. Among them were Highlights among the Hudson River Artists, The Bell-Ringer, Wind from the Hills, and her Early Personal Reminiscences in the Old George Peabody Mansion in Salem."
This 1927 newspaper article mentioned two more books she published related to her historical preservation work: Bronson Alcott's Fruitlands and Gleanings from Old Shaker Journals.
This 1996 newspaper article highlighted the many accomplishments of Sears, and stated that she "was strong-willed and independent, traits not often displayed by women of that era." Her papers can be found at the Fruitland Museum Archives.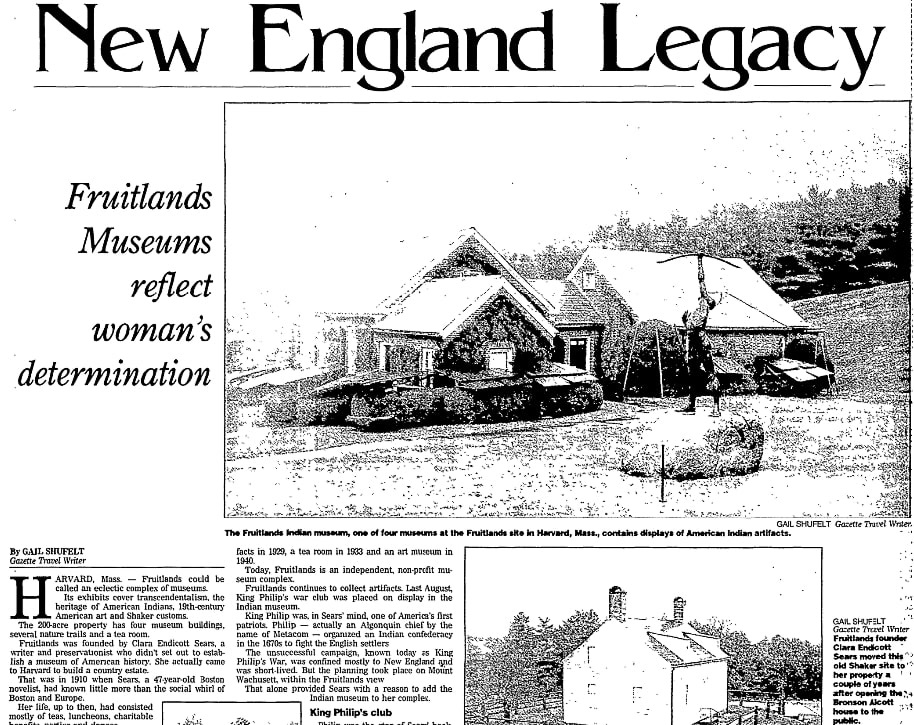 This article reported:
"Fruitlands could be called an eclectic complex of museums. Its exhibits cover transcendentalism, the heritage of American Indians, 19th-century American art and Shaker customs. The 200-acre property has four museum buildings, several nature trails and a tea room. Fruitlands was founded by Clara Endicott Sears, a writer and preservationist who didn't set out to establish a museum of American history. She actually came to Harvard [Massachusetts] to build a country estate."
Sears had two bronze statues placed on the lawn of the museum site. One of them, "Pumanangwet" (He Who Shoots the Stars), was a collaboration with her cousin, Philip Shelton Sears, a sculptor who made the statue.
And to note: Philip Shelton Sears, son of Frederic Richard and Albertina Homer (Shelton) Sears, was a member of the Mayflower Society, along with many other family members who married into other Mayflower lines. Philip was also a professional tennis player, and two of his brothers were just as skilled with the racket: Richard Dudley Sears and Herbert Mason Sears. (More on them later.)
I must say, the lives of these descendants were much different than those of their Mayflower ancestors – those Pilgrims placed in hallowed ground, as this Boston Herald image depicts.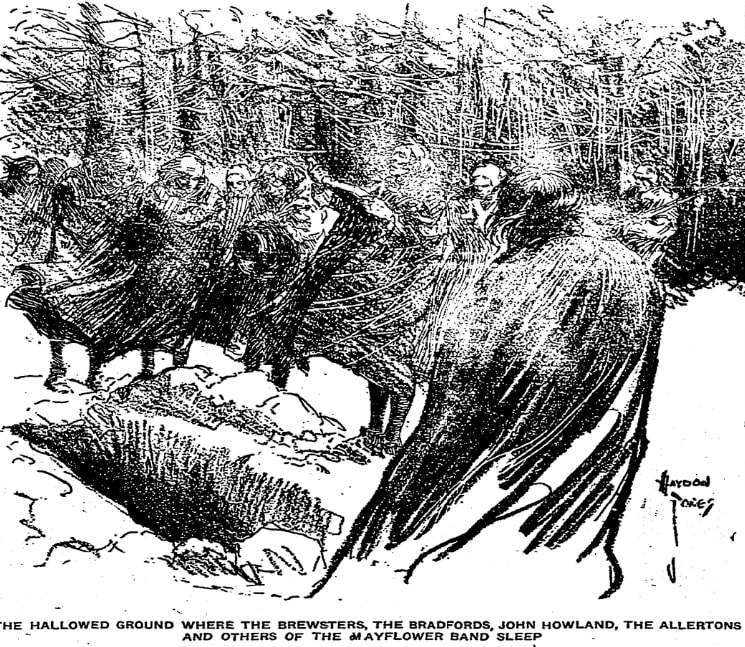 More Mayflower descendants coming!
Note: Just as an online collection of newspapers, such as GenealogyBank's Historical Newspaper Archives, helped tell the stories of Clara Endicott Sears' life, they can tell you stories about your ancestors that can't be found anywhere else. Come look today and see what you can discover!
Additional Note on the header image: two photos of Clara Endicott Sears. Courtesy of the Fruitland Museum Archives, 102 Prospect Hill Road, Harvard, Massachusetts.
Related Articles: