Introduction: In this article – to help celebrate National Hispanic Heritage Month – Gena Philibert-Ortega writes about various salsas, and includes recipes. Gena is a genealogist and author of the book "From the Family Kitchen."
Salsa is a very serious subject in my home. One of my sons remarked that if someone (a family or restaurant) serves "bad" salsa than why would you want to eat their food? For him, salsa is integral to a good meal.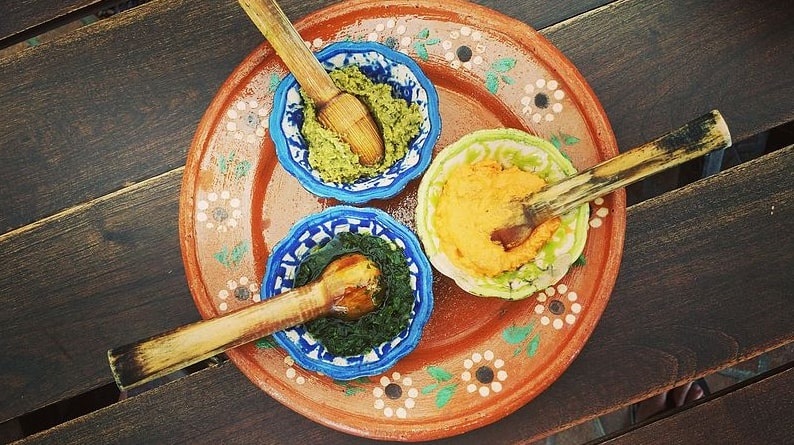 Hot sauce, taco sauce, pico de gallo, and salsa fresca are just some of the types of salsa that you might have with your Mexican food. The word "salsa" means "sauce" in Spanish, so in reality there are various and diverse types of salsas – but for most Americans, the word salsa equates to a chunky tomato-based Mexican sauce that includes onions, cilantro, and garlic.
At least one of the cookbooks in my collection emphasizes that the most important ingredient is the chiles. While many salsas use jalapenos, they aren't the only chili you can add to make your salsa spicy.
There's no doubt that salsa is popular in the United States. News stories began to appear in the 1990s reporting that salsa was outselling ketchup as America's favorite condiment.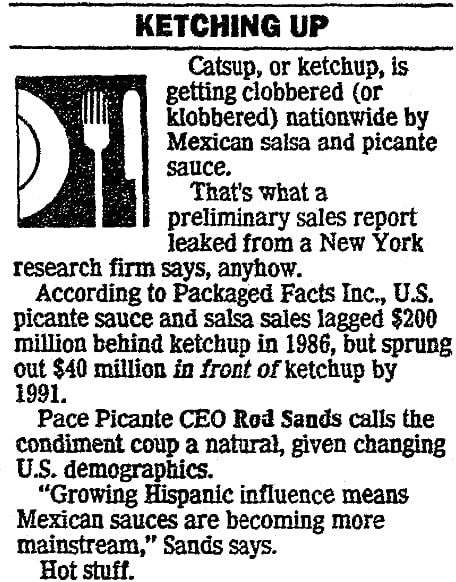 (Today, you can find various reports on the internet claiming mayonnaise, ketchup or salsa as America's number one condiment. The point is: salsa has become very popular in the U.S.)
For most Americans, sitting down at a Mexican restaurant is quickly followed by an order of corn tortilla chips and salsa. Although our popular idea of salsa has a newer origin, hot sauces accompanying Mexican food in America has a longer history.
Salsas can be cooked or raw, blended or chunky, really spicy or mild – they can even have a non-tomato base. Most everyone has an opinion about what makes a good salsa, so luckily newspapers have various recipes to try.
Recipes
An online collection of newspapers, such as GenealogyBank's Historical Newspaper Archives, provide us with some ideas for making variations of salsa at home. Salsas can combine ingredients beyond the traditional red tomato, onions, and chili pepper. Tomatillos, avocados, and even fruit can be used to make an accompaniment that is as diverse as the dish being served.
One of the most surprising places in the newspaper that I found a salsa recipe was in the comics. This 1960 comic strip, "Gordo," provides readers with a simple salsa ("Gordo's salsa") that can be served with meats as part of a Texas BBQ. The salsa would be mild because it only contains green canned chilis. The comic even instructs readers to cut the comic strip out to save for reference.

In this more recent article about salsa, the writer provides three different salsas representing each of the colors of the Mexican flag: red, green, and white. In Olivia's Salsa recipe she recommends using different peppers and roasting them. Roasted peppers are a way to make a flavorful salsa that has a hint of smokey flavor.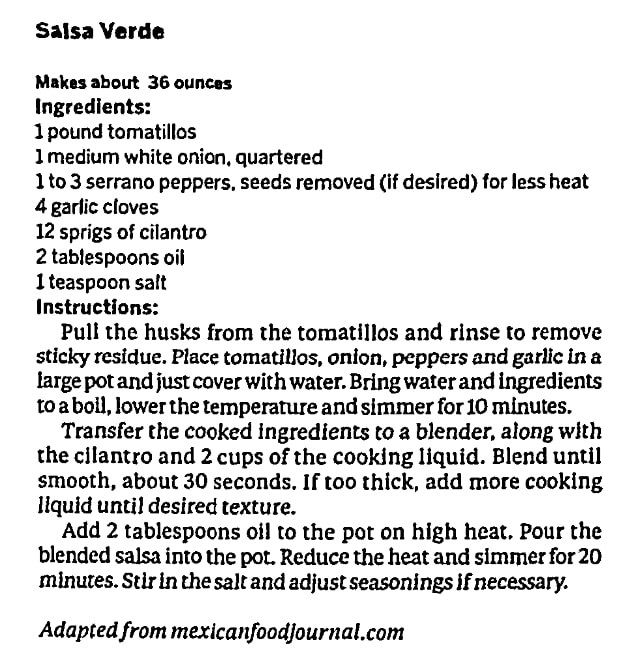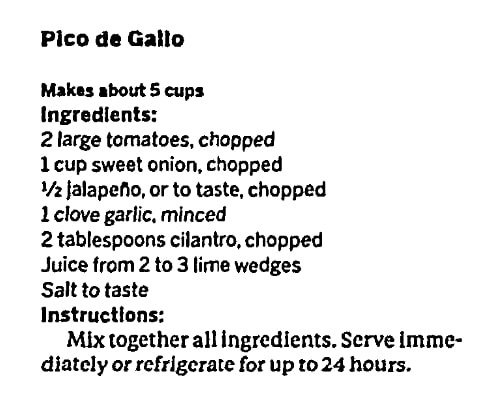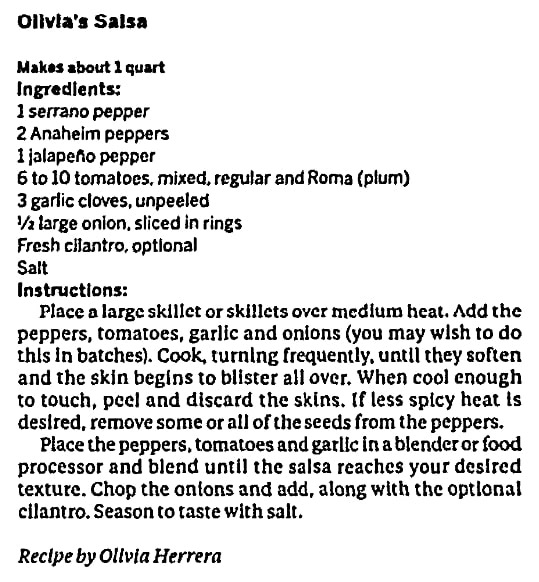 One type of accompaniment that is often thought of as a salsa by restaurant goers is pico de gallo, a mixture of fresh chopped ingredients. Typically, pico de gallo is made from tomatoes, onions, jalapenos, and cilantro. If you aren't a fan of spicy foods, you can substitute the jalapeno with another milder chili, or make sure that you don't add the seeds. In this recipe the lime juice adds some extra flavor. You can use pico de gallo with chips, but it's great for all kinds of dishes including tacos, eggs, or tuna, as we see with this recipe it accompanies. If you're a fan of seafood, you could also use this with a swordfish steak.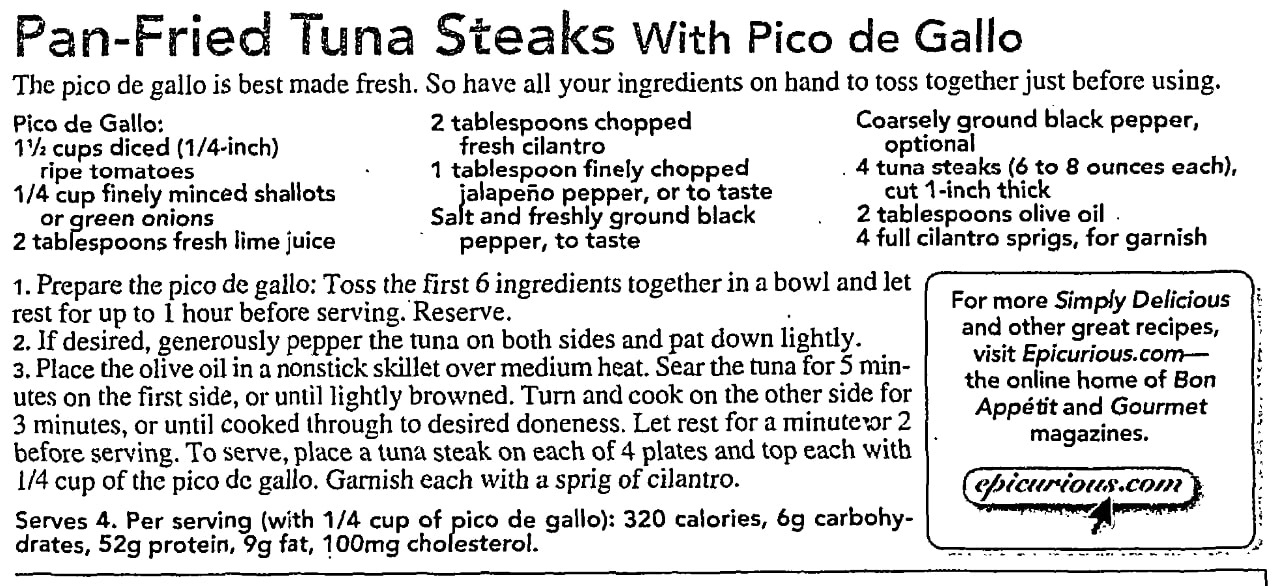 The idea of fruit salsa is more contemporary and can be a great accompaniment to all sorts of dishes – and for those who don't like their food on the hot side, it's perfect. This newspaper article provides a few fruit salsa options including Mango Salsa, Pineapple Salsa, and a Tomatillo-Pineapple Salsa (tomatillos are a type of green tomatoes).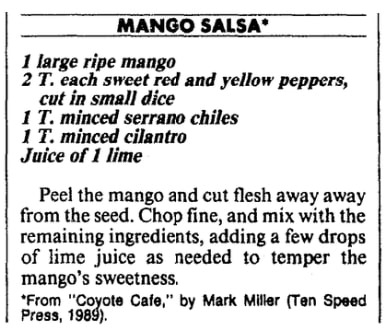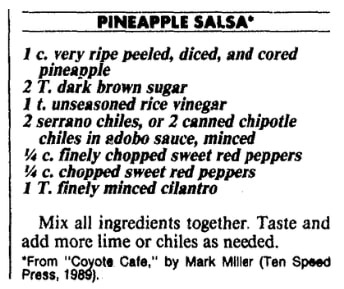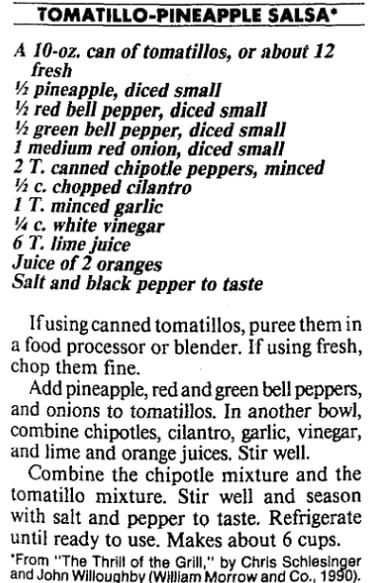 What's Your Salsa Recipe?
At my house, homemade salsa is uncooked, chunky and incorporates tomatoes, onions, jalapenos (1-2), garlic, cilantro, and salt. I have no idea how long that keeps in the refrigerator because it's usually gone a few hours after it's made.
What's your salsa recipe? What's your favorite salsa? Let me know in the comments.