Introduction: In this article – to help celebrate National Hispanic Heritage Month – Gena Philibert-Ortega writes about "La Prensa," a family-owned U.S. newspaper tied to the Mexican Revolution. Gena is a genealogist and author of the book "From the Family Kitchen."
Did you know that GenealogyBank's Historical Newspaper Archives include foreign-language and bilingual newspapers published in the United States? Spanish-language newspapers make up part of this collection and represent a diverse variety of newspapers spanning the United States.
Every newspaper has a story unique to its publisher and community. That story can help you better understand what can be found in the newspaper's pages. One of the largest United States-based Spanish-language publications in the 20th century was the San Antonio, Texas, newspaper La Prensa ("The Press").

La Prensa
La Prensa is one of the newspapers in GenealogyBank's collection. It was launched on 13 February 1913 and grew to be the most widely circulated Spanish-language newspaper printed in the U.S., reaching readers in the United States, Mexico, and Central America. (1) Founded by Ignacio Lozano, the newspaper was an attempt by journalists who left Mexico during the Revolution to keep expatriates and others up-to-date on what was happening south of the border and in their new home, the United States.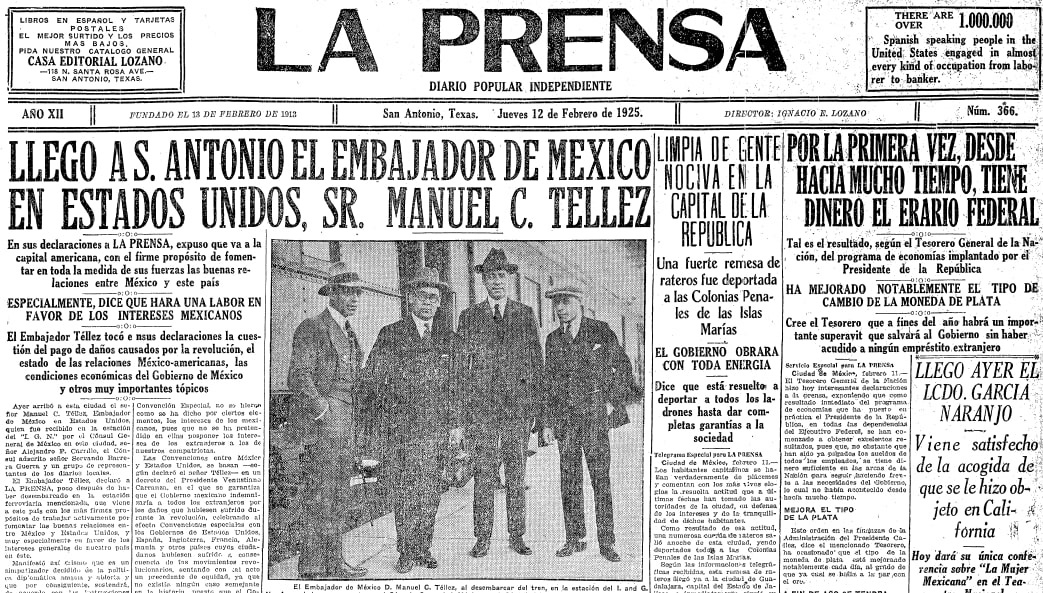 La Prensa reported on the information you'd expect of a newspaper – but at its heart, it was political. It criticized both Mexican and U.S. politics that impacted the Hispanic population. "Editorials were also critical of Unites States immigration policies, including school segregation and repatriation efforts in the 1930s and beyond." (2)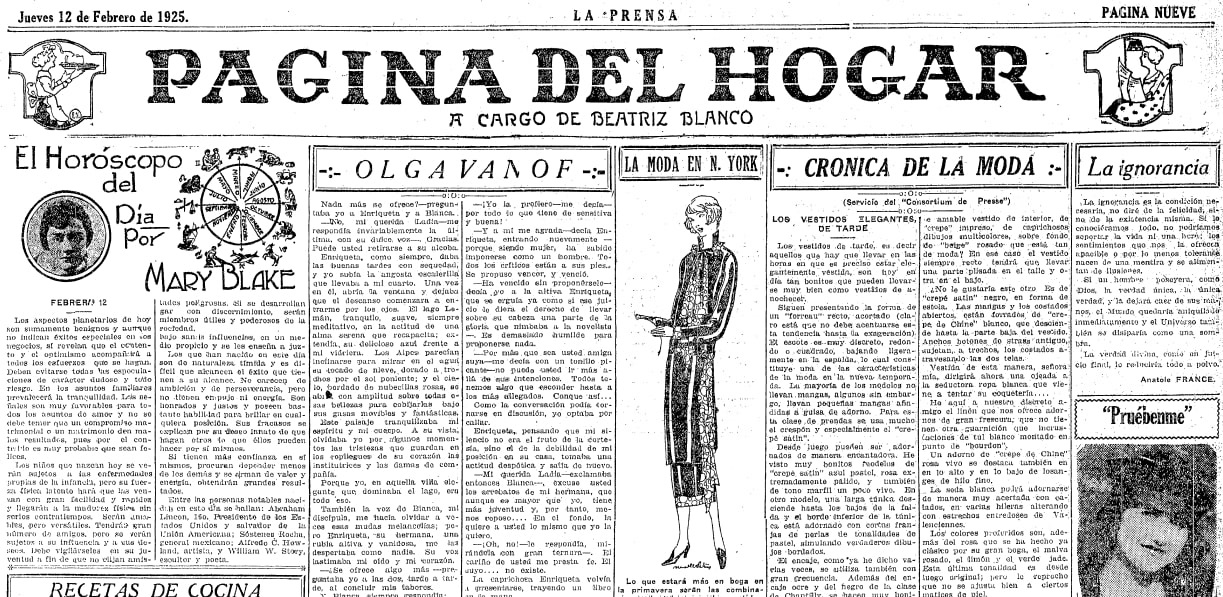 Like other American newspapers, La Prensa included in its pages a women's section that featured everything from recipes to fashion, horoscopes, social news, and advice. Journalist Beatriz Blanco, one of the few women who worked at La Prensa, edited the "Pagina del Hogar." Blanco, like the other journalists at La Prensa, was part of the group known as "El México de Afuera ("Mexico Abroad"), a group of Mexican exiles who left the country during the Mexican Revolution. Her love of her country and her religious faith was reflected in her articles and essays, and would eventually find her returning to Mexico in 1940. (3)
Unfortunately, La Prensa's success wouldn't last. La Prensa's founder, Ignacio Lozano, died in 1953 and his family, unable to continue the newspaper, had to sell it. La Prensa eventually ceased publication in 1963. (4) Interestingly, another Spanish-language newspaper founded by Lozano, La Opinión, published in Los Angeles, California, since 1926, continues to be published (but is not owned by the family). (5)
Searching La Prensa on GenealogyBank
Genealogy Tip: La Prensa, as well as other Spanish-language newspapers in the GenealogyBank collection, must be searched using Spanish-language keywords or your ancestor's name. If you don't know Spanish, consult the FamilySearch Genealogical Word List or use Google Translate. Some of the newspapers in the collection are bilingual and contain English translations, but not all.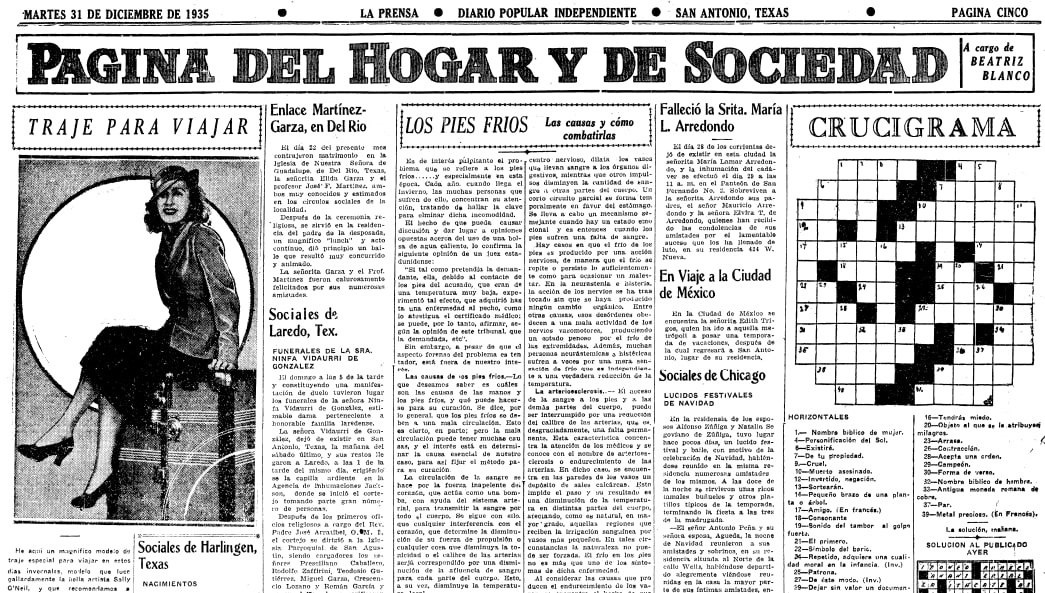 Obviously, with any historical newspaper, you may be interested in finding your ancestor's name. La Prensa does contain genealogically relevant articles including those that document milestone events. But La Prensa is also a great newspaper for researching Mexican and U.S. politics in the early to mid-20th century. This can provide you with some context about your ancestor's life.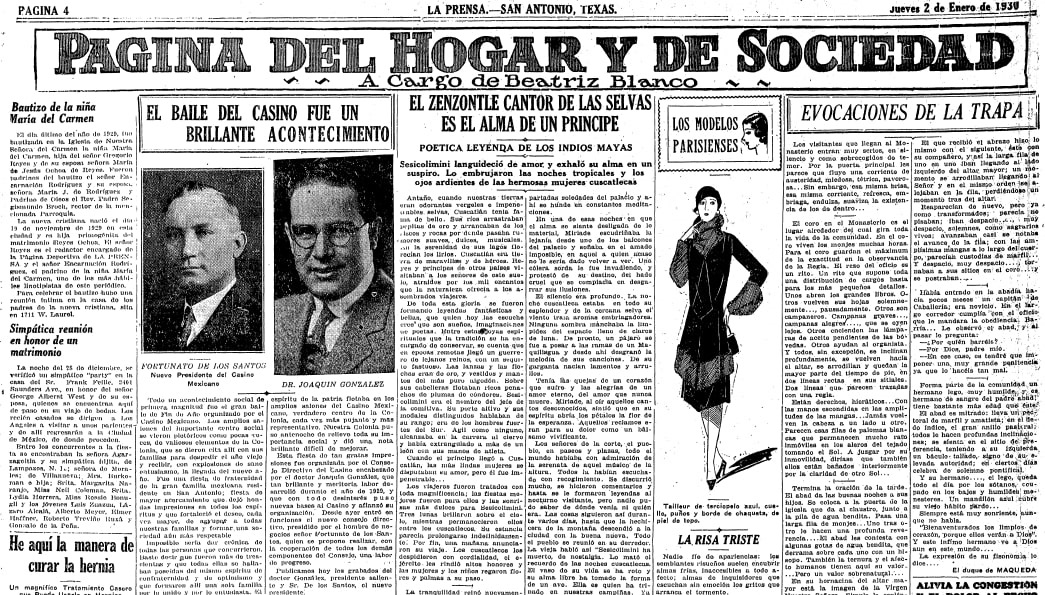 Don't forget the benefit of the Women's Pages with their recipes, advice, and articles. If you're interested in your family's food history, these recipes will provide a look at what your family might have been eating during this time period.
One last tip. It is helpful to read some issues of La Prensa before you start searching. This can help you learn what regular columns were titled, what news they published, and even how names appear. I know in one wedding announcement I came across, the surname for both the groom and the bride appeared in the title (not their first names) separated by a dash, which helped me in my search for other family members.
La Prensa on GenealogyBank
La Prensa started out in 1913 as a weekly newspaper but evolved a year later to a daily newspaper. GenealogyBank's collection spans the first issue until 28 May 1959. You can search the newspaper from the La Prensa collection page which includes member clippings from the newspaper.
_________________
(1) "La Prensa," The Portal to Texas History (https://texashistory.unt.edu/explore/collections/PRENSA/: accessed 01 October 2021).
(2) Ibid.
(3) "Blanco, Beatriz," Handbook of Texas (https://www.tshaonline.org/handbook/entries/blanco-beatriz: accessed 01 October 2021).
(4) "La Prensa," The Portal to Texas History (https://texashistory.unt.edu/explore/collections/PRENSA/: accessed 01 October 2021).
(5) "La Opinión," Wikipedia (https://en.wikipedia.org/wiki/La_Opinión: accessed 03 October 2021).