Introduction: In this article – to help celebrate Thanksgiving – Melissa Davenport Berry wraps up her three-part series of Thanksgiving articles involving Mayflower descendants. Melissa is a genealogist who has a blog, AnceStory Archives, and a Facebook group, New England Family Genealogy and History.
Here's a little Thanksgiving fun from Mayflower descendants – and a Turkey descendant from Thanksgiving Past!
In 1934 the Omaha World-Herald featured a photo and write-up of Nebraska resident Mrs. Andrew Bartholomew Somers (born Amelia Hannah Capron to John Putnam Capron and Mary Vashati Stannard), a descendant of Mayflower Pilgrims John Alden and Priscilla Mullins, sitting at the Alden family table lighting candles for the Thanksgiving holiday.
The article accompanying this photo reported:
A descendant of John and Priscilla Alden, Mrs. A. B. Somers, 423 North Fortieth Street, today will have her Thanksgiving turkey from a gate-legged table that once belonged to Alice Alden, who was Mrs. Somers' great-great-great-grandmother. Alice Alden [daughter of John Alden and Thankful Parker, who married John Capron] was a descendant of John and Priscilla Alden.

To be seated at the Alden table will provide a link between the present and the pioneer past when the Aldens and their friends established the Thanksgiving Day custom.
The article went on to explain that Mrs. Somers didn't know how old the table was, but she could utilize the family relic, small as it was, because that year her head count was down. Her Thanksgiving guest list was only three people: her sister-in-law Miss Agnes Somers; and two nieces of the latter, Jessie Madge Towne and her sister Mary Agnes Towne, daughters of Solon Rodney Towne and Harriet Christina Somers. They descend from the Towne family who settled Topsfield, Massachusetts, infamous in the Salem Witch Trials of 1692.
And FYI: Mrs. Somers is also a descendant of Newbury settlers Robert Adams and John Coker, who married Elizabeth Hathorne (daughter of Judge William Hathorne).
The article also reported:
The dinner will be a gay one, too, or else Mrs. Somers' reputation for wit is undeserved. And if the nieces ask it, perhaps Miss [Agnes] Somers will read them a poem, "Old Times and New," which her mother [Margaret Lindsay Somers] clipped from a newspaper of December 22, 1846, and which recounts the marvels witnessed by Richard Warren, a Mayflower passenger, when he came back to the earth for a brief visit.
In Oregon in 1952, the Thanksgiving festivities were on full force for Mayflower descendants. The Oregon Journal featured Mayflower Society members with a full-page spread and the headline: "Their Thanksgiving Day Has Special Significance."
The short text reported:
Mayflower members are proud of their lineage, and reaffirm their faith and ancestry at their annual meeting, held always as near to November 21 as possible.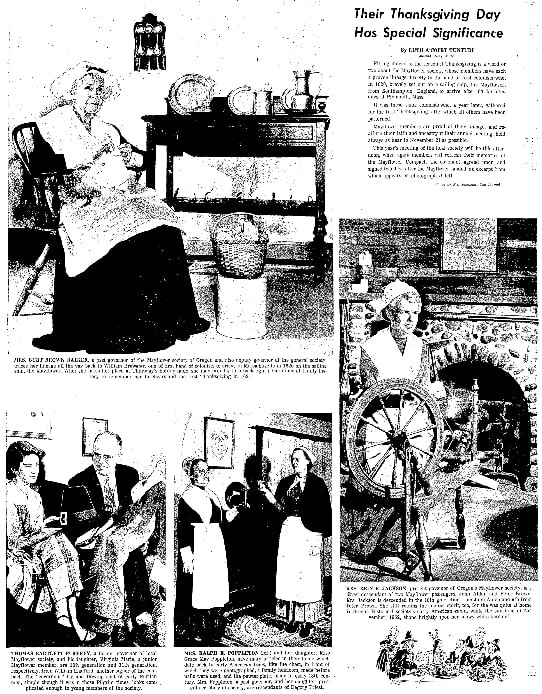 Here is a closer look at some of the Mayflower Society members featured.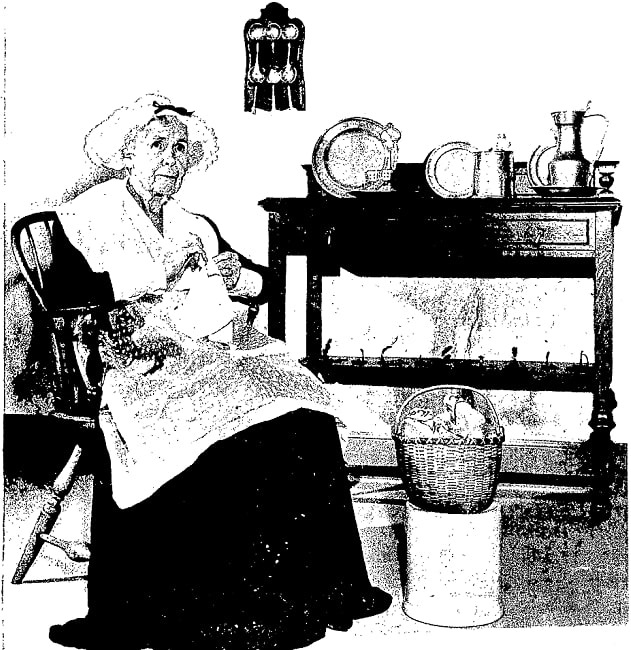 Her photo caption read:
Mrs. Burt Brown Barker [born Ella Starr Merrill to Thurlow Bethel Merrill and Ellen Celinda Starr], a past governor of the Mayflower Society of Oregon and also deputy governor of the general society, traces her lineage all the way back to William Brewster, one of [the] first band of colonists to arrive in Massachusetts in 1620 on the sailing ship, the Mayflower. When she takes her place at Thursday's holiday table, she may proudly turn back eight generations of family history to remember her forebears and the first Thanksgiving in 1621.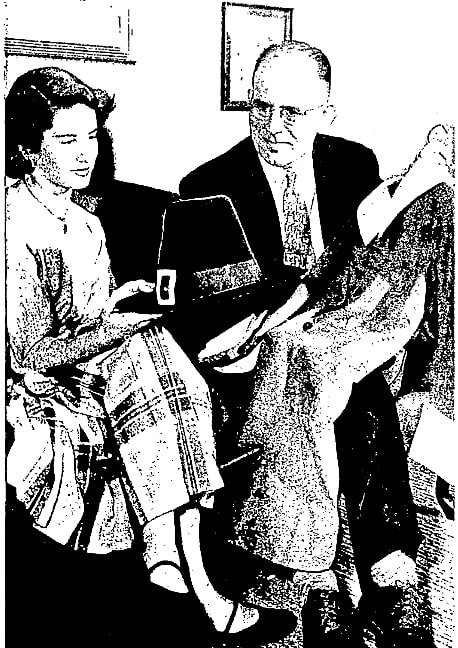 Their photo caption read:
Thomas Bartlett Pumfrey [born to Thomas Pumfrey and Sadie Euphemia Bartlett, married Gladyce C. Larsen], a former governor of [the] local Mayflower Society, and his daughter [Virginia Marie], a junior Mayflower member, are 10th generation and 11th generation, respectively, from William Bradford, another signer of the [Mayflower] Compact. The "cavernous" hat and flowing coat of early Puritan men, simple though it was in those Pilgrim times, look complicated enough to young members of the society.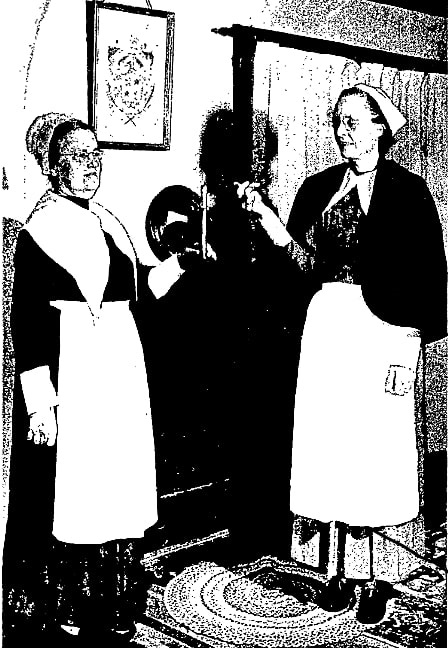 Their photo caption read:
Mrs. Ralph E. Poppleton (left) [born Irene Lincoln to George Cummings Lincoln and Arabella May Whitcomb] and her daughter, Miss Grace Mary Poppleton, have many articles in their home which date back to early American times, like the chest in front of which they were photographed, a family heirloom, made before nails were used, and the pewter plate, made in [the] early 18th century. Mrs. Poppleton, a past governor, and her daughter, present secretary of [the] society, are descendants of Degory Priest.
Her photo caption read:
Mrs. Rein E. Jackson [born Elsie Gilbert to Philip Gilbert and Alcetta Gregory Tinkham], present governor of Oregon's Mayflower Society, is a direct descendant of two Mayflower passengers, John Alden and Peter Brown. Mrs. Jackson is descended in the 10th generation from John Alden and 9th from Peter Brown. She still retains the pioneer spirit, too, for she was quite at home in [the] Oregon Historical Society's early American cabin, while the sunshine of November 1952 shone brightly upon her snowy white kerchief.
And this last clip I could not resist! A creative advertisement in the Corpus Christi Caller-Times from Texas.
This ad read:
Plymouth Rock, Mass. – Nov. 8 – A direct lineal descendant of the first turkey eaten at the first Thanksgiving today charged that the American people are mistreating the Thanksgiving turkey.

"We object to the method of cooking the Thanksgiving turkey," asserted Frederick F. Van der Gobble III. "This year the turkeys of America united. We ask but one thing: if you can't cook us right in a Chambers Range… eat crow!"
I would like to conclude this Thanksgiving piece with a big Thank You to New Hampshire-born Sarah Josepha (nee Buell) Hale in Heaven. Sarah, first women editor known for her famous poem, "Mary Had a Little Lamb," campaigned vigorously for this national holiday. That will be another story for me to explore, but until then you can read about her on the Farmer's Almanac page.
Happy Thanksgiving!!
Explore over 330 years of newspapers and historical records in GenealogyBank. Discover your family story! Start a 7-Day Free Trial.
Note on the header image: Plimoth Plantation living museum, Plymouth, Massachusetts. Credit: Nancy; Wikimedia Commons.
Related Articles: