Introduction: If your ancestor had trouble with the law or was the victim of a crime – or participated in a civil or criminal trial – law articles in the newspapers of that time might have family history information to help your genealogy. In this article, Gena Philibert-Ortega gives several examples of law articles she found while searching old newspapers, and shows what good genealogy information they provide. Gena is a genealogist and author of the book "From the Family Kitchen."

One of the reasons I love newspapers for my family history research is that they tell the story of a community, the entire story both good and bad. Legal news and records of all types can be found in the newspaper including arrests, court cases (criminal and civil), as well as investigations into crime. Unlike other types of newspaper topics, those involving the law result in numerous follow-up articles as court cases are heard over days and weeks, or as an offender is arrested multiple times.
Let's look at a few examples of legal articles to see what you can find out about your ancestors in the pages of old newspapers.
Police Blotters
Have a black sheep ancestor who was up to no good? The first place you may find their misdeeds mentioned is in the newspaper's police blotter. What I love about these short news articles is they often provide other details, like the victim's name and address.
This example includes a notice that 13-year-old James Pooler was committed by his father to the House of Refuge. Judging from the mention in this same article of a 14-year-old boy who was similarly committed for the crime of stealing lead from the Bell Telephone Company, my guess is that the House of Refuge was Juvenile Hall.
It seems stealing lead was not that unusual. This same notice reports that the prize fighter "Bull" McCarthy was also arrested for stealing lead.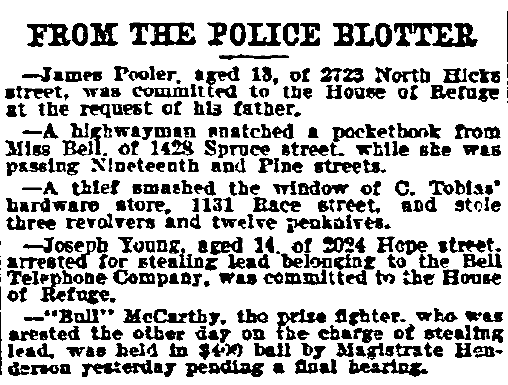 Genealogy Search Tip: it's easy to get in a rut with your newspaper searches. Make sure you don't just stick to one keyword or keyword phrase as you search. Case in point: the phrase "police blotter." Sure that's the typical wording on the daily or weekly reports regarding police activity and arrests. But in this 1918 Georgia newspaper, the "Town in Tabloid" column reported on police activity such as fines and arrests. In this example, those mentioned received stolen goods, violated traffic laws, or were committed to a state asylum.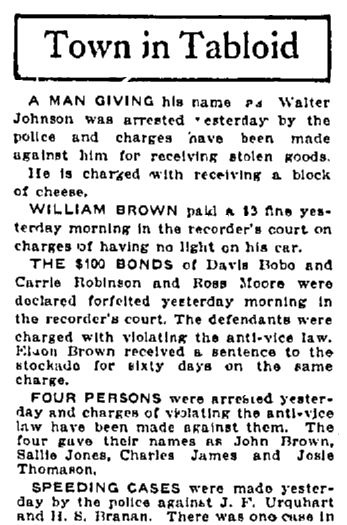 Court Trials
Some of the best parts of a local newspaper are the articles or even brief mentions of criminal and civil court trials. In this example from a 1921 Washington newspaper, notice that the two young defendants, 21 and 19 years of age, wanted to speak to their mothers before revealing their plea.
In the case of one of my ancestors who was murdered in the 1870s, his trial was covered in numerous articles over time and from many areas, as well as newspapers covering the county where he lived.
Genealogy Search Tip: Depending on the details of the crime, don't forget to enlarge your search to include all newspapers, not just the one for the area where your ancestor lived.
Coroner's Inquests
One type of newspaper article you may have missed in your previous searches is reports of a coroner's inquest. These investigations involve coroner personnel and a jury of citizens who try to determine the manner of death. These events can be found in the newspaper and may contain several days of testimony. Although this type of inquiry is for fact finding, afterwards, if the death is determined to be murder, criminal charges may be filed by law enforcement.
In this example from the bilingual newspaper Anunciador (Trinidad, Colorado), two men – Joe Romero and Margarito Diaz – engaged in a fight that resulted in Diaz shooting and killing Romero.
From follow-up newspaper articles, we learn that Diaz professed his innocence at his criminal trial by claiming that the dead man, Romero, had first come toward him with a revolver and "made a movement to draw this weapon." This news article informs the reader that the Diaz and Romero families lived in the same house and there was a witness to the shooting.
One of the reasons that newspaper articles about legal actions can result in genealogical gold is that they typically involve multiple articles over time. What might start as a notice in the police blotter may then go to a coroner's inquest or an article reporting an arrest, and then articles on the trial, and so forth. These newspaper articles are great additions to the family history information you can find in court records.
A good example of all the various types of articles that can come out of legal activities is the following case from 1898 involving Lillian Brandes, a teenage California girl. Numerous articles over time were published in newspapers throughout the United States, most likely because it involved the brutal murder of a young girl. Originally reported as a suicide by her adopted parents, the inquest found that the girl was beaten and killed by her father, with her mother being arrested as an accessory.
Not only does the newspaper report the legal events surrounding the murder, it also provides a short obituary for the young girl.
Just as a criminal trial that catches our interest today, each day of the trial resulted in an article updating the public on what was happening. In this old newspaper article we learn that in the preliminary hearing a neighbor recounted the screams and argument right before the murder.
Like many other cases, the court trial seemed to go on and on. In January 1899, there was a motion for a new trial by the Brandes due to their belief that they could not get a fair trial in the current venue.
Brandes was convicted, but then was tried a second time. In the second trial the testimony included the physician who was summoned to the death scene. Interestingly, at first he thought the girl was still alive and asked for some whiskey to restore her. Mr. Brandes proclaimed the girl was adopted and "this is what a person gets for adopting a stranger into the family."
Newspaper articles about this crime didn't stop at the conclusion of the court trial. Later news articles report on the prison escape attempt by Mr. Brandes, his release from prison, his later divorce from his wife and subsequent arrest on other charges.
Did your ancestor have any interactions or altercations with the law? Even if it was a non-criminal act or they were the victim of a crime, you may find that thorough genealogy research in court records and newspapers will provide a wealth of information. This is a good example of not making assumptions about your ancestor's life, and enlarging your search to include newspapers in other areas of the country. The best thing about black sheep ancestors? They leave the best paper trail!
Related Articles: