Introduction: In this article, Mary Harrell-Sesniak tells the story of Victoria Claflin Woodhull – who in a long, full life replete with many controversies, earned the distinction of being the first woman to run for U.S. president. Mary is a genealogist, author and editor with a strong technology background.

Who, you may be wondering, was this lady? And could you be related to her? If so, she may well be one of the "black sheep" in your family history!
Victoria Claflin Woodhull was a woman full of gumption and a household name in her own time. As a spiritualist, suffragette, newspaper publisher, the first woman to ever run a stock brokerage – and the first woman to run for U.S. president – she became a very famous and controversial person. Read on to find out why.

Brief Family & Marriage History
Victoria Claflin was born 23 September 1838 in Homer, Ohio, to Reuben Buckman "Buck" Claflin and Roxanna "Annie" Hummel. She was one of ten children and the family struggled financially. Buck was a school teacher who later kept a store, and his wife reportedly did not have much education. Victoria's father often got into trouble, including the counterfeiting of money.
He even marketed his children as clairvoyants. From the age of 10, Victoria reported receiving psychic messages from the Greek statesman Demosthenes (384–322 B.C.). The family traveled from town to town until, at the age of 14, Victoria married her first husband, Canning H. Woodhull, a native of New York.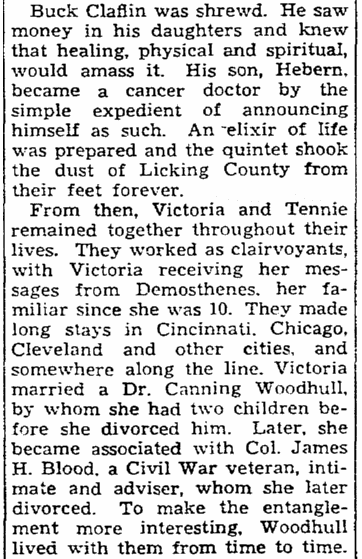 By 1855, they were living with his parents, Byron and Louisa Woodhull. The New York State Census reports a son Byron, and at the time Canning's occupation was sailor. (See "New York, State Census, 1855," database with images from FamilySearch at https://familysearch.org/ark:/61903/1:1:K6Q9-J8C: accessed 3 September 2015.)
They later had a daughter named Zulu Maud Woodhull.
The marriage ended in divorce and Canning's death certificate, displayed on his Findagrave memorial at http://www.findagrave.com/cgi-bin/fg.cgi?page=gr&GRid=42444970, reports he succumbed to intemperance in 1872.
Victoria's second marriage was to James Harvey Blood on 14 July 1866. (See "Ohio, County Marriages, 1789-2013," database with images, FamilySearch https://familysearch.org/ark:/61903/1:1:XZBW-4DX.)
He was a veteran of the Civil War who often went by an alias. Several reports indicate that at times, her first husband lived with them. Victoria's second marriage also ended in a divorce.
A Fortune for a Fortune
As a psychic, Victoria met with millionaire railroad magnate and philanthropist Cornelius Vanderbilt. She told him his fortune which purportedly resulted in a large financial gain for Vanderbilt of $13 million in the gold market – and in exchange, Victoria was reportedly the benefactor of generous financing. She and sister Tennessee "Tennie" Claflin used this money to found the first female-owned bank and brokerage in the United States: Woodhull, Claflin & Company. In 1870, it was located at 44 Broad Street in New York and stayed in business until around 1876. The sisters also founded the first female-owned newspaper, called Woodhull & Claflin's Weekly, which began publication in 1870 in New York.
Newspaper advertisements announced that Woodhull, Claflin & Company bought and sold gold and government bonds, supplied advances, took collections of deposits in all parts of the Union, and paid interest on daily balances. They even provided mail and telegraphic services.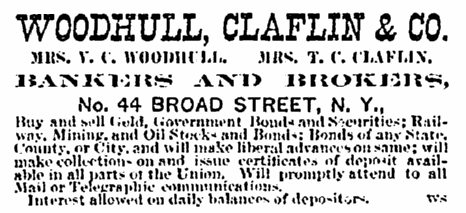 Legal Entanglements
In 1871, Victoria and Tennessee's mother filed a petition to have Victoria's husband arrested, alleging that Mr. Blood (who sometimes used the alias Dr. J. H. Harvey) encouraged Victoria to seek the attention of various married gentlemen for the purpose of blackmail.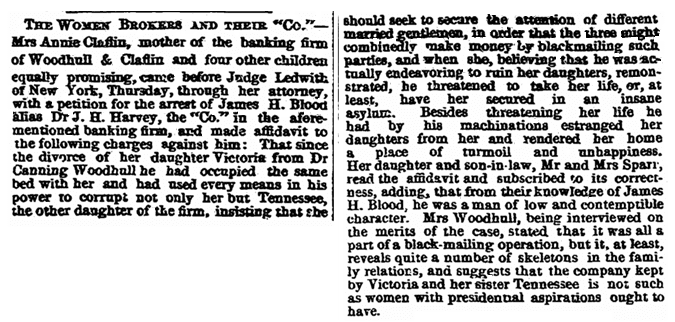 Several other legal squabbles ensued, the most notable with the Rev. Henry Ward Beecher. One of their first entanglements was when the sisters sued, claiming that they were portrayed in the novel My Wife and I, by his daughter, Harriet Beecher Stowe. Later he retaliated with a lawsuit of his own.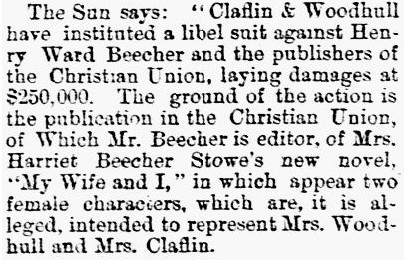 In 1872, the sisters were deterred from sailing to Europe when they were charged by Mr. L. C. Challis with sending defamatory letters through the mail.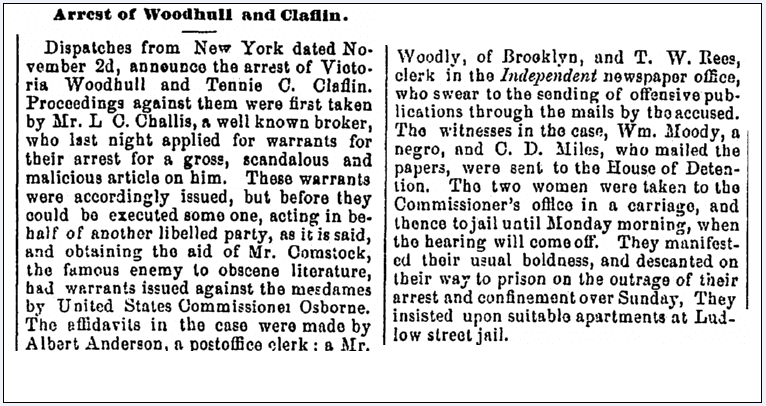 Female Presidential Candidate Hopeful
Many of these lawsuits were instituted by political enemies because earlier that year, Victoria announced she was running for U.S. president on the Reform ticket. Her running mate was noted abolitionist Frederick Douglass.

They were among good company – U.S. presidential candidates that year included Ulysses S. Grant, Horace Greeley and even Susan B. Anthony, who ran for vice president on the Independent ticket. Several authors report that Victoria's name never appeared on an official ballot, as she was not yet 35.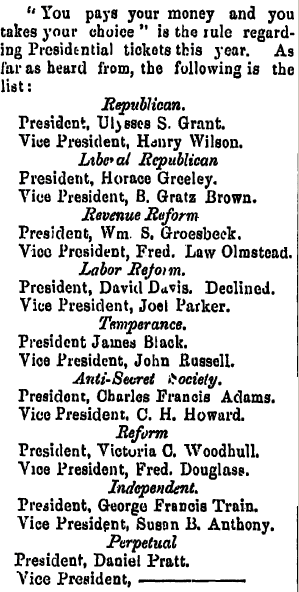 Victoria lost her bid for the U.S. presidency, but went on to live a long, full life. She died at the age of 88 on 9 June 1927.
Are You Related?
I began this article with the question: Are you related to Victoria Claflin Woodhull? After reading these reports, perhaps you're hoping you're not – but as all genealogists know, if you root around your family tree, you'll undoubtedly uncover some dirt.
Related Articles & Resources: