Introduction: In this article, Gena Philibert-Ortega shows how legal notices published in old newspapers are a great genealogy resource, providing a wealth of family history information. Gena  is a genealogist and author of the book "From the Family Kitchen."

When doing your family history research, have you ever given much thought to those legal notices found at the back of the newspaper? Legal notices in newspapers have an important purpose: they notify the public about government and individual actions so that readers may take action if necessary. The publishing of these public notices dates back to 1789, when Congress "required all bills, orders, resolutions and congressional votes to be published in at least three publicly available newspapers."*
According to the genealogical text, The Source, legal notices may include: "land sales for payment of taxes, administration in probate, proving of wills, heirship determination and the settlement of estates, pending divorce proceedings, sales of properties of insolvent estates, and more."**
Have you looked for your ancestor in these public notices published in newspapers? These legal articles can lead you to additional sources stored in courthouse archives, county government offices, and beyond. Let's look at a few examples.
Probate & Estate Notices to Creditors
One genealogically rich source of information is the Notice to Creditors for estates being probated.
At the very least these probate notices provide the deceased's name, such as this example found in an Arizona newspaper following the death of Mary J. Griffin.
This legal notice is a good reminder to not make assumptions about female ancestors. We often assume women in earlier times didn't leave behind wills, but they may have – and if so, legal notice of that will or testament might have been published in the local newspaper. Legal notices are a wonderful source for researching female ancestors.
Legal notices will often include a family member's name who was administering the estate. This notice to creditors article example from an Idaho newspaper includes the name of the deceased, S. F. Beery, and the name of the executor who was most likely a relative, David Beery.
Court Actions & Case Files
Notices of court actions in the newspaper include everything from divorces to individual lawsuits, delinquent tax issues, and foreclosures on property. Consider this example from a Minnesota newspaper that not only notifies the defendants about the court action, it mentions the land that is at the heart of the case.
Let's face it, even our ancestors had money troubles – and that's nowhere more obvious than in the Notice of Summons for delinquent taxes. This example from a North Carolina newspaper published during the Great Depression is an entire page of delinquent tax notices, and includes the names of married couples as well as individuals.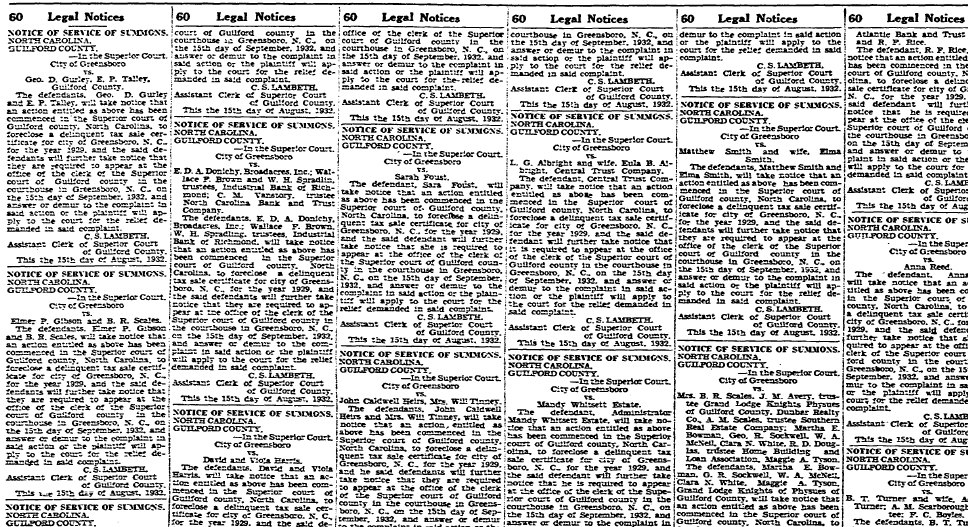 Divorces can be found in various parts of the newspaper (see Divorce Records in Newspapers: Genealogy Research Tips) including the legal notices section. In this example from an Oregon newspaper, Loretta Gates believed her husband John W. Gates to be dead, so a notice was published in the newspaper giving him the opportunity, if alive, to respond to her divorce petition. It states:
SIR: PLEASE TAKE NOTICE that a petition has been presented to this court by Loretta Gates for dissolution of your marriage on the ground that you absented yourself for five successive years, last past, without being known to her to be living, and she believes you to be dead, and that pursuant to an order of said court, entered the 22d day of December 1949, a hearing will be had upon said petition at Supreme Court…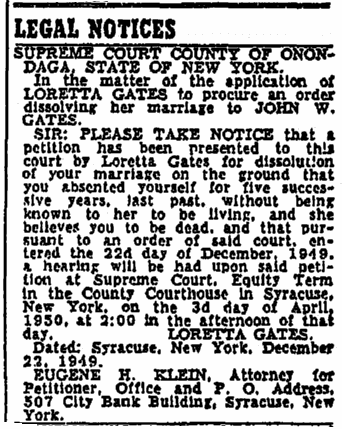 This notice ran in the newspaper for at least three consecutive Sundays, providing ample time for a living Mr. Gates to read it.
Bids
Government notices in the newspaper may provide you a better understanding of an event, or even an occupation, that affected your ancestor. In this legal notice from a Mississippi newspaper, the city of Gulfport in 1936 was taking bids from those who wanted to feed prisoners.
It's important to remember that newspaper articles may report on activities that impacted your ancestor's life, but they won't be specifically named. Search the census and city directories for your ancestor's job and then turn to the newspaper to learn more about how they may have acquired that job.
And Then This…
I have to admit that when I think of legal notices, I think of a certain type of notice such as those I've highlighted above. But you never know what you might find, including this one from a San Quentin prisoner published in a California newspaper.

This pardon notice for Charles S. Cupp surprised me – though I guess it shouldn't have. His seeking a pardon would have been of interest to the community, and its publishing provided the community – and the victim of his crime – with notification so that they could then respond. Cupp had been convicted of shooting at a police officer.
Did You Know?
GenealogyBank has a special category for legal records, probate records and court case files. Explore legal records now >>
Genealogy Tip: Don't limit your newspaper search to just one type of article. Make sure to examine all kinds of newspaper articles, including legal notices that mention your ancestor by name or involved activities that impacted their lives.
————————
* "Public notice and the role Oregon newspapers play." Oregon Newspaper Publishers Association. Accessed 3 May 2015.
** "Newspapers" by Loretto Dennis Szucs, FUGA, and James L. Hansen, FASG in Szucs, Loretto D, and Sandra H. Luebking. The Source: A Guidebook of American Genealogy. Provo, UT: Ancestry, 2006.
Related Legal Notices Articles: