Sometimes when researching your family history, it is difficult to find a relative—they just seem to have fallen off the face of the earth.
Did they go into the witness protection program?
Were they abducted by aliens?
Did they go on a cruise through the Bermuda Triangle?
Maybe they simply changed their name.
After all, many people did opt to change their last name to start anew. This can explain why you can't find records of your ancestors but with this information, you can learn more about your genealogy by understanding your last name origin.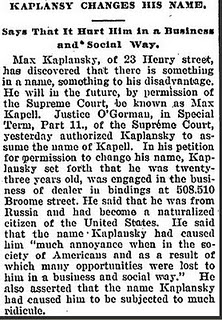 Daily People. (New York, New York) 25 September 1901. page 1.
Russian immigrant Max Kaplansky decided he needed to legally change his name. He had become a naturalized citizen of the United States and a businessman, but found that his surname caused him "much annoyance in the society of Americans" and that he was "subjected to much ridicule."
In 1901 he went to the New York Supreme Court to request that his name be changed to Max Kapell because "Kaplansky" had become an obstacle, costing him "many opportunities" both "in a business and social way." Court Justice James Aloysius O'Gorman agreed with him and granted his petition to change his name.
Kaplansky's experience was something many immigrants with foreign names went through as they tried to fit in to turn-of-the century America. If your ancestor arrived in America around this time, perhaps he legally changed his name for the same reasons Kaplansky did.
Sometimes entire families legally changed their names. In 1848, members of the Dore family petitioned the New Hampshire State Legislature to change their surname from Dore to Richmond. There were a number of other people in New Hampshire who wanted to change their names at this time, as shown in the following historical newspaper article.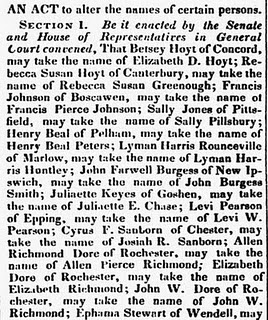 This name change record was printed by the New Hampshire Patriot & State Gazette (Concord, New Hampshire), 6 July 1848, page 3.
I have even found name change records examples where a person applied to have only their middle name legally changed.
Take a look at this old name change record example. It was printed by the Salem Register (Salem, Massachusetts), 8 August 1870, page 3.
In 1870, Hannah A. Simonds, mother of Thomas Batchelder Simonds petitioned her local Probate Court to have her son's name legally changed to Thomas Stanley Simonds. I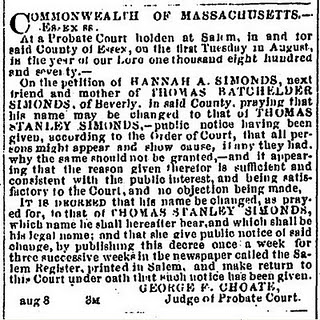 nterestingly the court required her to inform the public of this name change by "publish[ing] this decree once a week for three successive weeks in the newspaper called the Salem Register, printed in Salem…" and then report back to the court "under oath that such notice has been given."
So our ancestors often did change their names and over the years they could apply to various courts or levels of government to request this change. In these three legal name change examples the petitioners applied to their State Supreme Court, a state legislature and to a local probate court.
The key for genealogists is that legal name changes have been routinely reported in the local newspaper and in the case of the Probate Court of Salem, Massachusetts in 1870 – it required that an announcement of the the identity change be published in the local newspaper.
It's amazing the genealogical information you can discover in newspaper archives to help you find missing family members.
(Visited 5,584 times, 2 visits today)