Introduction: In this blog post, Scott Phillips describes how divorce announcements in old newspapers helped him fill in his family tree. Scott is a genealogical historian and owner of Onward To Our Past® genealogy services.
Early on in my work as a genealogist I made the decision to subscribe to GenealogyBank.com to see what they might have in their online Historical Newspaper Archives that could help me with my family history research. I subscribed as a member well over four years ago now and it is still one of the genealogy databases I use most often for my research, and continually tops my annual review of my best genealogy investments. The wide range and the natural diversity of what those newspapers report often hold significant clues to helping me break down my genealogy brick walls.
[search_box]
While all of the marriage and wedding newspaper articles are of course helpful in tracing my family lines, so are the news articles that cover the other end of the spectrum: divorce notices and court proceedings.
It seems that today there is a lot of talk about the prevalence of divorce in our modern society, and that this is a recent development. However, when we look at a few historical newspaper articles we can see that divorce is not a new phenomenon at all—it has been the situation for some time.
Old News Shows Divorce Isn't New
As I began my genealogy research on this topic one of my first discoveries was an 1890 Ohio newspaper article that began with these lines:
Never before in the history of the state courts in this county has the divorce branch of the court been so busy. It must be that the tie binding the marriage relation to society is growing more and more frail.
Sounds like a comment that might be made today—but it was another line in the article's headline that really captured my attention. It said: "Mrs. Vicha, Who Had a Husband Living." Mrs. Vicha is on my family tree; it seems a couple of my own ancestors were adding to this growing trend of divorce, but I will talk more about this a bit later.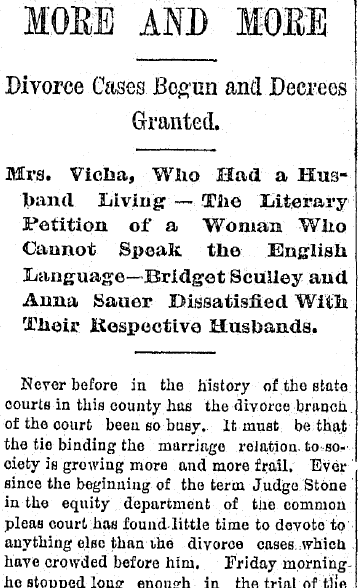 Three years later, this 1893 article lamented: "The divorce business is on the increase in the Cuyahoga county courts, new cases being filed faster than the old ones are disposed of."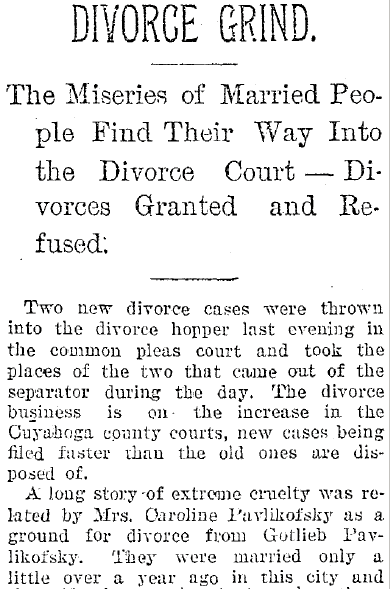 A few years later, this 1905 Georgia newspaper published an article titled "Record Breaking Divorce Session. Thirty Divorce Suits Acted Upon in Three Hours Time Yesterday by Superior Court." As you might expect this was not welcome news, and the article included the following statement: "It would seem as if there was a divorce epidemic in the city."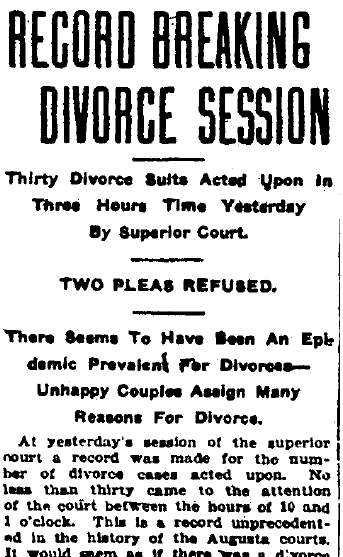 Ten years later, a 1915 Washington newspaper published this article headlined "Olympia's Divorce Record. During Year [There] Has Been One Divorce For Every Four Marriages in Thurston County." One of the items of note in this article is the final sentence which reads:
But for each divorce granted it is estimated that the average will run close to one minor child left without the double protection of both parents, showing that divorce is responsible in a way for the rapidly increasing populations of children's homes.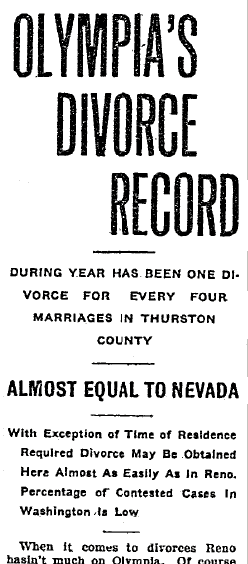 I make this introduction to illustrate the fact that divorce has been fairly common for generations and as such we, as genealogists, need to be aware of that and always on the lookout for it as a possibility in our family trees. Plus, oftentimes you can find some very good information from a divorce proceeding that has been reported in the newspaper.
A Double Marriage, Divorce & Attempted Murder
Let me go back to the case of Mrs. Vicha mentioned above, who apparently was not exactly single at the time she married Mr. Vicha. He was one of my ancestors, Frantisek (later Frank) Vicha. The Mrs. in the case was Katie Slamsidlova. Reading this historic news article whet my genealogy appetite to take a look and see whether I might find a reported prior marriage for Katie. The divorce article reported that Frank testified: "He solemnly avers that when he married Mrs. Vicha she already had a husband whose name was Krejci."
It didn't take long before I was able to find out that, while Katie married my ancestor Frank Vicha in 1883, in 1877 she had also married a Frank. The only problem was the first Frank had the surname of Krejci. So it would appear that Frank Vicha's testimony in the divorce case had been correct, at least as far as Katie's prior marriage. However there was another small matter I discovered in that 1890 newspaper article. It was this line: "Again Vicha says that after the marriage his wife favored another man and gave birth to a child whom he disowned, but which is now dead."
This time the records said something quite different. Yes, there was a child, born in 1885, and it was a boy with the given name of Charles. The birth record lists Katherine Slamsidlova Vicha and Frank Vicha as parents. Oh, and this child happened to live to 1971. To add to the mysterious ways of this case, I also found that in 1917 Frank applied for a military pension based on his service fighting the Northern Cheyenne during the "Indian Wars" and listed Charles as one of his sons. To add one more oddity, Katherine continued to live with members of the extended Vicha family and continued to use the Vicha surname up to and including it being on her death record.
I don't want to forget to add one more item of interest. I found this 1895 article that contained this line:
Frank Vicha is on trial in the criminal court for attempting to shoot his divorced wife, Kate Slamincha [sic].

Great-Grandpa Vicha
Here is another example of learning family history from divorce proceedings reported in newspapers. In the earliest days of my genealogy work I was understandably pleased when I came across this 1887 article that was simply titled "Licensed to Marry." This article reported that a marriage license was issued at the Probate Court Office the day before for Joseph K. Vicha and Anna Knechtl. Joseph and Anna are my maternal great-grandparents.
Unfortunately, according to family lore, this marriage ended in divorce—but as can often happen, this unfortunate fact provided me with continued good information for my genealogy.
This great grandfather of mine is my "brick wall." He disappeared from any United States Census after 1900 and his last listing in the City Directories of Cleveland is in 1907. It wasn't until I discovered the divorce proceedings in the archives of the Court of Common Pleas for Cuyahoga County, Ohio, that I learned a divorce had been granted to my great grandmother Anna on 22 June 1911 "after an absence of 3 years" by Joseph. These files, as you can see from the excerpt included here, have many details of interest to a genealogist.
To add an interesting twist, this divorce proceeding was after Joseph had quitclaimed his half-interest in the family home to his wife for only $1, according to the online records of the Recorders Office for Cuyahoga County.
I was about to call it a day when I made one more discovery: an article from a 1901 Ohio newspaper. Listed under "New Cases" for the Cleveland courts was this: "76192 – D. H. Tolman vs. J. K. Vicha. Appeal."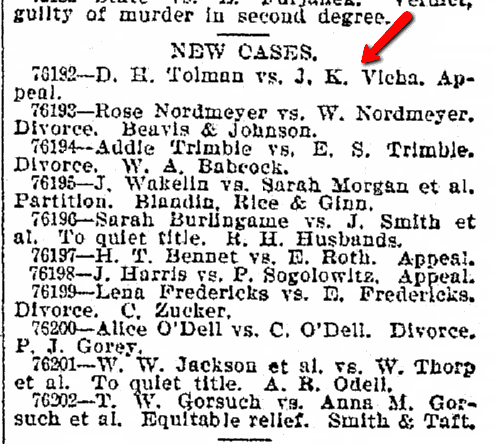 This simple listing rang two bells in my memory. The first memory was from an old Ohio history book I had read that had mentioned the name of D. H. Tolman in very negative terms.
This was borne out when I read an article from a 1913 Georgia newspaper that began with this sentence: "Daniel H. Tolman, 'King of the Loan Sharks,' must serve six months in the penitentiary for usury."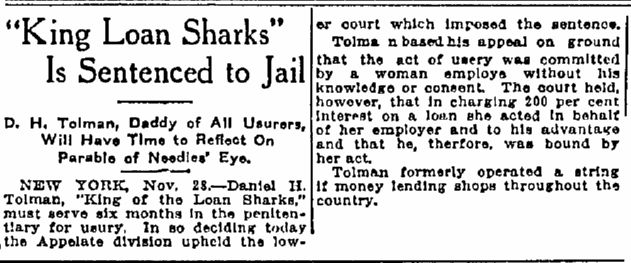 The second memory was of my mother's voice telling me a story long ago of her missing grandfather. She had asked her Uncle Ed why he never went looking for his father, Joseph Vicha. His response to my mother was: "Why would I? What if I found him and he owed someone a lot of money?" I wonder if Uncle Ed knew something he wasn't telling?
So don't keep secrets!
I'd enjoy reading any comments you have about what genealogy information and clues you have found from old divorce records in newspapers.