Introduction: In this article, Melissa Davenport Berry continues her series on descendants of the Jamestown settlers, concluding her story about a very special descendant: Queen Elizabeth II. Melissa is a genealogist who has a blog, AnceStory Archives, and a Facebook group, New England Family Genealogy and History.
Today I continue with my "Jamestown Descendants: Who's Who" series, focusing on the lineage of Great Britain's Queen Elizabeth II – who shares the same blood lines with many Virginians, including America's first president George Washington and General Robert E. Lee.
William Henry Hudgins, a Jamestown descendant of the Lee, Corbin, Harrison, and Ludwell lines, was part of the welcoming committee when Queen Elizabeth II visited Jamestown, Virginia, the first permanent English settlement in the New World, in 1957 for its 350th anniversary. (See: Jamestown Descendants: Who's Who, Part 2)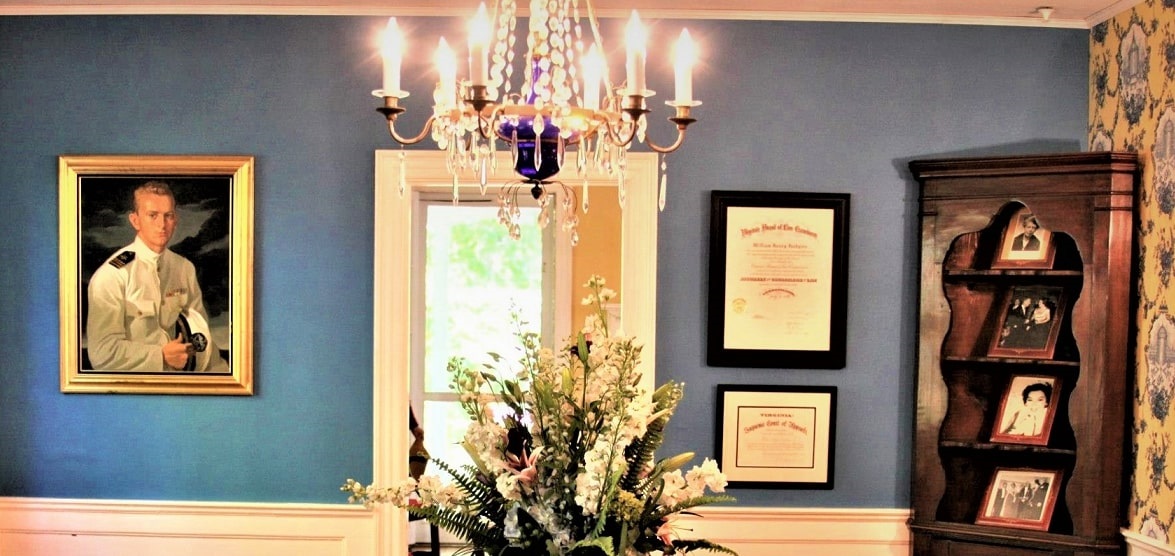 Hudgins researched the queen's ancestral lines connected to the Jamestown settlers, and published his findings in the Richmond Times Dispatch.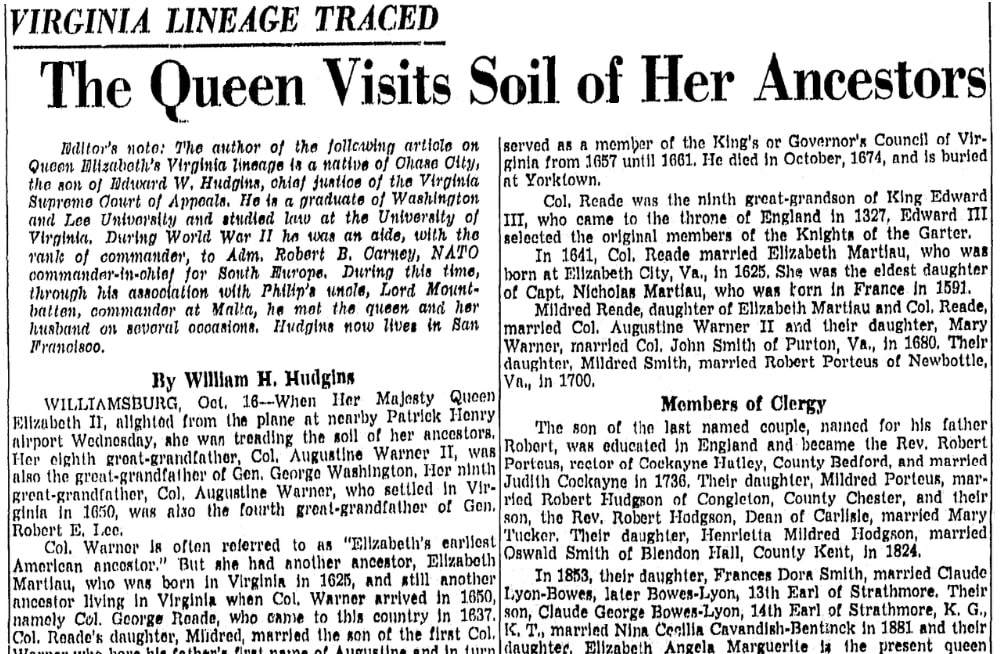 Here is a transcription of this article:
Virginia Lineage Traced
The Queen Visits Soil of Her Ancestors
Editor's note: The author of the following article on Queen Elizabeth's Virginia lineage is a native of Chase City, the son of Edward W. Hudgins, chief justice of the Virginia Supreme Court of Appeals. He is a graduate of Washington and Lee University and studied law at the University of Virginia. During World War II he was an aide, with the rank of commander, to Adm. Robert B. Carney, NATO commander-in-chief for South Europe. During this time, through his association with [Prince] Philip's uncle, Lord Mountbatten, commander at Malta, he met the queen and her husband on several occasions. Hudgins now lives in San Francisco.
By William H. Hudgins
WILLIAMSBURG, Oct. 16 – When Her Majesty Queen Elizabeth II alighted from the plane at nearby Patrick Henry airport Wednesday, she was treading the soil of her ancestors. Her eighth great-grandfather, Col. Augustine Warner II, was also the great-grandfather of Gen. George Washington. Her ninth great-grandfather, Col. Augustine Warner, who settled in Virginia in 1650, was also the fourth great-grandfather of Gen. Robert E. Lee.
Col. Warner is often referred to as "Elizabeth's earliest American ancestor." But she had another ancestor, Elizabeth Martiau, who was born in Virginia in 1625, and still another ancestor living in Virginia when Col. Warner arrived in 1650, namely Col. George Reade, who came to this country in 1637. Col. Reade's daughter, Mildred, married the son of the first Col. Warner, who bore his father's first name of Augustine and in turn became a colonel himself.
Ninth Great-Grandfather
Col. Reade, the ninth great-grandfather of the present British queen, was born in England on Oct. 25, 1608. He came to Jamestown in 1637 in a secretarial capacity with Governor Sir John Harvey. He owned much property in Virginia. He was first captain, then major and later colonel in the colonial militia. He was acting secretary of state of the colony during the absence of Richard Kemp, from 1637 to 1641; and acting governor in 1638 and 1639.
He was a member of the House of Burgesses for James City County in 1649 and for York County in 1655 and 1656. Col. Reade served as a member of the King's or Governor's Council of Virginia from 1657 until 1661. He died in October 1674 and is buried at Yorktown.
Col. Reade was the ninth great-grandson of King Edward III, who came to the throne of England in 1327. Edward III selected the original members of the Knights of the Garter.
In 1641, Col. Reade married Elizabeth Martiau, who was born at Elizabeth City, Va., in 1625. She was the eldest daughter of Capt. Nicholas Martiau, who was born in France in 1591.
Mildred Reade, daughter of Elizabeth Martiau and Col. Reade, married Col. Augustine Warner II, and their daughter, Mary Warner, married Col. John Smith of Purton, Va., in 1680. Their daughter, Mildred Smith, married Robert Porteus of Newbottle, Va., in 1700.
Members of Clergy
The son of the last-named couple, named for his father Robert, was educated in England, and became the Rev. Robert Porteus, rector of Cockayne Hatley, County Bedford, and married Judith Cockayne in 1736. Their daughter, Mildred Porteus, married Robert Hudgson of Congleton, County Chester, and their son, the Rev. Robert Hodgson, Dean of Carlisle, married Mary Tucker. Their daughter, Henrietta Mildred Hodgson, married Oswald Smith of Blendon Hall, County Kent, in 1824.
In 1853, their daughter, Frances Dora Smith, married Claude Lyon-Bowes, later Bowes-Lyon, 13th Earl of Strathmore. Their son, Claude George Bowes-Lyon, 14th Earl of Strathmore, K. G., K. T., married Nina Cecilia Cavandish-Bentinck in 1881, and their daughter, Elizabeth Angela Marguerite, is the present queen mother of England.
Many hundreds of Virginians living throughout the Old Dominion today are also direct descendants of Martiau, Reade, Warner, and Smith.
Britain's illustrious former prime minister, Sir Winston Churchill, also has Virginia ancestors on his mother's side. At a dinner given by the American consul general in Venice a few years ago, the writer told Sir Winston that he was pleased that the former prime minister was joining the Society of the Cincinnati in the State of Virginia. After taking a long puff on his cigar, the typical Churchillian reply was:
"Yes, I am proud of my American ancestry and of the part that they played in the war that we fought against us."
Next up: George Washington's Jamestown lines that connect to Queen Elizabeth.
(Thank you, Elizabeth Needham Ballard, for help with research. Readers: If you are interested in a list of Jamestown settlers check out Jamestowne Society, and there is also a Facebook page Jamestown Descendants.)
Note on the header image: photo of Queen Elizabeth and Prince Philip smiling as they pass prisoners in the stocks on a tour of the old fort in Festival Park at Jamestown, Virginia, in 1957. Credit: Library of Congress, Prints and Photographs Division.
Related Articles: