Introduction: In this article, Melissa Davenport Berry begins her series on descendants of the Jamestown settlers, focusing here on Dr. John Woodson, the surgeon for the Jamestowne Company. Melissa is a genealogist who has a blog, AnceStory Archives, and a Facebook group, New England Family Genealogy and History.
Today I begin my series "Who's Who" of Jamestown (also Jamestowne) descendants. GenealogyBank's Historical Newspaper Archives have a treasure trove of newspaper articles and information on those who descend from the families of Jamestown, Virginia, the first permanent English settlement in the New World.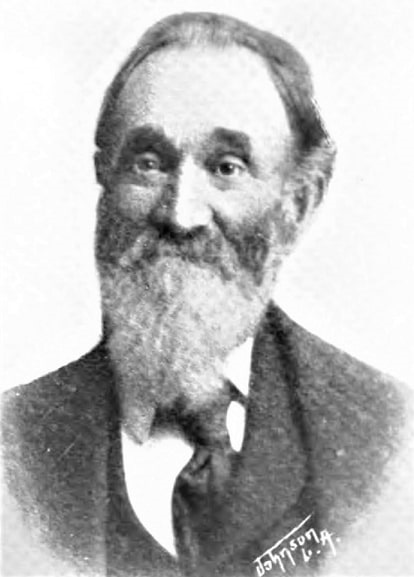 I found an obituary in the San Jose Mercury News for Stephen Tscharner Woodson (1823-1917), a descendant of Dr. John Woodson, the surgeon for the Jamestowne Company. Dr. Woodson came to Virginia in April 1619 on the ship George with Sir George Yeardly and settled on Flowerdew Hundred (aka Flower de Hundred, or Peirsey's Hundred) on the south side of the James River. Dr. Woodson had two sons with his wife Sarah, and Stephen descends from his son Robert.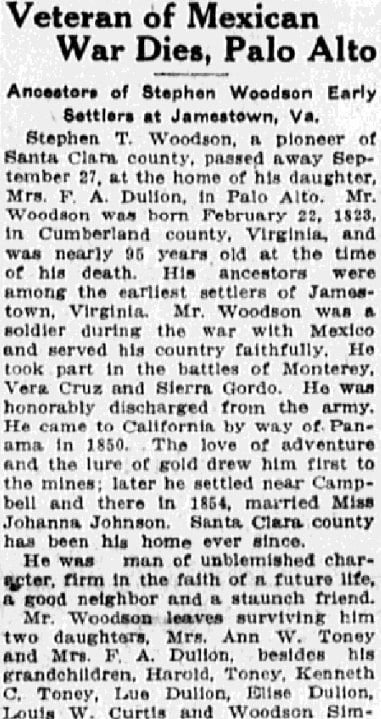 Lineage:
Stephen Tscharner Woodson married Johanna Johnson
Joseph Royall Woodson and Miranda Aminda Woodson, daughter of Tscharner de Graffenried Woodson and Lucy Michaux; granddaughter of Miller Woodson and Mary Baker de Graffenried
Stephen Woodson and Mary Holman
Stephen Woodson and Lucy Farrar/Ferrar
Stephen Woodson and Elizabeth Branch (Jamestowne Christopher Branch)
John Woodson and Judith Ursula Tarleton
Robert Woodson and Elizabeth Ferris
John Woodson and Sarah Winston
According to Stephen's obituary:
"Stephen T. Woodson, a pioneer of Santa Clara County [California], passed away September 27, [1917], at the home of his daughter, Mrs. F. A. Dulion, in Pala Alto. Mr. Woodson was born February 22, 1823, in Cumberland County, Virginia, and was nearly 95 years old at the time of his death. His ancestors were among the earliest settlers of Jamestown, Virginia. Mr. Woodson was a soldier during the war with Mexico and served his country faithfully. He took part in the battles of Monterey, Vera Cruz, and Sierra Gordo. He was honorably discharged from the army. He came to California by way of Panama in 1850. The love of adventure and the lure of gold drew him first to the mines; later he settled near Campbell and there in 1854, married Miss Johanna Johnson. Santa Clara County has been his home ever since."
According to Woodson family history, Stephen spent much of his boyhood life at "Needham," the home of his great aunt Sally Woodson Taylor in Cumberland County, Virginia.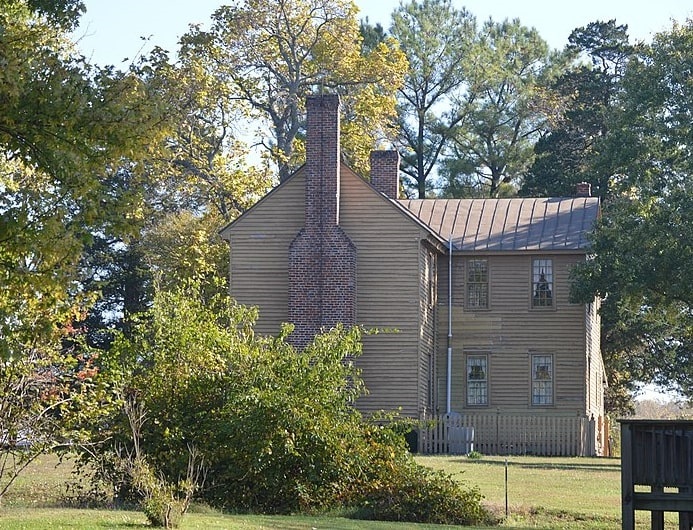 Stephen was a man of unusual vitality and remarkable energy. As a mark of appreciation for his services in the Mexican War, the United States government gave him a pension of $20 per month.
Another descendant of Dr. John Woodson, George W. Bright, made headlines in 1984 when he was giving a lecture series on cultures past and present that included the topic "the art of scalping." Bright, a professor at Midlands Technical College in Columbia, South Carolina, claimed to be the foremost authority on the ancient art of taking scalps. According to the next newspaper article:
"Bright got into scalps, he said, after discovering that one of his ancestors had his removed in the 1600s, and another relative perfected a method for growing it all back. The two with different interests in hair were 130 years apart."
Scalping sort of ran in the family.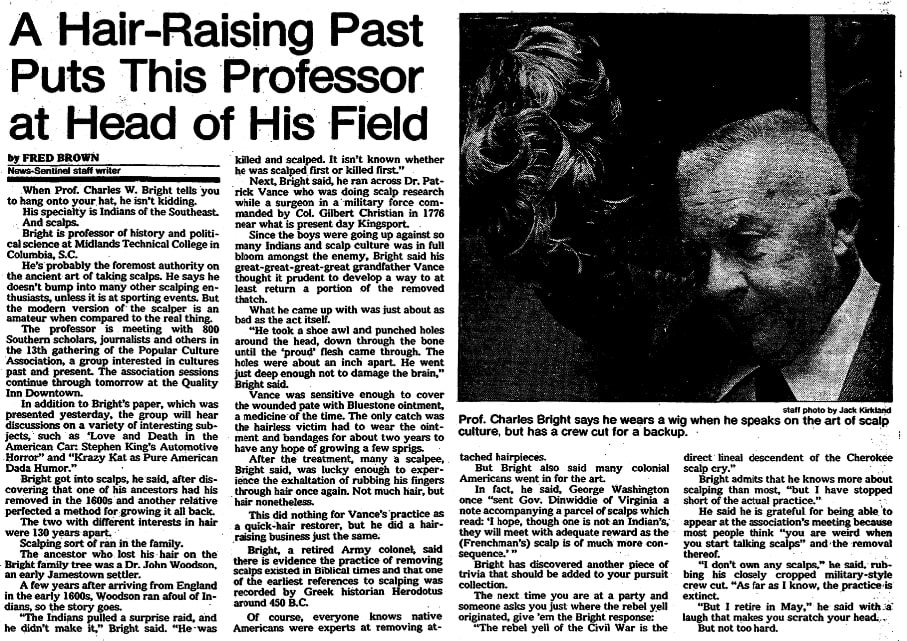 Of his ancestor Dr. John Woodson, Bright said:
"The Indians pulled a surprise raid [on 18 April 1644] and he [Woodson] didn't make it. He was killed and scalped."
But there is more to this hairy tale. Dr. John's wife Sarah was left to defend her home and two sons: John, age 10; and Robert, age 12. A neighbor, Mr. Ligon, came to the house to help Sarah and they fought off the attackers. You can read more about this and the Woodson family at Jamestowne Society.
Sarah earned the reputation of a hardy pioneer lass and her boys became known as John "Tub" and "Potato Hole" Robert because, during the raid, Sarah hid John under a washtub and Robert got into the hole where potatoes were stored. Because these two boys survived, the Woodson family line was carried on.
Stay tuned for more on Jamestown descendants!
Note on the header image: a photo of the reenactment of the first landing on the 400th anniversary as part of the Jamestown 2007 commemoration. Credit: U.S. Navy photo by Mass Communication Specialist Seaman Matthew Bookwalter.