Introduction: In this article, Melissa Davenport Berry continues her series on descendants of the Jamestown settlers, focusing here on a very special descendant: Queen Elizabeth II. Melissa is a genealogist who has a blog, AnceStory Archives, and a Facebook group, New England Family Genealogy and History.
Today I continue with my "Jamestown Descendants: Who's Who" series. In 1957 an eight-month celebration (April-November) swept the country to commemorate the 350th year of the founding of Jamestown, Virginia, the first permanent English settlement in the New World. This monumental observance brought English royalty, American dignitaries, and about 10,000 visitors a day to Jamestown.
Since as many as 2,500,000 visitors were anticipated over the eight-month celebration, the festivities included nearby Colonial Williamsburg, which had the dining and lodging facilities to accommodate the crowds – as emphasized in this newspaper ad.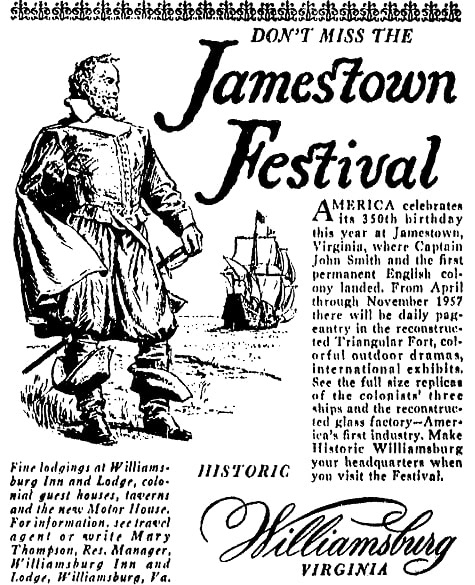 GenealogyBank's Historical Newspaper Archives proved an excellent source in researching this event. The Jamestowne Society members furnished historical narratives, performed reenactments, and entertained special guests like England's Queen Elizabeth II.
Queen Elizabeth II, my featured "Who's Who" today, proudly retraced the steps her own ancestors made – which include her eighth great grandfather Colonel Augustine Warner II, who was the great grandfather of General George Washington; and her ninth great grandfather Colonel Augustine Warner I, who was the fourth great grandfather of General Robert E. Lee.
Another of Queen Elizabeth II's ninth great grandfathers was Colonel George Reade, who came to Jamestown in 1637 and married Virginian Elizabeth Martiau. Their daughter married Colonel Warner II. Reade was the ninth great grandson of King Edward III of England.
During her visit Queen Elizabeth II, along with Prince Philip, visited the pier at Jamestown Festival Park where reproductions of the three Jamestown ships, the Susan Constant, Godspeed, and Discovery, were docked.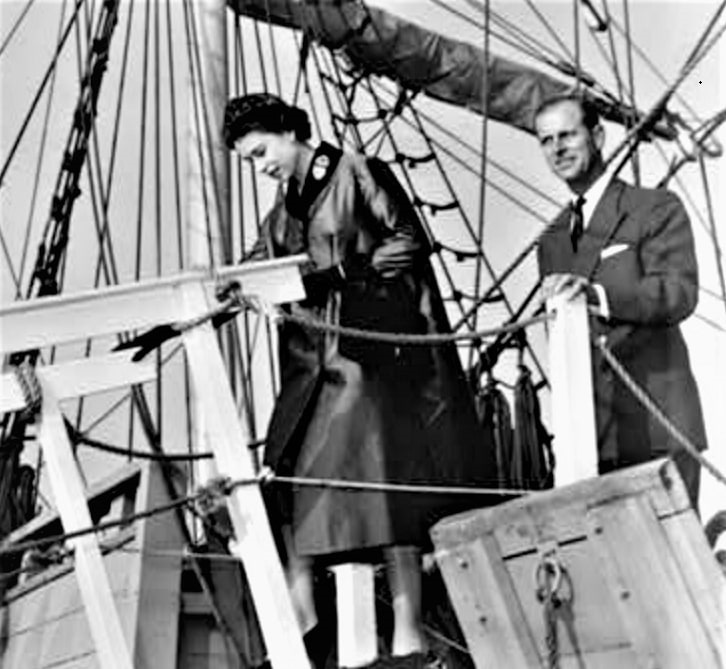 She toured the reconstructed 1607 Jamestown Fort, which included thatched-roof homes, a church, and a glasshouse built as a permanent exhibit. Staged plays and pageants were presented by Jamestowne Society members and other groups.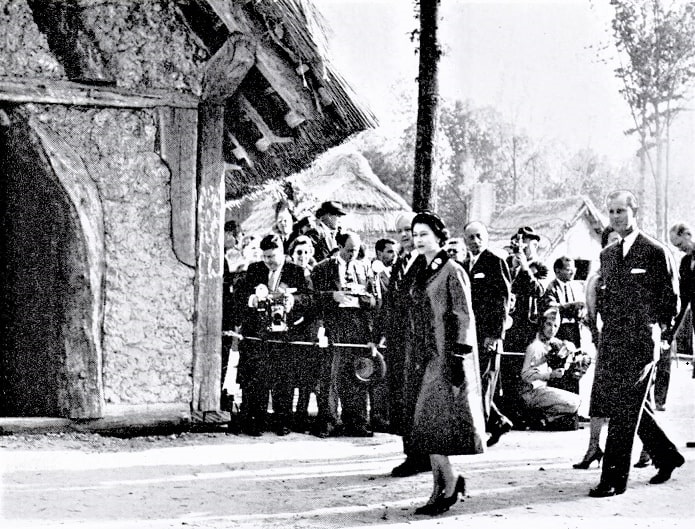 After a full day of festivities, the queen was feted that night at a dinner at the Williamsburg Inn hosted by the State and Federal Jamestown Festival Commissions.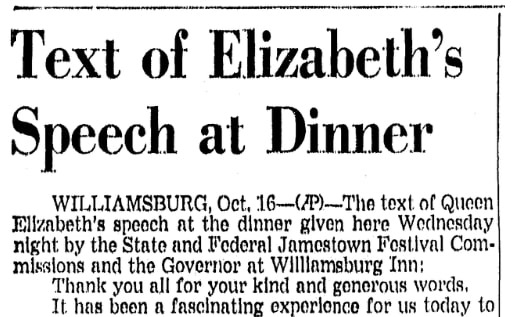 This article reported the text of the queen's dinner speech:
"Thank you all for your kind and generous words.
"It has been a fascinating experience for us today to follow in the footsteps of your forefathers, and my countrymen, from Jamestown, the site of their first settlement, to this lovely capital of Colonial Virginia.
"Here, at a great period in your history, their descendants proclaimed their faith in certain great concepts of freedom, justice, law, and self–government. Those concepts have had a profound influence on the political development, not only of the United States, but all freedom loving countries. This magnificent restoration of Colonial Williamsburg is a constant and vivid reminder of those principles. That is why we regard it as a major contribution to understanding between us. If it inspires us all to closer cooperation in the fulfillment of these common ideals, then Williamsburg will have done more than dramatize history and rebuild the past: it will have helped to build the future.
"We are particularly happy to begin our visit to the United States here in Virginia. It is a very pleasant gateway for anyone coming from Britain, and the very names of your cities: Richmond, Winchester, Norfolk, Portsmouth, are pleasantly familiar. I am told that there is a county in Virginia named for every English king and queen from Elizabeth I to George III.
"The name of your state itself, does honor to the first of these monarchs whose name I bear. The sturdy spirit of independence and initiative displayed by Englishmen of her time, their devotion to large and noble enterprise and their trust in God is an example to us still.
"We have had a wonderful day here, and I would like to say how much we have appreciated the true Southern hospitality with which you have received us.
"In particular I want to thank you for your generous gifts to us: the replicas of the early chalice and paten which now rest in Bruton Parish Church, these commemorative volumes of a great festival presented to us so eloquently by Dr. [Earl Gregg] Swem, and of course, the portrait of Colonel Augustine Warner.
"You have made this occasion an opportunity for all of us to reaffirm the ties which bind all our people together. It will long live in our memories."
The queen returned to Virginia in 2007 for Jamestown's 400th anniversary.
In a future story I will include more of Queen Elizabeth II's lineage published by William Henry Hudgins, a Virginian who was part of the welcoming committee.
Note on the header image: a photo of the pier at Jamestown with reproductions of the three ships that arrived at Jamestown in 1607: the "Susan Constant," "Godspeed," and "Discovery." Credit: NOAA Photo Library; Wikimedia Commons.
Related Article: