Introduction: In this article, Gena Philibert-Ortega gives tips for doing cemetery research when you can't find information about your ancestor's burial online. Gena is a genealogist and author of the book "From the Family Kitchen."
One of the questions I hear a lot is "why can't I find where my ancestor is buried?" That question is usually followed up with the statement "I looked at [fill in the blank] website." While genealogy has been greatly aided by the ability to search for our ancestors online, solely searching the Internet for a burial can quickly lead to a person believing they have a brick wall – when in reality it's a matter of not completing an exhaustive search.
In other words: not all cemetery records are online, so you need to broaden your search. This article will give you some tips for doing that.
Why Isn't It Online?
Burial information can be found in all kinds of places online, ranging from websites that focus on gravestone photos to those that are databases. So, if cemetery information is online, are there limitations to that information?
Yes, there are. Some of those limitations include:
Photos and information are gathered by volunteers who may transcribe an entire graveyard, just a section, or only their ancestral burials.
Volunteers can only transcribe/take photos of gravestones they can physically see.
Not everyone has a tombstone.
Not everyone is buried in a cemetery listed on a website.
Not everyone is buried, or buried in a cemetery.
A cemetery might have been destroyed or no longer be an active cemetery.
There are many reasons for not finding a burial listed online. Just checking a website or two is not enough. So, what should you do to conduct a more exhaustive search?
Is There a Death Certificate?
A death certificate should list where the person was buried. Now, does that mean it's always correct? No. I've had situations where a cemetery is listed but the person actually was buried elsewhere, either because of a mistake on the certificate or a change of plans. I've also seen that at the time of the death, there was no burial – for example, the person's body was donated to science, or the deceased was held at the morgue until the family could be contacted.
Read about It in the Newspaper
Is there an obituary? Part of an exhaustive search for information about an ancestor's death and burial should be to check for an obituary. Not everyone has an obituary, but it's still important to try to find one. The obituary may provide information about where the person was buried.
In some cases, the newspaper is also the best place to learn more about the cemetery. Not every cemetery still exists, so reading old newspaper articles about that cemetery might provide important clues to the history of the local cemeteries, if burials were moved, or if the cemetery is virtually "unknown" today.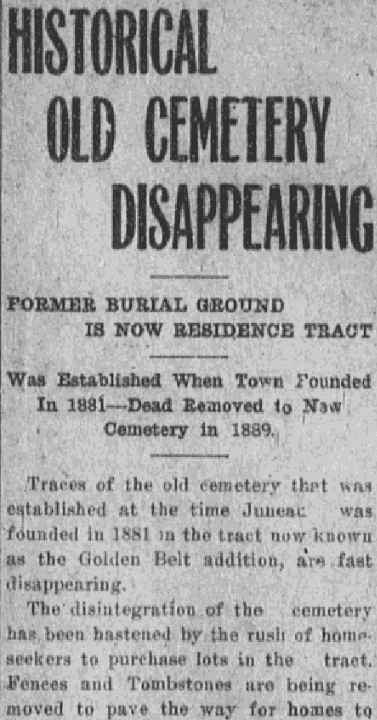 Make a Call
Does the cemetery still exist and does it have an office? Make a call and ask about the burial. In one case I was researching a woman who was divorced at the time of her death, and there was no one to claim her body because all of her close family had predeceased her. After she was placed in a pauper's section of a cemetery a close friend learned of her demise and had her body exhumed and reburied in her family's plot, halfway across the United States. However, her friend did not buy her a tombstone. So, she's buried in her family's plot – but her grave is unmarked. Unless you call the cemetery, there's no other indication of where she is buried. A photo didn't help and she is of course not listed in online cemetery websites. A call to the cemetery office confirmed her burial and the approximate place where she was laid to rest.
Now here's the problem: not every cemetery has an office. Cemetery records don't always exist. And even if there is a cemetery office, that information can be lost. When researching a woman who died in the early 1900s on my paternal line, all records of her burial were lost because the cemetery office had a fire decades after her death and no effort was made to reconstruct the records. A search of the cemetery grounds also didn't reveal her grave. The only place that lists her burial is her death certificate.
Go to the Library
Take some time to peruse library catalogs for possible cemetery histories and transcriptions. Start with a Place search on the FamilySearch Catalog for the county you are interested in, and then continue your search on the worldwide library catalog WorldCat.
Where Else Can You Find Death Information?
We've talked about death certificates and alternatives to death certificates in the Genealogy 101 series (see: Genealogy 101: Alternatives to Death Certificates). If you're having a problem finding a death certificate, read that blog article for ideas on what other records might exist. In general, remember that death information may also be found in records such as:
pensions
wills
probates
land records
funeral home records
Don't assume that searching online cemetery records is enough. Conduct some in-depth research to find the burial information you need.
Related Articles: