Introduction: In this article – part of an ongoing "Introduction to Genealogy" series – Gena Philibert-Ortega gives tips for finding the burial sites of your veteran ancestors. Gena is a genealogist and author of the book "From the Family Kitchen."
We've discussed cemeteries in previous blog articles (see list at the end of this article). Today, at the outset of Memorial Day weekend, let's focus on veterans cemeteries and the information you need to look for your soldiers' or veterans' burials.
National Cemeteries
The first 14 national cemeteries were established during the American Civil War in 1862. "On July 17 of that year, Congress enacted legislation that authorized the President to purchase: 'cemetery grounds' to be used as national cemeteries 'for soldiers who shall have died in the service of the country.'"(1)
Today, there are 149 national cemeteries with over 4.1 million burials. The U.S. Department of Veterans Affairs estimates that there are 22 million veterans alive today who've earned the right to burial in a national cemetery.(2)
You can find a list of national cemeteries on the U.S. Department of Veterans Affairs National Cemetery Administration website. You can also search the department's burials database, the Nationwide Gravesite Locator. These databases provide information about more than just burials at a National Cemetery: "Search for burial locations of veterans and their family members in VA National Cemeteries, state veterans cemeteries, various other military and Department of Interior cemeteries, and for veterans buried in private cemeteries when the grave is marked with a government grave marker."(3)
The database is updated daily and can be searched by just a surname. It can also accommodate searches by cemetery, full name, date of birth and date of death.
Arlington Cemetery
Arlington Cemetery is probably the national cemetery that most Americans are familiar with. Containing such important burials as President John F. Kennedy and the Tomb of the Unknown Soldier, Arlington is one burial ground that didn't start off as a cemetery.
Originally it was the property of Mary Custis Lee, wife of General Robert E. Lee, who inherited Arlington from her father George Washington Parke Custis, the grandson of Martha Washington.
The estate was taken over during the Civil War, after Mary Custis Lee failed to show up in person to pay a new tax levied on the property. The property was put up for auction and purchased by the U.S. government, which eventually saw that it would make a perfect cemetery for the growing number of military dead.(4)
The first burials at Arlington took place in May 1864, a month prior to its official National Cemetery designation.(5) Although the cemetery was established during the Civil War, there are also 11 Revolutionary War veterans buried on the grounds.(6)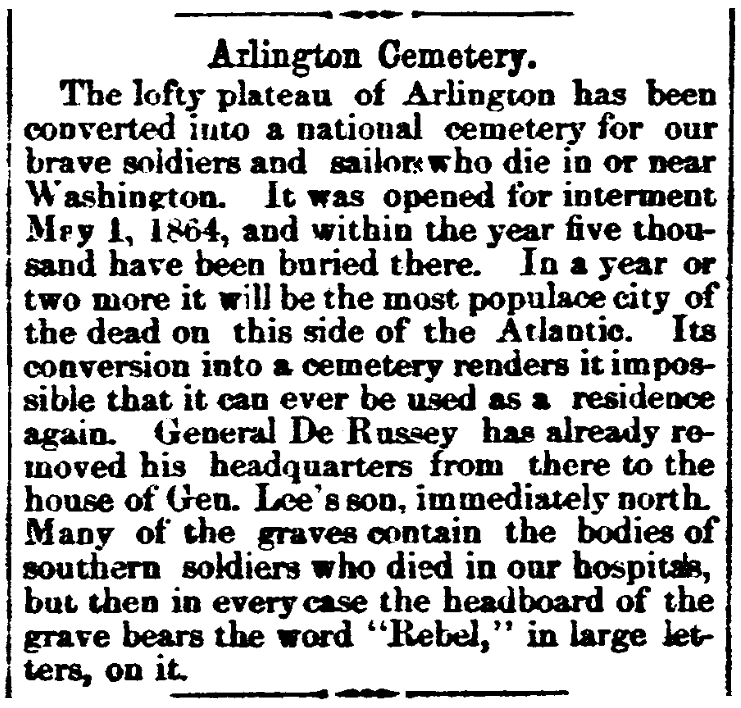 For those looking for a burial at Arlington National Cemetery, use its ANC Explorer website. Burials can be searched online or via their mobile app available for Apple and Android devices.
American Battle Monuments Commission (ABMC)
If you have a soldier buried or memorialized overseas, you'll want to consult the American Battle Monuments Commission website. Established in 1923, the ABMC was directed by Congress "to construct memorial chapels in the eight permanent military cemeteries in Europe, which were at the time maintained by the War Department. In 1934, President Franklin Roosevelt issued an Executive Order that shifted the responsibility for the management and maintenance of these hallowed grounds to ABMC."(7)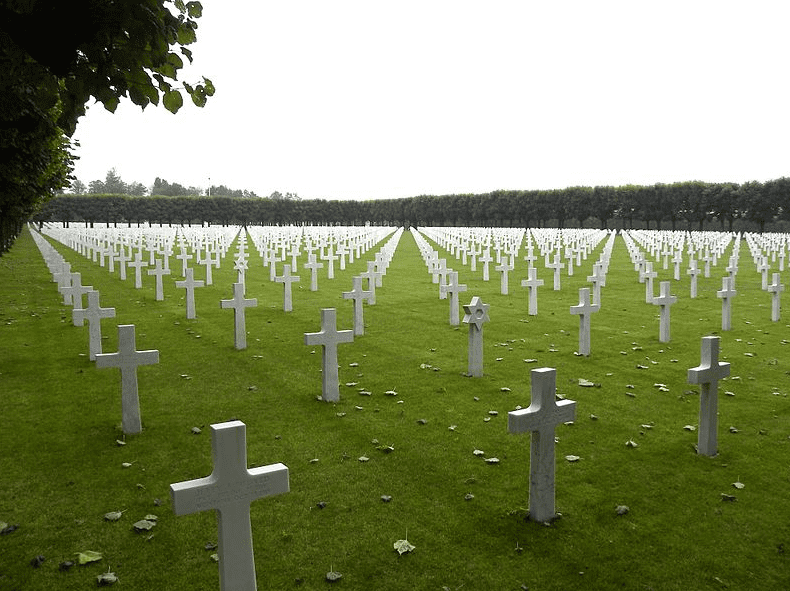 The American Battle Monuments Commission is responsible for U.S. military cemeteries outside of the United States of America. Their website has a database of 218,000 burials or memorials, with the majority having died during World Wars I and II. The ABMC "operates and maintains 26 permanent American military cemeteries and 29 federal memorials, monuments and markers, which are located in 16 foreign countries."(8) You can read more about its services for families on the ABMC website.
Non-Military Cemeteries
Obviously, not all veterans or soldiers killed in action are buried in a national cemetery. In some cases, they may be buried in a city cemetery with some sort of burial marker or gravestone identifying them as a veteran.
The Daughters of the American Revolution (DAR) worked to document where Revolutionary War veterans were buried. "Because the DAR was chartered by Congress, their annual reports were published in the U.S. Congressional Serial Set."(9) You can find the complete Serial Set in GenealogyBank's online Historical Documents & Records Archive.
For Civil War soldiers, consult the Sons of Union Veterans of the Civil War National Graves Registration Database and the Sons of Confederate Veterans Confederate Graves Registry. These databases will help you identify Civil War soldiers and veterans buried throughout the United States.
Find Your Military Ancestor's Burial
Finding where a soldier or veteran is buried might include searching any number of documents or records, including:
Military Service Records
Pension
Death Certificate
Home Sources (funeral card, photographs, newspaper clippings, diary)
Historical newspapers should be part of your search to document the burial, such as GenealogyBank's Historical Newspaper Archives. Obituaries and other articles might provide the clues you're looking for.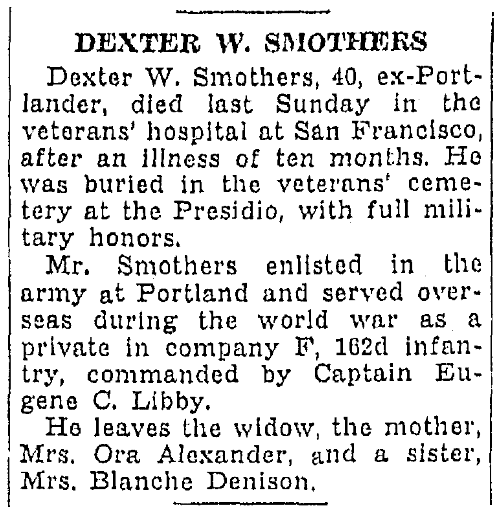 ————————
(1) "History: General History," U.S. Department of Veterans Affairs (https://www.cem.va.gov/history/history.asp#GeneralHistory: accessed 18 May 2018).
(2) Ibid.
(3) "Nation Wide Gravesite Locator," U.S. Department of Veterans Affairs (https://www.cem.va.gov/history/history.asp#GeneralHistory: accessed 18 May 2018).
(4) "How Arlington National Cemetery Came To Be," Smithsonian (https://www.smithsonianmag.com/history/how-arlington-national-cemetery-came-to-be-145147007/: accessed 20 May 2018).
(5) "This Month in Arlington History," Arlington National Cemetery (https://www.arlingtoncemetery.mil/Explore/History: accessed 20 May 2018).
(6) "A Revolutionary Guide to Arlington Cemetery," Journal of the American Revolution (https://allthingsliberty.com/2015/11/a-revolutionary-guide-to-arlington-cemetery/: accessed 21 May 2018).
(7) "History," American Battle Monuments Commission (https://www.abmc.gov/about-us/history: accessed 18 May 2018).
(8) "Cemeteries and Memorials," American Battle Monuments Commission (https://www.abmc.gov/cemeteries-memorials#.Wv80zqQvyM8: accessed 18 May 2018).
(9) "GenealogyBank's Detailed Revolutionary War Burial List," FamilySearch Blog (https://www.familysearch.org/blog/en/genealogybanks-detailed-revolutionary-war-burial-lists/: accessed 21 May 2018).
Related Articles: