I was thinking about my cousin, Emeline Smith (Walker) Fatherley (1923-2009), who died nine years ago this January – and realized that I didn't have her genealogical details, or that of her husband, Robert Edward Fatherley (1905-1995), in our family tree.
So, I turned to GenealogyBank to gather the details of their lives.
By searching on their names, I quickly found articles about the family in the Historical Newspaper Archives – as well as one from the Recent Obituaries collection. In all I found over a dozen articles about the family and I added them to the family tree here.
Here are accounts of their wedding – before and after the event.
I found the tragic news article about the death of their young son, William Walker Fatherley, and the birth of another son in 1940.
And I easily pulled up my cousin's obituary, giving me more information about her, her parents, siblings and family.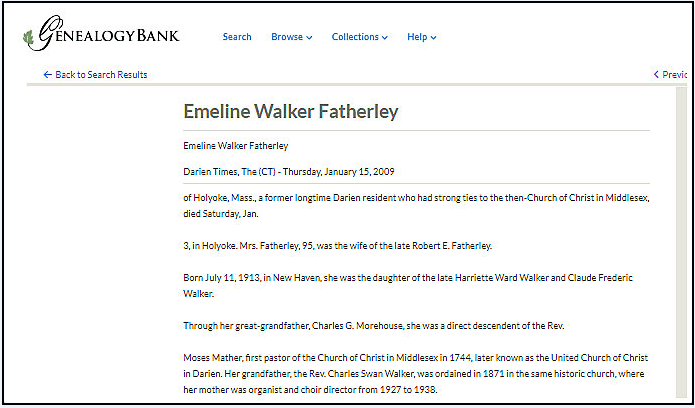 Genealogy Tip: Use GenealogyBank to find and document the details of your family history. Then add the information to your online family tree.
(Visited 509 times, 1 visits today)