Introduction: In this article, Gena Philibert-Ortega writes about a mystery in the life of that great mystery writer, Agatha Christie. Gena is a genealogist and author of the book "From the Family Kitchen."
It's a story that has everything you look for in a good mystery. A man, a wife that vanishes, and a mistress. If it were a mystery novel it would be titled something like The Mystery of the Disappearing Author. But like all stories, fact is often stranger than fiction.
Agatha Christie
Most people – even those who haven't read her stories – have heard of mystery writer Agatha Christie. Born in 1890 in England, Christie published her first novel in 1920 and from then on she was a prolific author who had a legion of fans worldwide.
In 1926 Agatha Christie's fourth mystery novel The Murder of Roger Ackroyd debuted. She was living a seemingly charmed existence with her husband, handsome ex-military officer Archibald Christie, and their young daughter Rosalind in Sunningdale, England.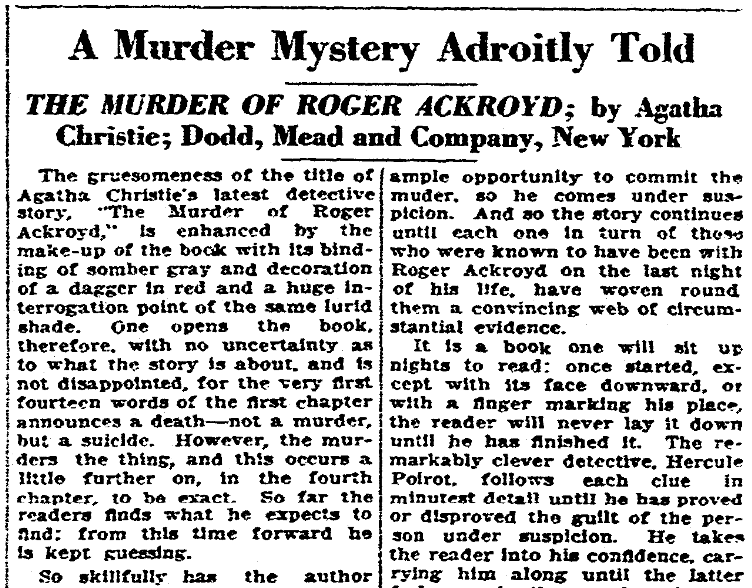 But life was not as grand as it seemed; 1926 was a difficult year for Agatha Christie. Her mother, who had encouraged her writing, had died. Her husband of 12 years was having a not-so-private affair with a local woman known to Agatha. One day, Archie Christie asked Agatha for a divorce – and after the ensuing argument, he left to be with his mistress. Agatha spent some time writing a few letters, and then shortly thereafter she too left the family home. What happened next remains a mystery some 90 years later.
Mrs. Teresa Neele?
Put simply, Agatha Christie walked out of her house and seemingly vanished. Not much is known about what happened from the time she left her home until 11 days later, when she was discovered at a hotel in Harrogate registered as Mrs. Teresa Nelle from South Africa. What is known is that her car was found, shortly after she disappeared, abandoned with some of her belongings still inside. Add to this the contents of a letter she left her husband, and it makes sense that investigators assumed she was dead and started searching for her body.
According to this article [which erroneously calls Christie an American novelist]:
"The letter… amounts to a tragic farewell message, indicating that the end had been reached and she was resolved to sacrifice everything and commit some drastic act."
But somehow, without her things or a means of transportation, she made her way to the hotel in Harrogate – where she registered using the surname of her husband's mistress, Neele, and, according to this next article:
"…she sang and danced, playing an occasional game of billiards with other lady guests, all the time attempting to conceal her identity."
The story of Agatha's disappearance was front page news in newspapers worldwide. It was only a matter of time before her fellow hotel guests, familiar with the newspaper coverage, started to remark how Mrs. Neele resembled the missing author and "Mrs. Neele" even agreed with them. The police and Christie's husband were summoned to the hotel where he positively identified her as the missing author.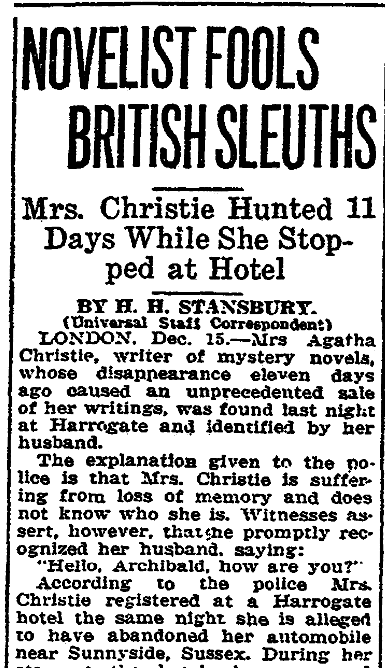 Post Script
What happened those 11 days when Agatha was "missing"? Was the mystery writer suffering from amnesia or was she exacting revenge on her cheating husband?
I doubt we will ever know for sure, but one thing is for certain: not everyone bought the author's account of the events surrounding her disappearance. And not everyone was thrilled when she was "found."
Some reports state thousands of volunteers helped in the search for Agatha Christie. Obviously, people were worried about her, especially when her abandoned car was found. The people near Guildford, Surrey, were said to be less than thrilled at the $15,000 bill to cover the exhaustive search for Christie that included dragging nearby "brooks and ponds" for her body.
This newspaper article claims that people were referring to the disappearance as "fake" – no doubt it must have appeared to be suspicious, given the circumstances and Mrs. Christie's expertise in writing a good mystery.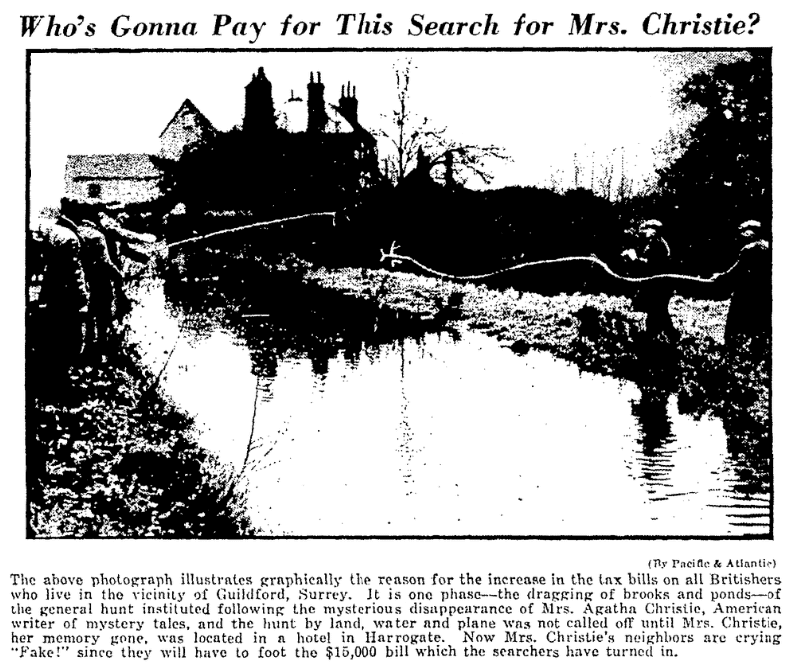 So, what really happened? Many theories have been put forth on that topic. Some believe Agatha staged her disappearance to implicate her cheating husband. Some say it was a ploy that went too far. Others believe that the stress of everything going on her life caused her to suffer from depression and perhaps amnesia or memory loss. Newspapers report that Agatha sought out doctors after the incident, but she refused to discuss her disappearance with the public. I think anyone who has had bad times can sympathize with the temptation to "disappear" for a bit of time.
What happened to Agatha, her husband, and his mistress? Archibald and Agatha eventually separated and divorced in 1928. Archibald went on to marry his mistress, Nancy Neele, and had a son with her. They were married nearly 30 years when Nancy died in 1958.
Agatha Christie went on to marry archeologist Max Mallowan, and their marriage lasted until Agatha's death in 1976. Agatha had many interesting archeological adventures and travels with Max that influenced some of her novels' settings. She continued her writing and became one of the best-selling writers of all time.
What lasting affect did her disappearance have on Agatha Christie and her reputation? Judging from her legacy involving 66 mystery books, 150 short stories, and 9 plays including The Mousetrap which is currently in its 64th year in London, one would think that her disappearance just added to her author mystique.
Yes, people continue to question what really happened – but if this was a stunt it didn't tarnish her reputation or the love people have for her writings. Her only child, daughter Rosalind Christie Hicks, defended her mother throughout her lifetime against those who claimed she had planned the whole stunt.
In the end, Agatha Christie's disappearance became one of her best mystery stories.
Are you a fan of Agatha Christie? Tell us in the comments section below what your favorite novels and stories are.
(Visited 507 times, 1 visits today)