I was looking for the obituary of Garcelon Chandler Wright (1826-1900) – and did not find him under the name Garcelon Wright.
I knew he was born in Maine and died in Greeley, Nebraska – so I searched again using only his surname, the year of death and narrowed the search to only Nebraska newspapers.
There – that did it. I found his obituary, listed under "G. C. Wright."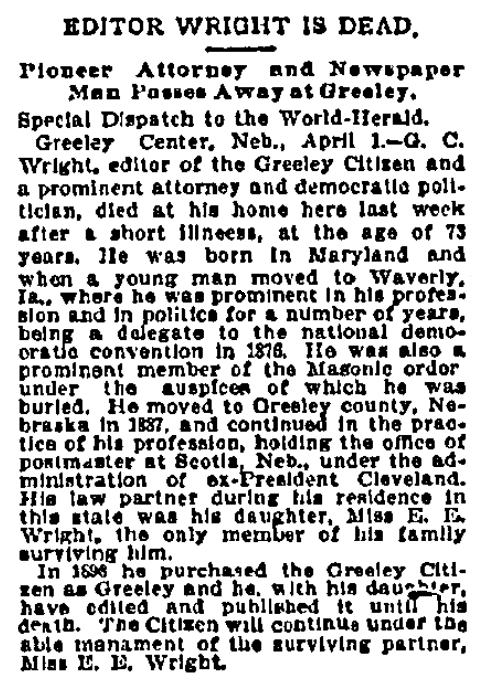 I learned a lot from his obituary.
He was the editor of the Greeley Citizen newspaper, an attorney and a Democrat. Here's something interesting:
"His law partner… was his daughter, Miss E. E. Wright, the only member of the family surviving him."
I didn't know that Elfleda Estella (Wright) Compton (1864-1924) was also a lawyer.
Notice that editors often used initials instead of first names in obituaries. Searches for either the father or the daughter using their first names would not have found this obituary.
It is important to be flexible in searching old newspapers, such as GenealogyBank's Historical Newspaper Archives.
In this example, their surname was Wright – a common surname.
So, I narrowed the search from March 1900 to April 1900 and limited it to only Nebraska newspapers so that I would not get back too many search results.
By narrowing my search, I received only four hits – including his informative obituary.
Notice also that the Nebraska editor said that Garcelon was born in Maryland.
He was actually born in Maine.
The 1860 census clearly shows that he was born in Maine, and his wife, Sophia (Hyrons) Wright, was born in Maryland.

The 1870 and 1880 census records also show that he was born in Maine.
Not all sources will agree or give a person's full name.
Be sure to be flexible in searching for the records of your relatives.