Introduction: Gena Philibert-Ortega is a genealogist and author of the book "From the Family Kitchen." In this guest blog post, Gena shows how lost and found ads in old newspapers can turn up a surprising amount of information about your ancestors—and provide a glimpse into their lives that you won't find in government records and vital statistics.
Lost anything lately? While in today's world we have multiple options for asking strangers for help in recovering or returning property, our ancestors used newspaper lost and found ads.
These old newspaper advertisements can be a surprisingly rich resource for your family history searches—sometimes providing an ancestor's full name, current address, and some details about their life. Some of the more unusual lost and found ads also add interest to your genealogy research.
What Went Missing? People, Pets, Possessions…
What can be discovered about your ancestry in a lost and found ad? Depending on the time period, these newspaper advertisements may notify a community about missing people such as a runaway slave—or even a missing husband, as I wrote about previously (see Missing Men: Lost Husband Ads in Newspapers for Genealogy). One would expect to see pleas for the return of jewelry or wallets, but classified ads can run the gamut from the valuable to the ordinary, from cash to umbrellas.
The topic of what can be discovered in lost and found ads was addressed in this 1855 Virginia newspaper article. It remarks that:
Lost dogs and runaway apprentices, however, are the most frequent subjects of advertisements.
Newspaper Ads for Lost Pets
Lost dogs are a popular subject of lost and found ads. What is listed in a lost and found column can change depending on the time period and the type of community the newspaper serves. Rural area advertisements may differ from that of more populated, urban places.
Take for instance this "Lost, Found, Strayed" column from a 1927 Virginia newspaper, where you can see a typical lost dog advertisement—but there is also one for a stray cow! Look for these advertisements to have all kinds of animals including lost dogs, cats, birds, horses, cows, pigs—basically all manner of livestock and pets.
Have You Seen My Glasses?
I also like that one of these lost and found ads proves that people don't really change; as long as there have been reading glasses, people have been losing them.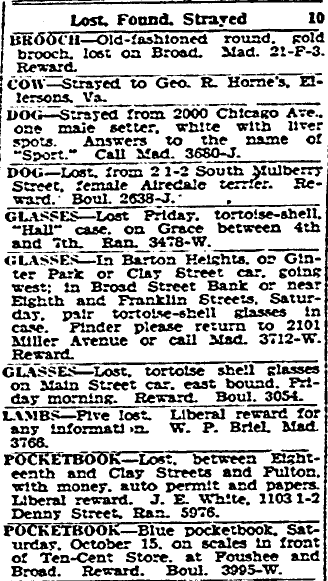 Remember that a "lost" item might actually be a stolen item. If you know that an ancestor had an animal or valuable object taken, you may want to see if they placed an advertisement seeking its return.
Found It!
Found ads can be interesting as well. Consider these two similarly worded, deliberately vague ads from a 1919 Washington newspaper. In order to claim their property, the owner of the missing item was required to pay the cost of the advertisement.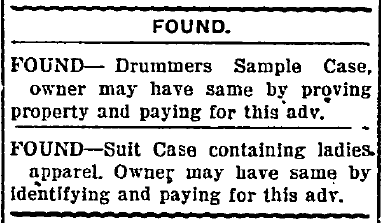 Unfortunate Losses
Some of the lost and found notices in newspapers are heartbreaking. You can sympathize with the despair of a loss such as the one reported in this ad, placed by a widow. Imagine the heartbreak of losing a great amount of much-needed money and realizing that it was unlikely to ever be returned! The address and phone number of this woman is listed, making it easier for descendants to identify her.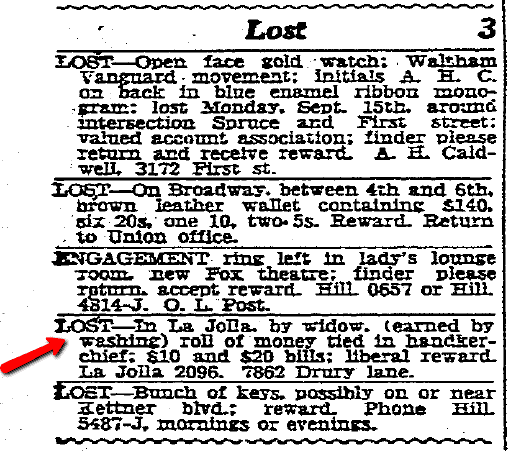 Lost Item Lists from Railway Cars
While we assume a single individual is responsible for placing a lost or found newspaper ad, it makes sense that occasionally a public transportation company placed an advertisement listing items found. This advertisement lists everything found on the cars of the United Railways and Electric Company.
Reading this lost and found ad, one gets a sense of the diversity of items brought onto these railway cars. This type of ad serves a social history function, giving us a glimpse at life in a different time. This particular advertisement lists a wide range of items—from what you would expect someone losing on public transportation (like an umbrella or a rain coat) to items you wouldn't expect (a hatchet and a saucepan).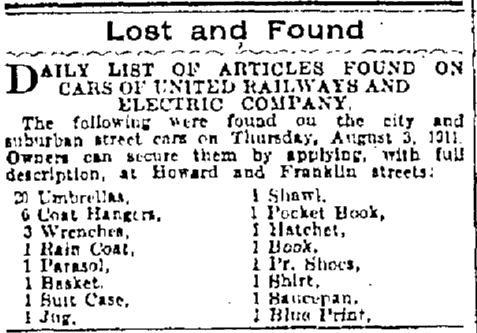 Lost and Found Ads Are a Valuable Genealogy Resource
Searching newspaper lost and found ads can provide important information for your family history. Like some of the other resources that we rely on for our genealogy research today, these ads won't be a resource for future genealogists since they're no longer in use. When I recently searched my local newspapers for the lost and found column, they were nonexistent. Luckily for us, they are abundant in old newspapers like the online collection of GenealogyBank's Historical Newspaper Archives—and lost and found ads are just one example of the many types of newspaper classifieds that can aid our search for our family's story.
Newspaper Search Tip: Initials matter! In my searches through lost and found ads I saw names, addresses, and phone numbers. However, because an ancestor may have had to be brief when placing an ad, depending on what they had to pay per word or letter, it's likely they may have abbreviated as much as possible—including their name. That's why searching for your ancestor by different name variations is so important, including their initials.
[bottom_post_ad]