Introduction: In this blog post, Gena Philibert-Ortega explores a family history resource in old newspapers that may surprise you: missing husband ads. Gena is a genealogist and author of the book "From the Family Kitchen."
The Internet, text messaging, email, cell phones, social media and instant messaging…today we take for granted the convenience and peace of mind that having access to a person at the drop of a hat—24 hours a day, 7 days a week—brings. When I was a teenager my parents knew that if I drove somewhere they would not hear from me again until I returned home. If I was going to be late I would find a telephone booth and call but there was no way to be in touch constantly. In today's world, parents panic if they don't get an immediate response from their cell phone-attached youngsters.
Imagine a time when, if someone left the house and didn't return, there were few ways to track them down.
Immigrant Disappearances
I was confronted with this reality years ago when I researched a client's grandfather who had come to the United States in the early 20th century to seek out a better life for his family. The idea, like for many immigrants, was that he would emigrate first to find work and then make enough money to bring his wife and children over to their new home.
Instead they never heard from him again. No one knew what happened to him. The family wasn't sure if he had died en route or years after arriving in America. Back at the time he disappeared, there was little that could be done to find a person who simply vanished into thin air. In some cases leaving without a trace was seen as a preferable option to a difficult or expensive divorce proceeding. In other tragic cases, an unfortunate mishap or act of violence was the reason for an unintended disappearance.
Missing Husband Newspaper Ads
So what did 19th and 20th century wives do when their husbands left and never returned? They used the newspaper. Specific newspaper articles targeting missing husbands existed, as in the case of the Jewish Daily Forward, which for a time included a column entitled the "Gallery of Missing Men" that provided descriptions and photos of husbands who had deserted their wives.
Newspapers also provided women the option of taking out a personal advertisement in the classifieds asking for the public's help in finding their missing husbands.
These missing husband newspaper ads might be a surprising source of family history information, helping you fill in some details about your ancestors that you can't find elsewhere.
[search_box]
Consider these two advertisements found in a 1907 Texas newspaper from GenealogyBank's Historical Newspaper Archives, both placed by women pleading for the public's help in finding their husbands.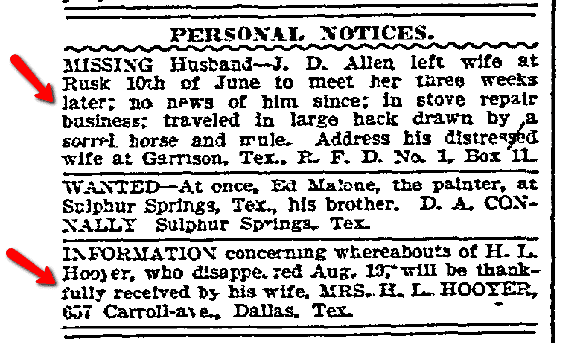 In the case of the second advertisement placed by Mrs. H. L. Hooyer, her husband Henry was a harness maker who one day disappeared. In a previous advertisement more details of H. L. Hooyer were given, including a physical description and what he was wearing when he disappeared.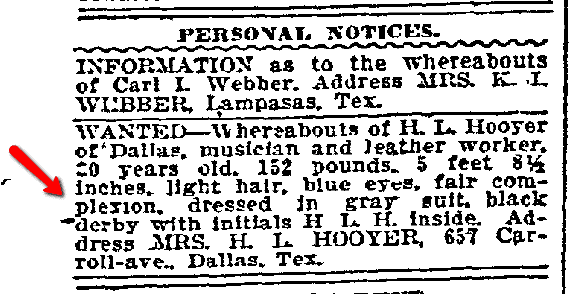 Mrs. H. L. Hooyer placed multiple advertisements in the Dallas Morning News looking for her husband. His union magazine also carried notices of his disappearance. An article in the October 1907 The Leather Worker's Journal (available from Google Books) from the Dallas Chief of Police provided information as well as a $50 reward. (See: http://bit.ly/1gfsW1C)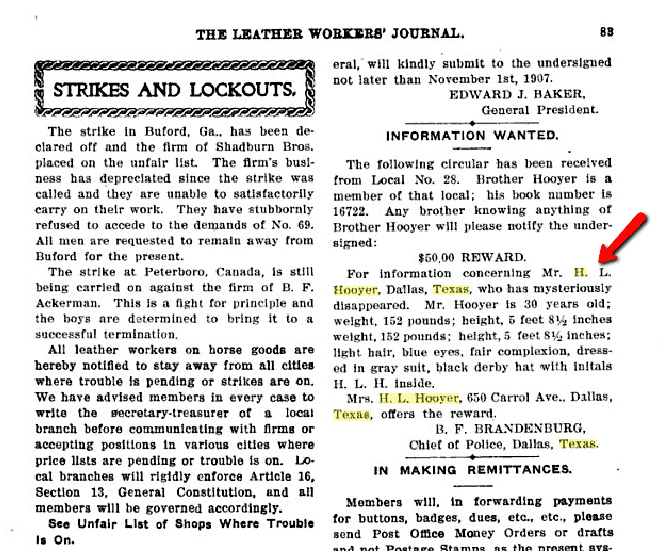 Another personal notice in The Leather Workers' Journal stated that the family feared Hooyer had been a victim of foul play, with an unconfirmed report of his drowning in Nebraska. Conducting a quick search for H. L. Hooyer in GenealogyBank confirms that he had been involved in at least one past criminal court case, as well as a civil case, months prior to his disappearance. Whether Henry did meet with an untimely death or not, his wife is listed in subsequent city directories and in the 1910 U.S. Census as a widow.
Find Lost Ancestors in Missing Person Ads
In an era when social media meant a daily or weekly newspaper, personal advertisements alerted the community to those who went missing. For wives who found themselves suddenly alone, the classifieds were one of their only options for seeking help locating their missing husbands.
Genealogy Search Tip: Remember, newspapers are full of family history information—which sometimes turns up in the most unexpected places. Don't rule out the classified ads when searching newspapers; your distressed ancestor may have placed an ad for her missing husband, providing personal details to help fill out your family tree.