Introduction: In this article, Gena Philibert-Ortega shares some of her favorite old photos that she's found in historical newspapers. If you want to know how to find old photos, try learning from Gena's unique experiences and tactics. Gena is a genealogist and author of the book "From the Family Kitchen."

There's no doubt I love to read and research old newspapers. The diverse news stories you can find are always amazing. But newspapers also provide a visual feast of images. Let's face it, images tell a story much more powerfully than words alone. Images provide us with additional information as we research our ancestor, their place, and time.
Often when we research an ancestor we are focused on finding information about that single person and perhaps their family. In some cases you might find your ancestor's photo in the newspaper – it's helpful to know how to find old family photos that offer more insight into their lives. Here are some of my favorite examples of old photos I found while browsing in GenealogyBank's Historical Newspaper Archives.
Old Family Reunion Photos
Newspapers are a great resource for finding family stories. Newspaper articles provide information about a person's life from cradle to grave – and all the activities in between. One way they report on family stories is through articles about family reunions – and these articles can have photos that are very helpful to family historians.
Family reunion photos may be of everyone at the gathering or just a few members, such as this reunion photo of two of the older members in attendance at the Chenault-Chennault clan's 1952 reunion that drew over 255 relatives from seven states to Dallas, Texas. One of the issues discussed at the reunion? Whether their surname should be spelled Chenault or Chennault.
It's great to have this old family photo and the accompanying information about those relatives pictured. Mrs. Blanche Chenault Junkin was a retired teacher and stated she had "won three college degrees after she was sixty years old."
Sometimes a "family reunion" isn't a large gathering of descendants, but instead a celebration of a singular family event – such as this photo taken on the occasion of Mrs. Nancy J. Atkinson's 91st birthday in 1922, when her eight children came to pay her a visit and help celebrate.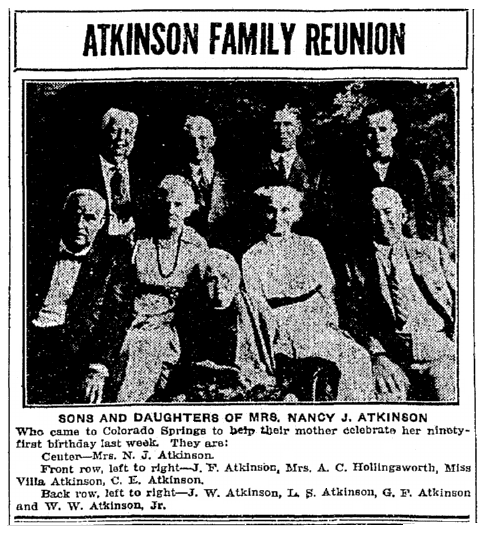 Multi-Generation Family Photos
How many generations of your family could you have pose for a family photo? Unfortunately, in my current family we max out at three – but for other families, four to six generations can be found in one photograph. Newspapers are a great place to find these types of multi-generation family photos.
This five-generation family photo is of Mrs. Eliza Heminger, her son George Heminger, Mrs. Lillian Hall, Mrs. Ethel Campany and Ethel's baby daughter Leafy.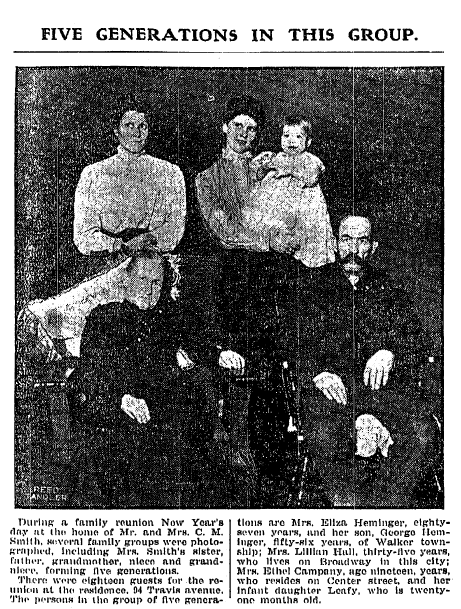 Multi-generation family photos are just one of the general interest-type stories and images that one can find in old newspapers.
Natural Disaster Photos
Telling your ancestor's story is more than just finding vital statistics about him or her. Filling in the details about their life is equally important – as well as finding out what was going on in the times they lived in – and for those stories, you need newspaper articles of the day. You can find all types of photos from historical events in the newspaper – and often if the event was big enough, those photos were not limited to just the hometown newspapers.
For example, photographs of this 1915 Italian earthquake were published in a Northern California newspaper. Most likely this was the 13 January 1915 Avezzano earthquake that killed 30,000 people. Photos of the devastation, printed weeks and months after the event, were the only way that distant family, friends, and concerned parties could size up the destruction.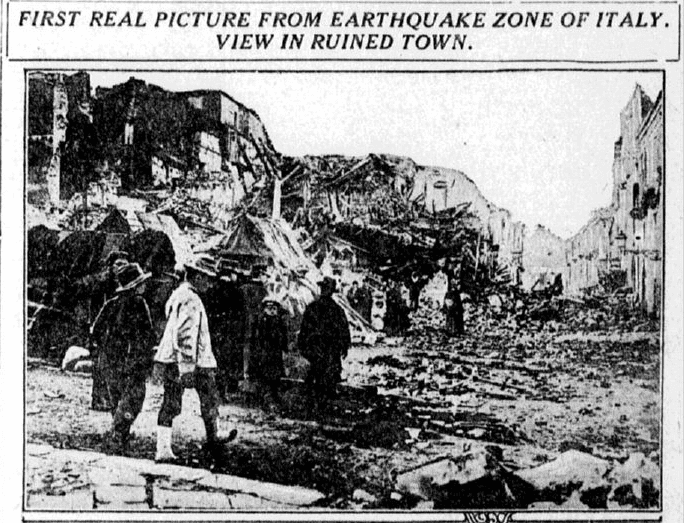 California is no stranger to earthquakes. One of the most famous is the 1906 San Francisco earthquake, which not only caused destruction from the shaking but the subsequent fires. Three days after the earthquake of 1906 struck, 500 city blocks—over 25,000 buildings—had been smashed or burned; the earthquake and fire combined to destroy over 80 percent of the city. So many old news articles and images can be found for this earthquake that it's quite easy to put together information about how a family was affected during and after the disaster.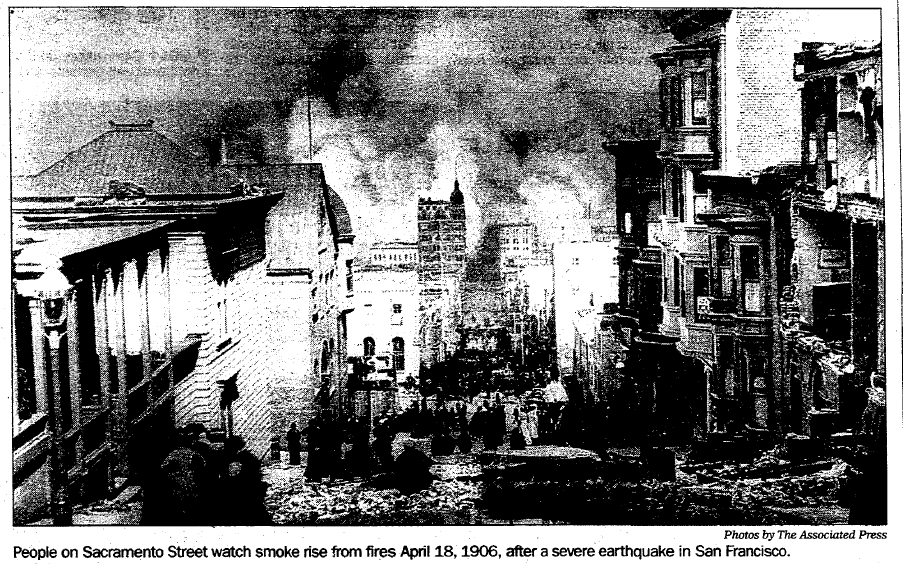 Genealogy Tip: As you put together a timeline of your ancestor's life, make sure to note any events, including disasters, which may have impacted them. Once you have identified dates for those events, search the newspaper for accompanying photos and stories.
School Group Photos
One thing I love about newspapers is the ability to find all family members, not just adults. Children, teens, and young adults are well represented in the newspaper, especially when it comes to school activities. Numerous school group photos can be found in newspapers. While we may think of class photos, graduation announcements, or sports highlights, other types of school happenings are also well documented in old newspapers, like this 1939 photo from Brownsville, Texas, of the new student leaders at the high school and junior college.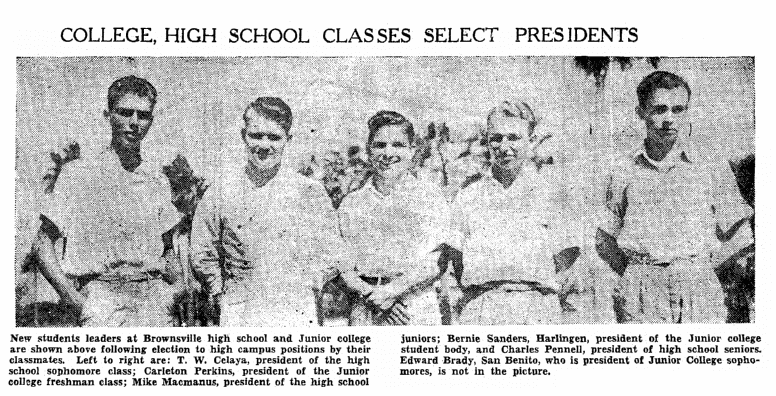 Unlike the photo above that includes everyone's name, this next photo has only one student name: Miss Borghild Asleson. However, this old school photo provides some important social history regarding attending college during the Great Depression. This class photo of students at Park Region Lutheran College in Minnesota shows them paying their tuition with wheat grown on their family farm. You can imagine how important that payment option was to families during those hard economic times.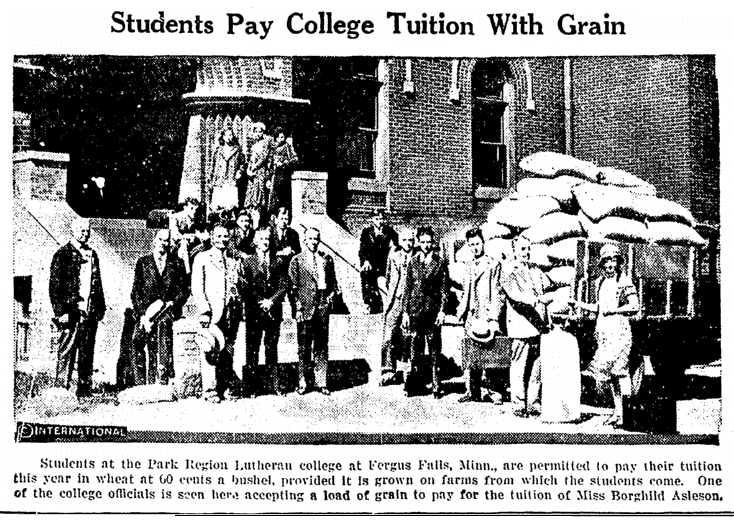 When it comes to uncovering old newspaper photos GenealogyBank has proven to a great resource. The examples of historical photos shown in this blog article are just the tip of the iceberg. Newspaper photos provide an important element in telling your family story, whether you are searching for the people photographed, an event, or a place. Old newspapers can help you tell that story with this rich resource.
If you are looking to find old family photos, begin your search at GeneologyBank today. Our helpful records will take you one step closer to getting a clearer picture of your family history with you stories, photos, names and dates of your ancestors. Learn more about your ancestry today with our historical newspaper archives.
Related Family Photos Articles: