Often, we know the exact date when our ancestors arrived in America.
Did you know that there is a way to find out the date when they left Europe?
Here is how I found out that my ancestor, William Kemp, embarked for America from England on 24 August 1853.
This information wasn't passed down in the family. In fact, all we knew about him was that he was "born in Ireland" – we didn't know where or any more details.
I decided to find out more about his story.
First, I found the date he arrived in New York City in the passenger lists put online by the Ellis Island Foundation. This is a free resource that is indexed by passenger name at: https://www.libertyellisfoundation.org/passenger
By searching their old passenger lists and ship arrival records, I found that he arrived on the ship Benjamin Adams on 21 October 1853.
I next looked for every mention of the ship Benjamin Adams in the old newspapers, concentrating around the time that he arrived in the U.S. in October 1853.
Who knew – newspapers around America tracked ship movements.
Shipping was big business in the 19th century. What happened to ships and their cargo impacted business, so readers wanted details of the movements of each ship – including the Benjamin Adams.
Searching in GenealogyBank, I was able to track this ship from the day it left Liverpool, England – 24 August 1853 – to the ship's arrival here.
It never occurred to me that we could do that with old newspapers, but I had a hunch and gave it a try.
Status reports on ships were gathered and reported from all sources. In this example, the steamer Asia reported that the "Benj Adams" had sailed on the 24th for New York City. Since the newspaper report was printed on 10 September 1853, I knew that the ship sailed on 24 August 1853.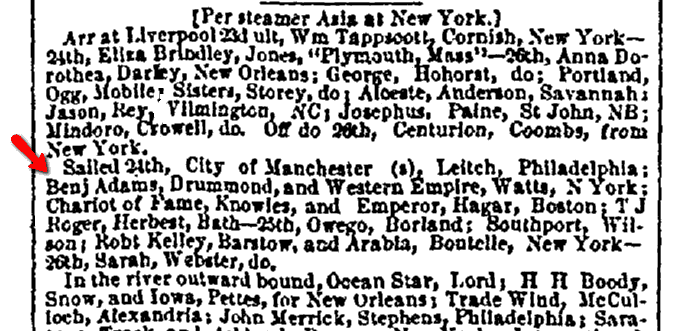 Notice that the name of the ship was abbreviated.
That is common in shipping reports.
Be flexible in your searches for ship movements.
Use various spellings for the name of the ship:
Benjamin Adams
Adams
Benj Adams, etc.
Finding this newspaper article, I now knew the date when he left for America and that the trip took him 56 days. I also realized that he was only 15 years old when he left. He would turn 16 in America at the end of October, a little over a week after his ship arrived here.
Your family stories might not have been passed down to you – but you can discover them in the old newspaper pages put online at GenealogyBank.