The United States reached a milestone on 12 January 1932 when Hattie W. Caraway became the first woman elected to the U.S. Senate, representing the state of Arkansas. When her husband of 29 years – Senator Thaddeus H. Caraway – died in 1931, Arkansas Governor Harvey Parnell appointed her to the vacant seat, and she was sworn into office Dec. 9. Arkansas held a special election in January 1932 to fill the remainder of Senator Thaddeus Caraway's term, and Hattie Caraway won easily.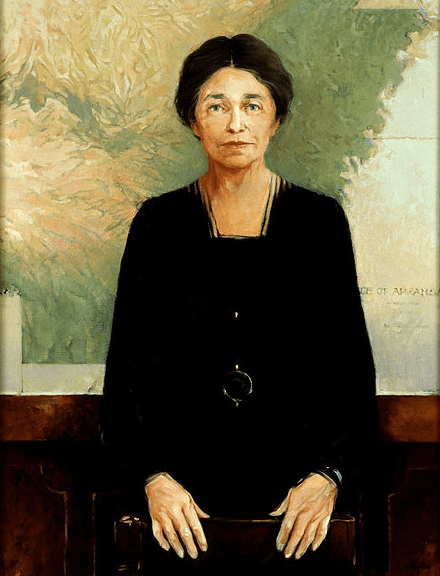 At the time, most observers expected her to retire quietly after her husband's term expired in March 1933, but Hattie Caraway surprised them by running for election to win her own term. She won, and won again six years later, in total serving in the U.S. Senate from 9 December 1931 to 3 January 1945.
Here are three newspaper articles reporting and commenting on her historic election in 1932. The first is a straightforward account of her election, pointing out how women's clubs in Arkansas helped rally the vote, with hundreds of women staffing the voting stations without pay, to help Hattie Caraway achieve her milestone victory.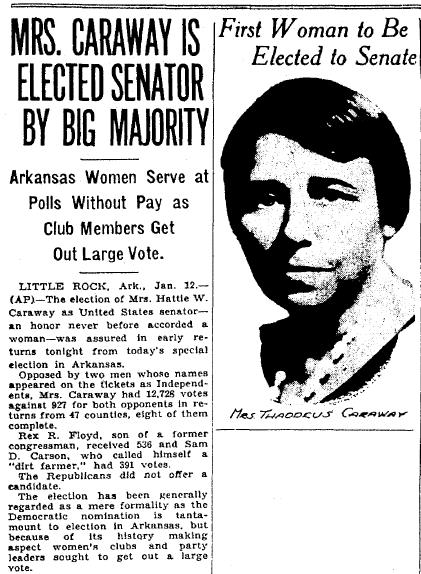 The article reports:
Feminine hands, for the most part, wrote and counted the light vote cast in today's special election.

All through a cold, drizzling day, women trudged to the relatively few polling places in the state to place their ballots in the hands of hundreds of women volunteers who served without pay as election officials. Reports indicated probably more women than men voted.
The next two articles are commentaries, the first (probably written by a man) critical of the practice of letting a widow fill her husband's position, and the second (written by a man – Charles Stewart) insisting Hattie Caraway is no feminist standard-bearer.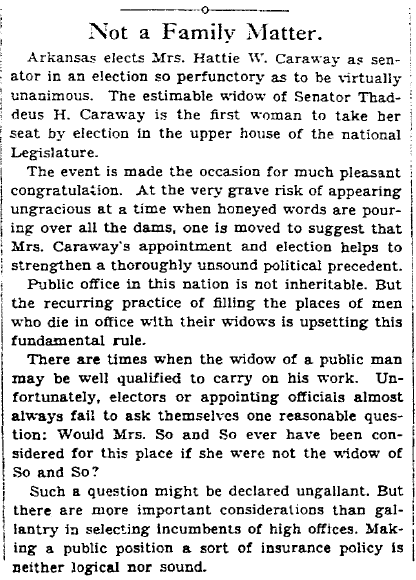 This editorial concludes:
Making a public position a sort of insurance policy is neither logical nor sound.
Stewart begins his commentary:
The Senate seat which so many women envy her plainly is only a constant reminder of bereavement to black-gowned, sad-faced little Mrs. Hattie W. Caraway.
He concludes:
The feminist lobby is mightily desirous to exploit the presence of one of their sex as a real voting, debating senator. It is difficult to imagine anyone more indifferent to the honor than Mrs. Hattie W. Caraway.
Historical newspapers are not only a great way to learn about the lives of your ancestors – they also help you understand American history and the times your ancestors lived in, and the news they talked about and read in their local papers.
Related Articles: