Introduction: In this article, Gena Philibert-Ortega searches old newspapers to learn more about one of the pioneering women in American history: Nellie Tayloe Ross, the first woman governor in U.S. history. Gena is a genealogist and author of the book "From the Family Kitchen."

It would seem fitting that the first U.S. state to inaugurate a female governor was Wyoming. Wyoming, whose motto is the "Equality State," approved female suffrage prior to statehood in 1869. In 1924, after the untimely demise of her husband, then-Wyoming governor William Ross, Nellie Tayloe Ross was asked by the Democratic National Committee if she would run for governor.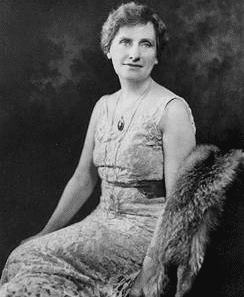 While she was discouraged by others close to her, in the end Nellie – who had two sons to support and bills to pay – decided to add her name to the ballot. The race would be tough for a Democratic woman since Wyoming was largely a Republican state and many did not see politics as a place for women. On top of that, her campaign relied largely on friends and advertisements since the recent widow was not ready to actively promote herself.
However, Nellie won the election on 4 November 1924 and was inaugurated on 5 January 1925.
Two Women Running to Be Nation's First Governor
During that 1924 election year, Wyoming wasn't the only state looking to elect a female governor. In Texas, Miriam "Ma" Ferguson was also campaigning to become the nation's first female governor.
This article from the Evening Star reminds readers that Wyoming was first in granting women's suffrage: "Thirty-four years ago, Wyoming Territory felt sufficiently grown up to put on the long pants of statehood, and the strangely assorted group of cowmen, homesteaders, prospectors, and lawyers who framed her progressive laws cudgeled their brains for some gesture with which to demonstrate their superiority over the backward and decadent East."
In the 1924 election, Texas' Ma Ferguson was elected governor in her state's race. Interestingly, her husband had also been governor years earlier but was impeached. That didn't stop Miriam from winning her race and becoming the first female governor of Texas. However, Nellie was inaugurated in Wyoming 15 days before Ferguson was in Texas, giving her the title of the nation's first woman governor.
Nellie, the Governor
After her overwhelming win, Nellie continued to work on some of her husband's projects including enforcement of prohibition. In addition she promoted her own agenda that included "…requiring cities, counties, and school districts to have budgets; stronger state laws regulating banks…obtaining more funds for the university; improving safety for coal miners; protecting women in industrial jobs; and supporting a proposed amendment to the U.S. Constitution that would cut back on child labor."*
Nellie's brief stint as Governor of Wyoming (she was governor for two years) was not without its detractors. One might expect that many men who believed that politics was no place for women would be hyper vigilant to point out her foibles and mistakes, but women were also among those who were unhappy with her performance. Their complaints included that she had not done enough to assist women in the political sphere, including her lack of female political advisors.**
One issue that women's clubs had with Nellie was her position on prohibition. In this article boldly titled "California Women Snub Nellie Ross" about a Southern California chapter of the Women's Christian Temperance Union (WCTU), they had "by resolution…declared Mrs. Nellie Tayloe Ross inconsistent in avowing herself a prohibitionist and at the same time campaigning in the California presidential primary in behalf of the candidacy of Governor Al Smith, of New York." They want on to say: "We deplore the position taken by Mrs. Nellie Tayloe Ross, former governor of Woyming [sic], who is now in California proclaiming herself a prohibitionist and in favor of enforcement of the prohibition laws of the United States and yet is speaking publicly in support of the presidential candidacy of Governor Al Smith, of New York, whose record on nullification of the prohibition law and whose personal sentiments in opposition to prohibition are well known to the people of the entire nation."

Public Life after Being Governor
After Nellie served two years as governor, she continued a high-profile life that included the lecture circuit. In this 1930 South Dakota engagement reported by the Aberdeen Daily News, she was addressing the issue of women in politics. She said: "Political emancipation in the 19th amendment gives recognition of women as thinking, intelligent human beings." She went on to talk about the fact that it wasn't easy for women to enter roles that had been traditionally held by men. She stated that "men have felt the responsibility resting upon them for so many years…that it is hard for them to allow women to enter in."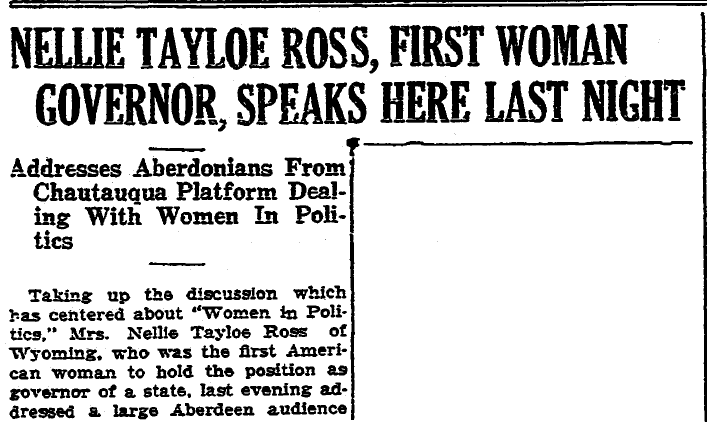 Nellie went on to be the vice-chairman of the Democratic National Committee and then, in 1933, was the first woman appointed to head the U.S. Mint, a job she held for 20 years until 1953.
There's no doubt that Nellie enjoyed many firsts in her life. She was written about in newspapers throughout the United States for the various events and activities she took part in. She also made the news in 1976 when she turned 100 years old.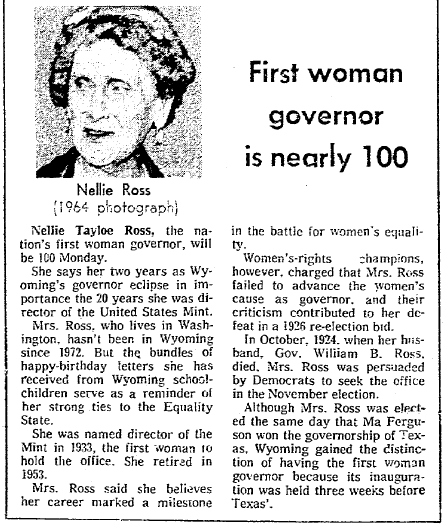 Nellie died at 101 years of age in Washington D.C. Although she had been Wyoming's governor for only two years, her title of first woman governor was one that was repeated in almost every newspaper article about her throughout her life – including her obituary.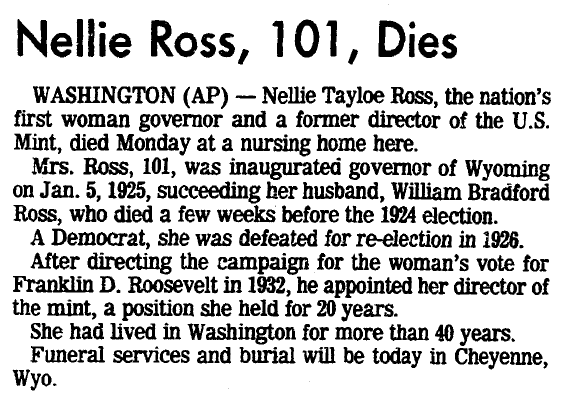 Note: FamilySearch International (FamilySearch.org) and GenealogyBank are partnering to make over a billion records from historical obituaries searchable online. The tremendous undertaking will make a billion records from over 100 million U.S. newspaper obituaries readily searchable online. The newspapers are from all 50 states and cover the period 1730 to the present.  Find out more at: https://www.genealogybank.com/family-search/
—————-
* Rea, Tom. The Ambition of Nellie Tayloe Ross. WyoHistory.org. http://www.wyohistory.org/essays/ambition-nellie-tayloe-ross. Accessed 28 December 2014.
** Ibid