As mentioned in a previous article, I have many ancestors who lived in the small town of New Gloucester, Cumberland County, Maine.
The anchor photograph for that essay on the Haskell family – a photo of the old Shaker meetinghouse there in town – got me to thinking.
Digging deeper, I came across a Wikipedia article that mentioned that New Gloucester is home to the last active Shaker village in the U.S., the Sabbathday Lake Shaker Village:
"Sabbathday Lake Shaker Village was founded in 1783 by the United Society of True Believers at what was then called Thompson's Pond Plantation. It was formally organized on April 19, 1794. Today, the village is the last of formerly nineteen religious societies, stretching from Maine to Florida, to be operated by the Shakers themselves. It comprises 18 buildings on 1,800 acres (7.3 km2) of land."

Source: Wikipedia
I know that my 2nd Great-Grandfather Warren D. Huse (1836-1910) married again after his first wife died. He married "Great-Grammie Tuttle" – Agnes Eleanor Evans (1872-1965) –a Shaker who, along with her parents, was a leader at the Canterbury Shaker Community in New Hampshire.
I wanted to know if I might be related to any of the Shakers in New Gloucester, so I searched GenealogyBank's Historical Newspaper Archives for the keyword "Sabbathday Lake Shaker Village."
This search led me to a 2001 obituary for one of the world's last remaining Shakers: Marie Frances Burgess (1920-2001).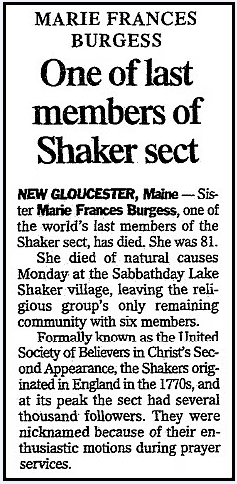 According to her obituary:
"New Gloucester, Maine – Sister Marie Frances Burgess, one of the world's last members of the Shaker sect, has died. She was 81.

"She died of natural causes Monday at the Sabbathday Lake Shaker Village, leaving the religious group's only remaining community with six members."
Bingo – by looking for her on FamilySearch I discovered that Marie Frances Burgess is my cousin.
I did a Google search for her name and found this AP report about Marie and the Sabbathday Lake Shaker Village that included a YouTube video of her making bread and being interviewed. She had joined the Shakers when she was 19 years old and remained active in the faith and community for the next 62 years, until her death.
NewGloucester.com gives a bit more information on what is left of the Sabbathday Lake Shaker Village:
"The Shakers first came to New Gloucester in 1782, and the first meeting was held in the home of Gowan Wilson Sr. The meeting house was built and ready for use on Christmas Day in 1794, and still stands with its original paint as bright as when it was first done. Other buildings soon followed and the community reached its peak in the 1800's. The community is still active although the number of members has declined through the years. The Shakers complex on Route 26 is a popular attraction with its museum and gift shop."

Source: NewGloucester.com
Her story really touched me.
Related Article: