Recently, I was researching my fifth-great-grandfather Lieutenant Nathaniel Haskell (1742-1794), who served in the Revolutionary War. I was interested in seeing what else I could learn about my Haskell relatives in New Gloucester, Cumberland County, Maine, so I decided to search for the last name "Haskell" with the keyword "New Gloucester" in GenealogyBank's Historical Newspaper Archives.
Since the surname "Haskell" is uncommon and New Gloucester is a small town (the population was only 1,378 in 1800), chances are high that most of the individuals I find will be related to me.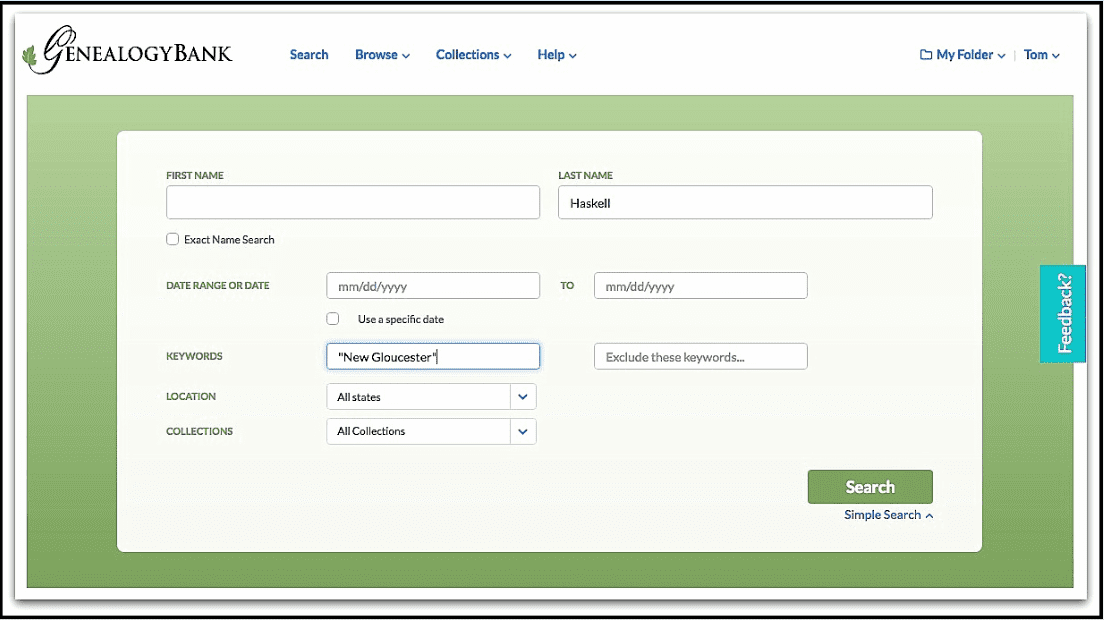 The first result of this search was an obituary for "Jane S., wife of Thos. M. Haskell, aged 57 years 11 months."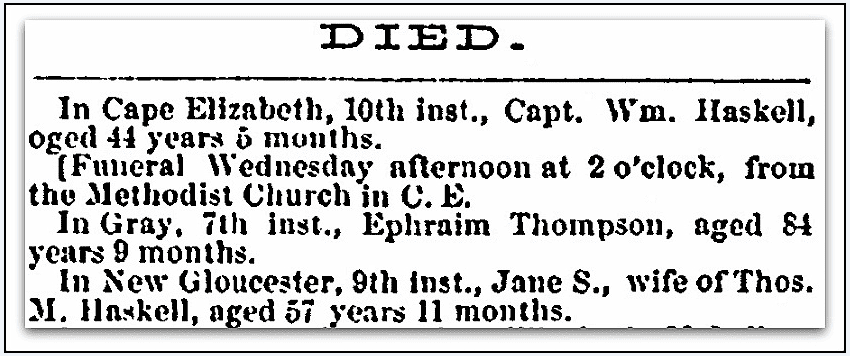 After a bit of FamilySearch sleuthing I found the records of Jane Stowell Haskell (1806-1864), who was married to Thomas McGuire Haskell (1806-1887), and who died in New Gloucester on 9 October 1864.
Another search result was an obituary for "Samuel C. Haskell, of Portland, aged 29 years 10 months."

The obituary mentions that Samuel C. Haskell (1834-1864) died at his father's home, who, as it turns out, was the above-mentioned Thomas McGuire Haskell (1806-1887). 1864 was a difficult year for Thomas, who lost both his wife and his oldest son within a few months of each other.
I am glad that the old newspapers in GenealogyBank give us this level of detail, providing insight into Thomas' tragic year.
Another article mentions Ebenezer Haskell, who was "born in New Gloucester, Maine" and that he "laid the foundation for the Board of Public Charities in Pennsylvania."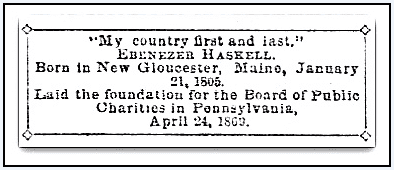 Good find. He is very likely one of my Haskell cousins.
The next New Gloucester Haskell record I looked at in this research session was an obituary for "Mr. Nathan Haskell, aged 87 years" who died in New Gloucester on 4 December 1840.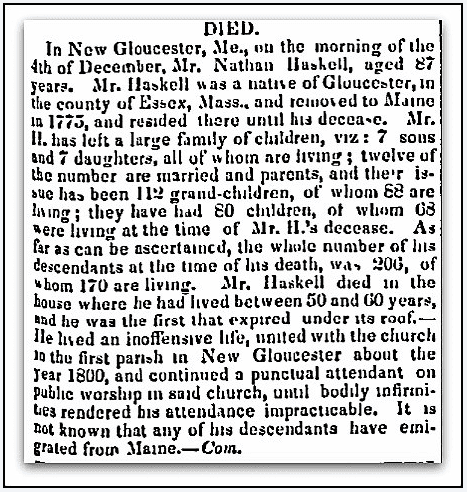 According to this very detailed obituary, Mr. Nathan Haskell had 14 children, 112 grandchildren, and 80 great-grandchildren, and had lived in New Gloucester for around 60 years – meaning he very likely was the patriarch to many of my New Gloucester Haskell cousins.
Newspapers give us the details and clues we need to fill in our family history.
Genealogy Tip: Search GenealogyBank for individuals using one of your family surnames and the name of the family's hometown as your search terms. Studying each article will let you discover whether that individual is related to you – and if not, then you've mapped out individuals with the same surname that are not related, making it easy for future genealogists to know which ones are/are not related. It's a win-win.