As regular readers of this blog know, GenealogyBank's historical newspaper archives are a great resource to research your family history and fill in details on your family tree. These newspapers are also a terrific window into the past, letting us learn more about important people and events in our nation's history.
For example, let's see what these old newspapers have to tell us about one of the outstanding athletes in American history: Henry "Hammerin' Hank" Aaron, the superstar who played baseball in Milwaukee and Atlanta for 23 seasons, from 1954 to 1976. Aaron is famous as the baseball player who broke Babe Ruth's all-time home run record of 714—and, as expected, there is plenty of newspaper coverage of his historic home run and other baseball exploits.
The newspapers also tell us much more about his life than this: in addition to being a rare and gifted American athlete, Henry 'Hank' Aaron was a humanitarian—and a true gentleman.
The sports media and baseball fans were whipped into a frenzy as Hank Aaron approached Babe Ruth's magical number in the 1973 Major League baseball season. Although 39 years old that summer (an age when most baseball players have retired) Hank Aaron was on target, hitting 40 home runs…but ended the year with 713 home runs, still short of the goal of 715. He had to wait all winter for another opportunity to break baseball's home run record the next spring.
When the 1974 season began, Aaron wasted no time. He hit the record-tying 714th home run on his first at-bat that year, in Cincinnati. On April 8 the Atlanta Braves returned to Atlanta for their home opener, and 53,775 wildly cheering fans attended the game hoping Aaron would get the record that night. Hammerin' Hank did not let the crowd down, hitting home run number 715 in the fourth inning. He received a thunderous standing ovation from the Braves' baseball fans while fireworks lit up the sky above the stadium.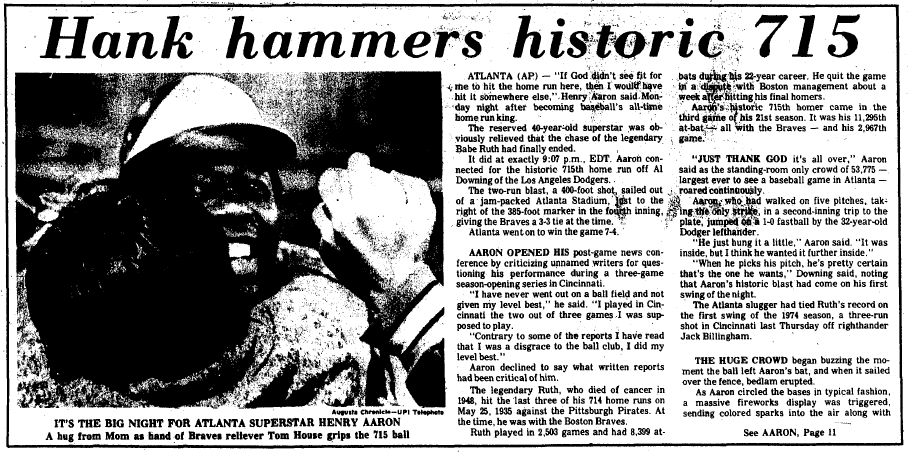 In addition to details of the baseball game itself and Aaron's record 715th home run, the newspaper article provides this detail:
Aaron broke away from his mates and rushed to a special box adjacent to the Atlanta dugout where he clutched his wife, Billye, and parents, Mr. and Mrs. Herbert Aaron, of Mobile, Ala.

"I never knew she could hug so tight," Aaron said of his mother.
The following newspaper article tells us something about the character of Hank Aaron. Although he was one of the greatest American baseball players ever, he kept his ego in check; Aaron was widely recognized as a good teammate and a quiet, respectful man—a true gentleman.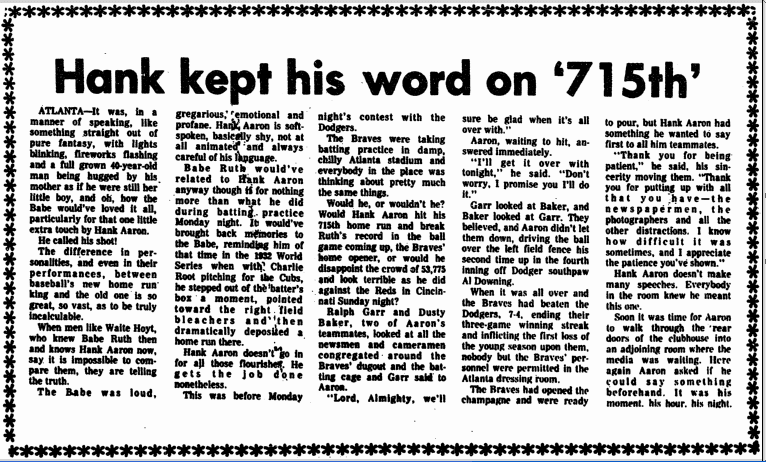 As this newspaper article relates, Hank Aaron was sensitive to the disruption his teammates had to endure while the press thronged around him night after night in 1973-74 covering his chase of the home run record. When it was finally over and the champagne celebration in the Atlanta locker room after the game was ready, Aaron thought immediately of his teammates:
The Braves had opened the champagne and were ready to pour, but Hank Aaron had something he wanted to say first to all his teammates.

"Thank you for being patient," he said, his sincerity moving them. "Thank you for putting up with all that you have—the newspapermen, the photographers and all the other distractions. I know how difficult it was sometimes, and I appreciate the patience you've shown."

Hank Aaron doesn't make many speeches. Everybody in the room knew he meant this one.
Away from the spotlight and the glare of media publicity, Aaron had another career: he was a great humanitarian. He devoted countless hours to helping others, especially children, as shown in the following newspaper article.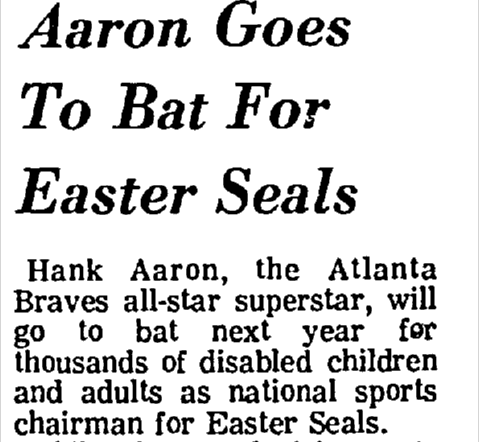 Newspaper archives provide all sorts of surprising stories about the life of the person we're researching. How many people know that Henry Aaron was once a mayor?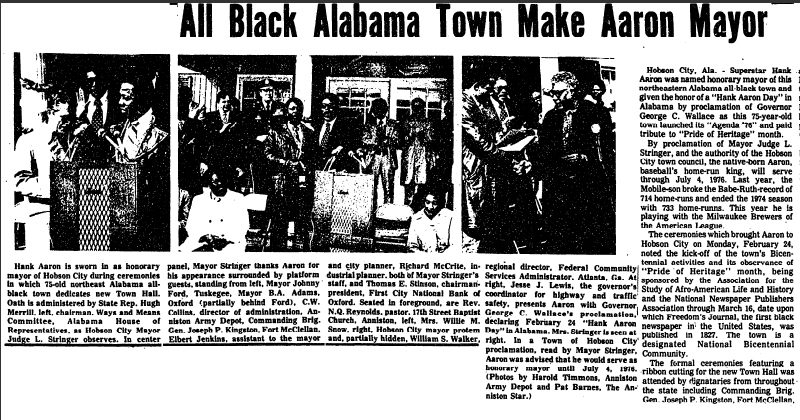 Hank Aaron was born in Alabama, and in 1975 he was:
…sworn in as honorary mayor of Hobson City during ceremonies in which 75-year-old northeast Alabama all-black town dedicates new Town Hall.
There was a dark side to Hank Aaron's pursuit of Babe Ruth's home run record—and the newspapers covered that as well: racism raised its ugly head. Throughout the 1973 Major League baseball season, during the offseason, and again in 1974, Aaron received hate letters mixed in with the supportive letters that were pouring into the Atlanta Braves' mailbox. Some even sent him death threats.

In the above very revealing newspaper article, Hank Aaron opens up about the threats he'd been facing:
Aaron's hero off the field is Dr. Martin Luther King. "He could walk with kings and talk with presidents," said Aaron. "He wasn't for lootings and bombings and fights but he wasn't afraid of violence, either. He was 20 years ahead of his times."

King's death by assassination cannot, of course, be forgotten by Aaron. Sometimes Aaron wonders about that, too. He says that among the hundreds of letters he receives weekly, many are threats on his life.

"But I can't think about that," he says. "If I'm a target, then I'm a target. I can only worry about doing my job, and doing it good."
This same newspaper article says of Aaron:
He has recently become identified with black causes. For example, he is now a close personal friend of the Rev. Jesse Jackson, a leading young black spokesman. Aaron, in winter, now is the organizer of a celebrity bowling tournament in Atlanta with proceeds going to research on sickle cell anemia, a disease that afflicts black people.
And this:
Aaron is also outspoken on the progress, or lack of it, for blacks in baseball. He says that blacks are stagnating. "Whatever so-called progress there is—like blacks staying in the same hotels with the white players—this came about from civil rights legislation, not from any leveling action by baseball," says Aaron.

"Why aren't there even no black managers? Why aren't there even no black third base coaches? There are token first base coaches—a few. But what does a first base coach do? He has no duties. No responsibilities. Nothing. Absolutely nothing. He's not expected to have any intelligence."

Aaron still feels some of the clichés of being black. He remembers that once blacks were considered "too gutless" to be able to take the pressures of day-in, day-out major league baseball.

"Jackie Robinson changed a lot of those beliefs," says Aaron. "His courage and intelligence showed what the black man could be made of.
Hank Aaron's stance on black rights is explored further in the following newspaper article.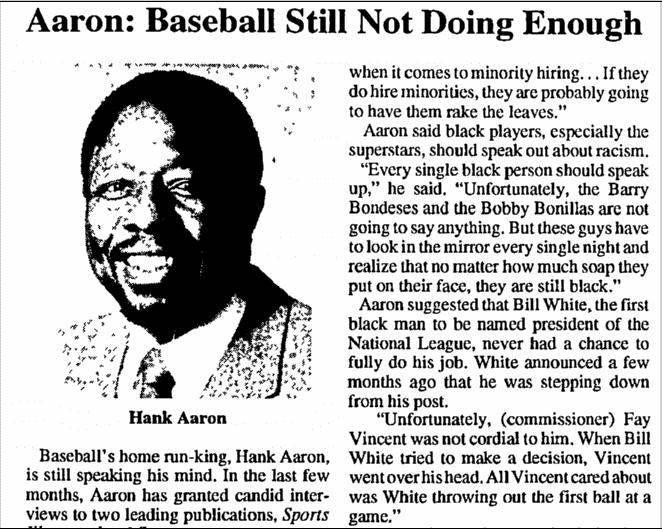 As you can see, newspaper archives are filled with stories you may never have heard before. You can discover little known facts, view pictures and learn more about the personal lives of famous people and your family members with newspapers.  Have fun searching our newspaper archives for details about celebrities and your own ancestors—you never know what you might find!