This week marks the 200th anniversary of the birth of Charles John Huffam Dickens, the famous English novelist who created such memorable characters as David Copperfield, Oliver Twist, Ebenezer Scrooge, and Tiny Tim.
Born on Feb. 7, 1812, Charles Dickens remains one of the most popular and beloved writers in the world—in fact, his stories have never gone out of print!
One of the pleasures of doing family history research in a large collection of historical newspapers like GenealogyBank's is that you can also find material about famous people. Not only can you explore their lives and trace their family trees in newspapers—you can get priceless information about famous people that isn't available from other genealogical resources.
For example, two days after the famous author's death these impressive words were written about Charles Dickens in a newspaper obituary published by the Cincinnati Daily Enquirer (Cincinnati, Ohio), 11 June 1870, page 4:
"Without the slightest tinge of exaggeration it may be said with solemn meaning that no announcement could have created a profounder feeling of sorrow and regret than that which conveys the intelligence of the death of Charles Dickens, the eminent novelist—the friend of humanity.
"The event, while it was not altogether unexpected—for Dickens was a man of years, of full habit and many ailments—yet it came like an electric shock which deadens for an instant and is followed by a somber gloom.
"A potentate of Europe might have passed away and created no ripple, save in his own immediate circle; but the death of one so great and good as Dickens is a world-wide calamity, and it will be felt wherever the English language is spoken—wherever human impulses are felt."
On the 100th anniversary of Dickens's birth the Oregonian (Portland, Oregon) ran this page-long chronology of the life of the beloved author, published 28 January 1912, page 4.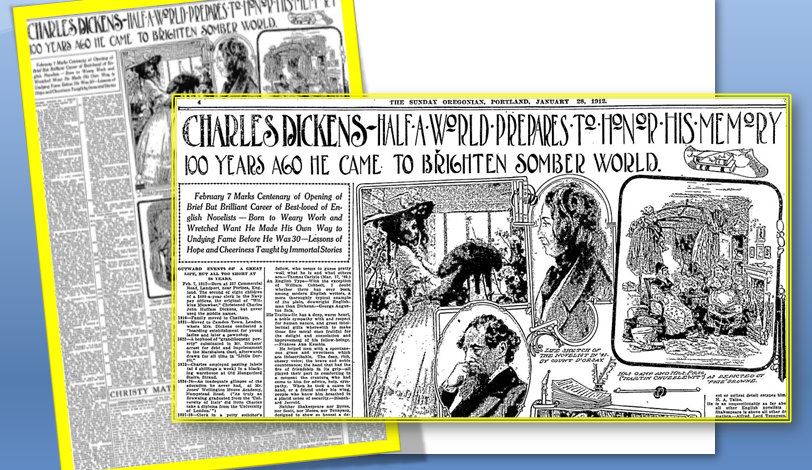 You can discover the facts about Charles Dickens at GenealogyBank. Visit our historical newspaper archives today to explore the life and death of the world-renowned author Charles Dickens: http://bit.ly/AobNT9
(Visited 32 times, 1 visits today)