Wow—over 4,000 genealogists attended this year's RootsTech conference in Salt Lake City last week. This must-attend conference was a nonstop opportunity to learn about the latest genealogy technology and to talk shop with like-minded genealogists from around the country. I have been attending genealogy conferences for nearly 50 years and RootsTech 2012 was the best ever. Plan now to attend the next RootsTech conference, on March 21-23, 2013!
GenealogyBank was there in force, with seven reps from our Team on-site to meet our members and explore their ideas, "wow" finds, and suggestions for GenealogyBank as we move into 2012.
At the RootsTech 2012 conference, I gave a presentation on searching newspapers for your family history that was well attended and very well received. If you were unable to attend my presentation at the conference in person, you can download a free copy of the PowerPoint slides I used, entitled "Newspapers for Genealogists: Document Every Day of Your Ancestors' Lives" by clicking the Facebook "Like" button below:
[like-to-dl theme="blue" url="http://bit.ly/x46H6R " like_url="http://www.facebook.com/GenealogyBank" message="Click Like to Download Our Newspapers for Genealogists PPT from RootsTech! "]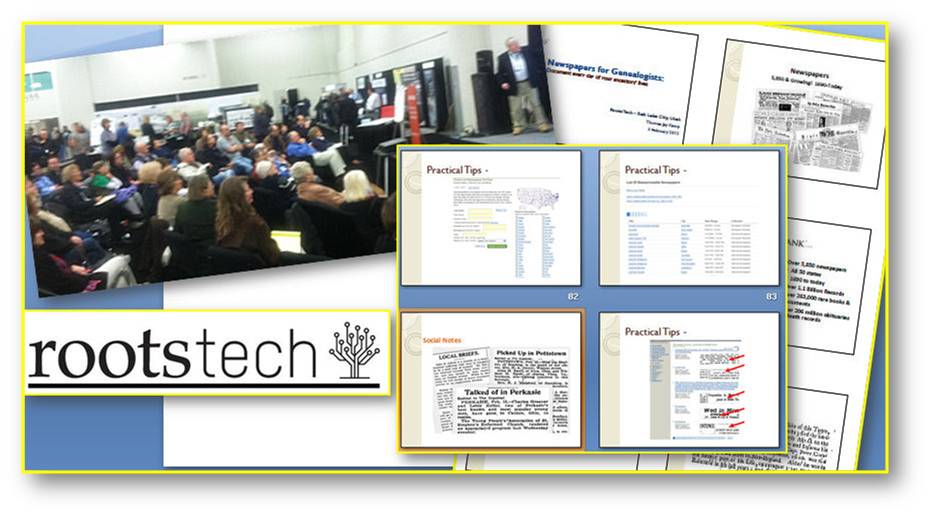 Download the RootsTech presentation and read through this effective overview of GenealogyBank, with plenty of search tips and strategies for using the terrific genealogical resources provided by our historical newspaper archives.