No other online source has the depth of coverage of colonial newspapers that you can find in GenealogyBank's Historical Newspaper Archives.
This is your go-to source for documenting the lives and stories of your Revolutionary War ancestors. You can read about the battles they fought in and follow them day by day.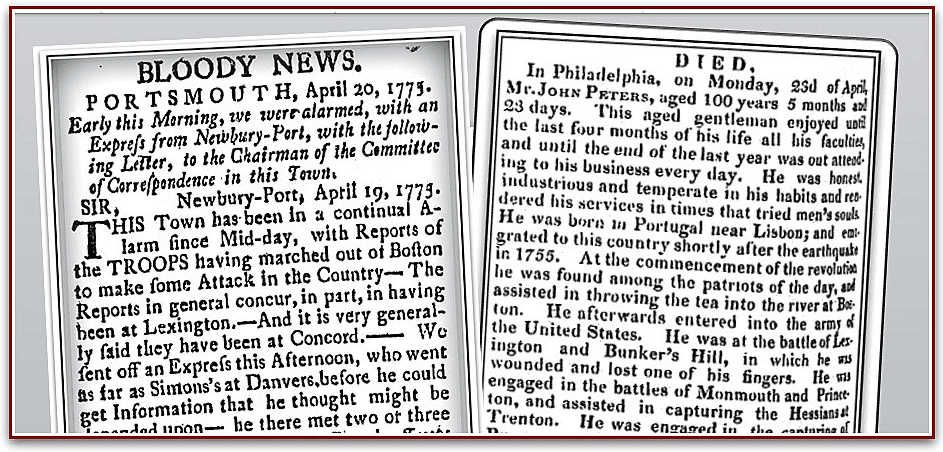 Digging into the old newspapers, I have found thousands of articles about these dedicated soldiers. Beginning today through July 4th I am writing a series of articles featuring different Revolutionary War soldiers. I will post them on our Facebook page and also give details here on our Blog page.
Let's remember and honor our Revolutionary War veteran ancestors.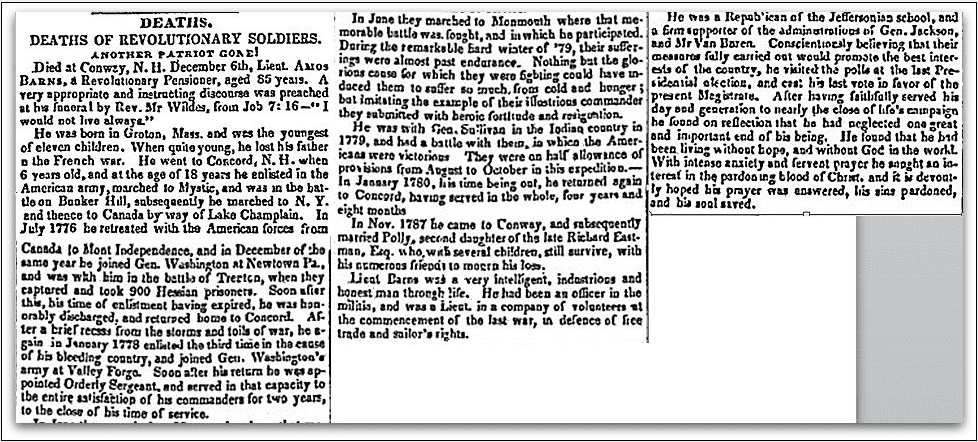 When Amos Barnes died in 1840 newspapers remembered him – giving the details of his life, his family and his service to the nation in a detailed obituary:
He died 6 December 1840 in Conway, New Hampshire
He had served as a lieutenant and was a Revolutionary War pensioner
He was 83 years old
His funeral sermon was preached by the Rev. Mr. Wides, based on Job 7:16
He was born in Groton, Massachusetts, the youngest of 11 children
His father died in the French & Indian War
At age 6 the family moved to Concord, New Hampshire
At age 18 he enlisted in the Army
He marched to Mystic, Connecticut
June 1775 – he was in the Battle of Bunker Hill
He marched to New York; then to Canada; then to Mont Independence
December 1776 – he was with George Washington in Newtown, Pennsylvania
December 1776 – Battle of Trenton
His enlistment over, with an honorable discharge, he returned home to Concord, New Hampshire
Re-enlisted January 1778, serving with George Washington in Valley Forge
Served as Orderly Sergeant for the next two years
June 1778 – Battle of Monmouth
Winter 1779 – Valley Forge
1779-1780 – Sullivan campaign
January 1780 – discharged, returned to Concord, New Hampshire
November 1787 – moved to Conway, New Hampshire
17 July 1790 – married Polly Eastman, "second daughter of the late Richard Eastman, Esq. who, with several children, still survive…"
Described as "a very intelligent, industrious and honest man through life"
Served in "the last war [War of 1812], in defence of free trade and sailor's rights"
He was a Jeffersonian Republican, "a firm supporter of Gen. Jackson and Mr. Van Buren"
He voted in the last election
Late in life "with intense anxiety and fervent prayer" he turned to a deeper faith in Christ
Compact and filled with the details of his life, his obituary – like all veterans' obituaries – makes us pause and remember his life and his service to our country.
Don't wait for your hero ancestor's story to be told – post his story in the comments below.
Related Articles: