Introduction: In this article, Katie Rebecca Garner gives more tips for using the information found on U.S. Census records from 1850-1940, and provides a case study. Katie specializes in U.S. research for family history, enjoys writing and researching, and is developing curricula for teaching children genealogy.
The first article in this series (see: Genealogy Tips: U.S. Census Records, 1850-1940, Part I) looked at: household members' age; housing and real estate data; military service; and other information recorded in the census. We will continue this series by exploring information contained in the censuses from 1850 to 1940, and look at a case study illustrating the usefulness of census clues.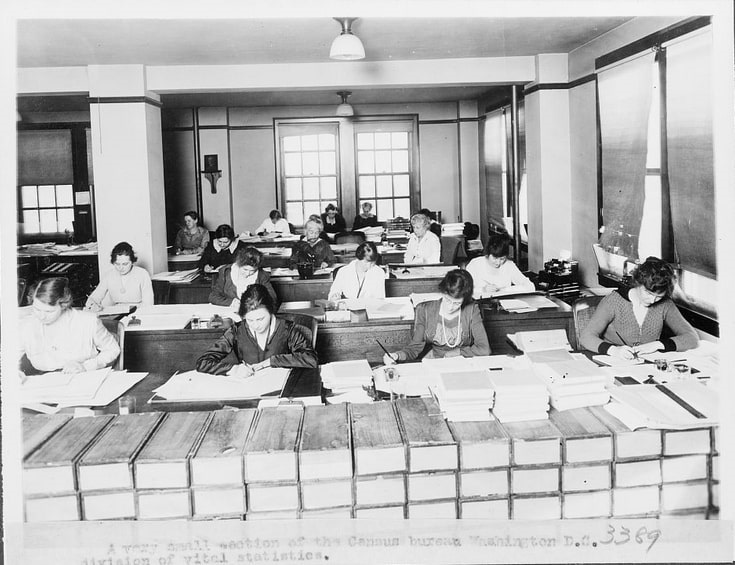 Marriage & Relationship Information
Most of these censuses tracked marriage and relationship information, both important for genealogical research.
The 1850 to 1870 censuses asked the marriage month of couples that had been married within the year.
The 1880 census was the first to ask for marital status, with the options being single, married, widowed, and divorced.
The 1900 and 1910 censuses asked for the number of years in a present marriage.
The 1930 census asked for age at first marriage.
This inclusion of marriage information helped me with some recent genealogical research. I was trying to find the Creswell's marriage date. The 1900 census indicated that Charles and Rachel Creswell had been married for 31 years (1), putting their calculated marriage date around 1868-1869. Being able to focus on these two years helped find records that established their marriage date was 9 November 1868. (2)
From 1850 to 1870 no relationships were stated in the census, so a researcher must guess how family members were related. The most obvious guess is head, wife, then children, but not every household was structured that way. Nieces and nephews on the paternal side could have the same surname as the head; in a blended family, the father's children would bear his surname, but the mother's children would bear her prior surname. Beginning in 1880, relationship to head of household was stated. An in-law to the head of household could give a clue to the wife's maiden name.
This relationship information in the census helped me when I was researching the 1940 Oscar Boneck household. (3) He was living with his wife, Mary, their sons, and his in-laws. Included in his household were his father-in-law, Charles Ellena, and his brother-in-law, Charles Ellena Jr. This told me that the maiden name of his wife is Mary Ellena. The 1940 census was the first that specified the order for various relations to head of household: head, wife, children, other relatives, boarders.
Education
Education was also tracked in censuses from 1850 onward. The questions varied throughout the decades, with some censuses asking for highest level of education completed, some asking if people attended school within the census year, some tracking literacy. This can be helpful in identifying an ancestor from someone of the same name, especially if the ancestor moved.
Informant Identified
The 1940 census was the first to track the informant. This is helpful in determining the reliability of the information. In prior censuses this was not tracked, so information is indeterminate between primary and secondary. If a family wasn't home when the census taker arrived, the neighbors may have been the informants. This decreases the reliability of censuses, despite how helpful the information otherwise is.
Case Study: Census Clues in Action
Daniel Garner and Mary Landis were married sometime in the 1850s, a widower and a widow remarrying, or so a FamilySearch Family Tree portrayed. Daniel's first wife was Rebecca Good, and they had two daughters together: Lucetta born 1836; and Elizabeth born 1839. Mary's first husband was supposedly Jacob Long, and they had a daughter together, Anna Mary Long born in 1847.
The 1860 census for Daniel Garner's household did not show the expected blended family. (4) The household contained Daniel Garner age 48, his wife Mary age 32, his daughter (Mary's stepdaughter) Elizabeth age 21, and his and Mary's daughter Malinda age 2.
Daniel's daughter (Mary's stepdaughter) Lucetta was not listed as a member of the household in the 1860 census. This is not surprising; she was 24 in 1860 and probably married with her own household at that time.
What is surprising is that Mary's daughter (Daniel's stepdaughter) Anna Mary age 13 was not on this census with the family. She wasn't dead because she didn't die until 1910, according to her Find-A-Grave index. (5) It doesn't make sense that the 13-year-old stepdaughter/daughter would be missing from the household where the 21-year-old daughter/stepdaughter was living.
Why was Anna Mary, who was alive in 1860, not listed in Daniel and Mary's household on the 1860 census? This suspicious omission was like a red flag raised by the census, and alerted me that I had to dig deeper and uncover more information to solve this mystery.
The answer to this discrepancy was found in a marriage announcement for Daniel Garner and Miss Mary Landis. It turns out Daniel Garner was Mary Landis' first husband, not her second. Had Mary been a widow when she married Daniel Garner, the marriage announcement would have listed her name as Mrs. Mary Long, not Miss Mary Landis.
Further research showed that this is what happened: a derivative source, and consequently other researchers, confused the identities of two different Mary Landises. The one that married Daniel Garner was not a widow – that was a different Mary Landis, the mother of Anna Mary Long.
Conclusion: The negative evidence on the 1860 census raised a red flag to mistaken information, and further research was able to determine that the 1860 census was correct and the previously known information was not.
The next and final part of this series will explore more information collected on the 1850 to 1940 censuses.
Reminder: You can access the U.S. Census records on GenealogyBank.
_________________
(1) 1900 U.S. census, Cecil County, Maryland, population schedule, district 5, p. 19-A, dwelling 384, family 394, Charles Creswell and Rachel O. Simpers; digital image, GenealogyBank (https://genealogybank.com: accessed 11 April 2022); citing FamilySearch collections.
(2) Harry A. Hovermill, Indices to Cecil County, Maryland Marriage Licenses 1865-1885 (Charleston, Md.: Cecil County Genealogical Society, 1982), 96.
(3) 1940 U.S. census, Lassen County, California, population schedule, Honey Lake Township, Enumeration District 18-6b, Sheet no. 21-A, Oscar Boneck household; digital image, FamilySearch.org (http://familysearch.org: accessed 11 April 2020); citing NARA digital publication T627.
(4) 1860 U.S. census, Lancaster County, Pennsylvania, population schedule, West Cocalico Township, p. 912 (stamped), dwelling no. 174, family no. 124, Daniel Garner; digital images, FamilySearch (https://familysearch.org: accessed 4 April 2022), citing NARA microfilm publication M653.
(5) "Find A Grave Index," database, FamilySearch (https://www.familysearch.org/ark:/61903/1:1:Q231-35YX: 10 September 2021), Anna Mary Long Davidson; Burial, New Holland, Lancaster, Pennsylvania, United States of America, Voganville Union Cemetery; citing record ID 160429199, Find-A-Grave, http://www.findagrave.com.
Related Articles: