Introduction: In this article, Katie Rebecca Garner gives tips for using the information found on U.S. Census records from 1850-1940. Katie specializes in U.S. research for family history, enjoys writing and researching, and is developing curricula for teaching children genealogy.
When the United States was formed, the new government found it necessary to count the population every decade, beginning in 1790. Censuses prior to 1850 only named the heads of households and grouped household members by age brackets within each race and gender. For information about the nation's first six censuses, see my prior articles Genealogy Tips: U.S. Census Records, 1790-1840 (Part I) and Genealogy Tips: U.S. Census Records, 1790-1840 (Part II).
Beginning in 1850, every household member was named in censuses, and specific age, race, and gender were asked of each individual. From 1850 onward, additional information was collected about each person, and this information provides genealogically valuable clues to researching your ancestors. Starting today, my next three articles will explore the contents of the 1850 to 1940 censuses and the clues they provide for genealogical research.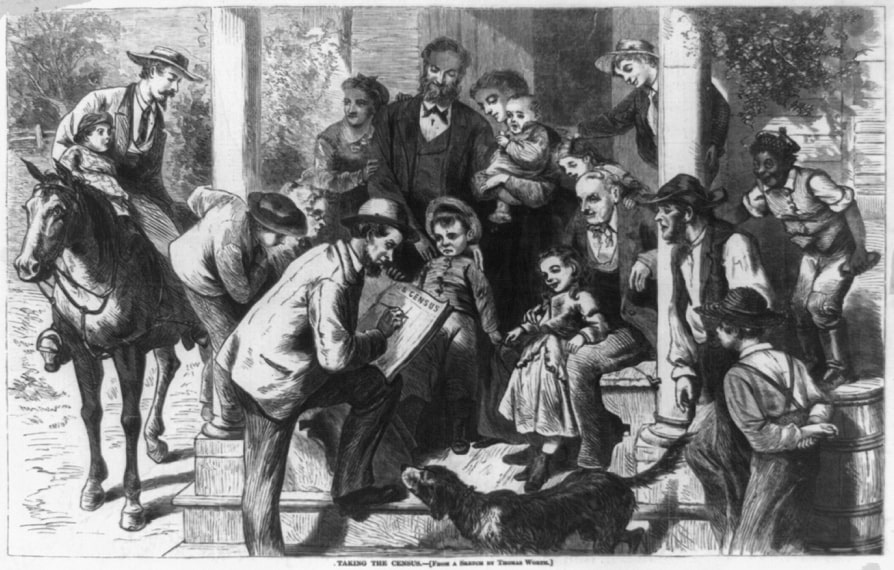 Census Day
It is interesting to note the change of census days throughout time. Early censuses were enumerated at the beginning of August and took months to complete, until President John Quincy Adams requested an earlier census day. Census day for the 1830 to 1900 censuses was June 1. In 1910, the Census Bureau tried to move census day to April because the director was concerned about parts of the urban population being away on summer vacation in June.
The next decade, census day was moved to January 1 because the Department of Agriculture thought this would be best for gathering information for the farm schedules. This starting date was short lived, most likely due to the snowy winters in the north. The next decade, 1930, census day was on April 1 and that has been census day ever since. Additionally, enumeration districts were established as areas a census taker could enumerate within two weeks or 30 days, depending on whether the area was urban or rural. (1)
Reported Age Affected by Changing Census Day
The data most likely to be affected by changing the census day is the ages reported. If the directions for reporting the ages were followed exactly for the same individual for every census they were enumerated on, there would appear to be a discrepancy in their age due to the differing census days. When the birth month is known, this, considered along with the census day, would affect the age that should be reported on the census. Any experienced genealogist knows how off the ages can be on census records, so this is not the only factor.
This is where the 1900 census is handy, because it's the only year the census asked for birth month and birth year. In the 1870 census, those born within the past year had their birth month listed.
Housing and Households
The leftmost column of 1850 and later census returns pertains to housing and households. Dwellings and families were numbered in order of visitation. In urban areas, where multiple families lived in the same household, these numbers differed greatly; not so much in rural areas. Families in the same dwelling unit would likely have been in each other's FAN clubs (Friends, Associates, Neighbors).
The 1880 census took this a step further and started recording addresses. This can be useful and interesting information. With an address, you can look up where your ancestor lived on a map from that time and see what businesses, churches, and cemeteries were nearby. This can give clues to finding such records for the family. Additionally, an address can be searched in Google Maps Street View to see if it still exists. Urban areas were more likely to have addresses recorded than rural areas, especially since some rural areas didn't have addresses and street names. The 1940 census recorded where people lived in 1935, which can be helpful for tracking migration in the 1930s.
Another aspect of housing is real estate value, which was also tracked from 1850 onward. The 1860 census added personal estate value. The 1900 census began tracking if homes were owned or rented, and if owned homes were free or mortgaged. Any of this information gives clues to look for land records.
For example, in the 1860 census, Daniel Garner resided in West Cocalico, Lancaster, Pennsylvania, and his real estate value was $1,000. (2) In 1870, he resided in West Earl, Lancaster, Pennsylvania, and his personal estate value was $200; the real estate column was left blank for him on that census. (3) Based on this, it appears that he sold land when he moved in the 1860s. This can be verified by looking for land records. Additionally, the values found in the censuses can be entered into inflation calculators to see what the modern equivalent is: $1,000 in 1860 is about $34,182 in 2022.
Military Service
The 1910 and 1930 censuses tracked military service. The 1910 census asked if men were survivors of the Union or Confederate armies or navies. The 1930 census asked whether people were veterans, and what war or expedition they served in. If your ancestors were enumerated in either of these censuses, this would be a good place to determine whether military research should be conducted on each ancestor.
Additional Info
Some of the information tracked since 1850 can give some juicy clues about an ancestor's life. The 1870 census recorded if males 21 and older had their right to vote denied due to rebellion or crime. The 1850 to 1900 censuses tracked if people were deaf and dumb, blind, insane, idiotic, pauper, or convict. The 1880 census had a column for sick or temporarily disabled. While these columns are often empty, having any of them checked off can give clues to some interesting records, such as court, hospital, prison, or poorhouse records.
The next two parts of this series will look at other content tracked in the censuses from 1850 to 1940 and explore some case studies of census research.
Reminder: You can access the U.S. Census records on GenealogyBank.
___________________
(1) https://historyhub.history.gov/community/genealogy/census-records/blog/2021/04/01/1950-census-the-official-census-day-april-1-1950
(2) U.S. 1860 census, Lancaster County, Pennsylvania, population schedule, West Cocalico township, p. 17 (penned), dwelling 117, family 124, Daniel Garner; digital image, GenealogyBank (https://genealogybank.com: accessed 11 April 2022), citing FamilySearch collections.
(3) U.S. 1870 census, Lancaster County, Pennsylvania, population schedule, West Earl township, p. 31 (penned), dwelling 226, family 241, Daniel Garner; digital image, GenealogyBank (https://genealogybank.com: accessed 11 April 2022), citing FamilySearch collections.
Related Articles: