I have this theory that pretty much all early, northern New Englanders are related.
It sure seems that way.
Today I decided to test that idea.
I did a search in GenealogyBank's Historical Newspaper Archives for anyone "born in Lewiston" (Maine).
Since Lewiston is a small town and many of my ancestors and relatives were from there, I wanted to see if I was actually related to any random person I found who was from there.
OK. Here is Wallace Cyr's obituary – he was born and died in Lewiston, Maine – in 1914 and 1959 respectively.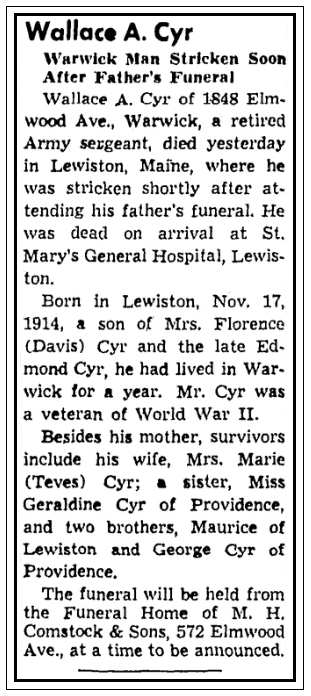 Cyr – I don't recognize that surname from my family tree.
The obituary informed me that his parents were Edmond and Florence (Davis) Cyr.
Plugging them into my family tree on FamilySearch.org, I quickly found that his mother –  Florence (Davis) Cyr – was already in FamilySearch.
Knowing that, I could quickly determine that Wallace Cyr and I are 9th cousins – we both descend from Roger Eastman (1610-1694) and Sarah Smith (1622-1698), who raised their family in Salisbury, Massachusetts.
Well – we might not have been at the table together for Sunday dinner – we might not even have made it to the Christmas card list – but, now that we know that we are actually cousins – it is different.
We are family.
Amazing.
(Visited 301 times, 1 visits today)