Introduction: In this article, Gena Philibert-Ortega shows how tax records – from government archives and the pages of old newspapers – can fill in some missing pieces in your family history research. Gena is a genealogist and author of the book "From the Family Kitchen."
Taxes, they are part of our everyday life. We pay sales tax on our retail purchases, payroll taxes are deducted through our employers, and many of us feel the pain of filing our yearly income taxes. Taxes are a familiar obligation in our lives, but don't forget that our ancestors were also familiar with paying taxes.
Have you researched tax records? If not, here are a few things to know about these genealogically important records.
What Do Tax Records Tell Us?
Tax records, like census records, place our ancestor in a specific location and time. They may provide other information as well, but at the very least they help us fill in our ancestor's timeline. Depending on the tax and the year, they may include other details such as:*
residence of taxpayer
occupation of taxpayer
real estate description
personal property description
number of males over age 21
number of school children
farm animals
Unlike census records, tax records won't provide us a detailed account of each family member other than the name of the person being taxed. But they do, like city directories, fill in missing information for the years between census counts. While we would expect men to be the majority of those named in a tax list, if a woman is the head of her household or is being taxed for property that she owns jointly with her husband, you should look for her in the tax rolls.
In my own research, a tax record for Bell County, Texas, turned out to the last time one of my female ancestors was mentioned before her death. An especially important record for my research since she died before Texas mandated statewide recording of deaths.
Your family history research may incorporate searching on various existing tax records, including property taxes and poll taxes. To learn more about possible tax records for the place you are researching, search the FamilySearch Catalog for the state or county you are researching and look for the Subject category "Taxation." You can also learn more by searching the FamilySearch Family History Research Wiki for the state you are interested in and then the topic "Taxation."
Information about Taxes in the Newspaper
Government tax records aren't the only place to find mentions of your ancestor's tax debt. Historical newspapers can also hold clues to this information.
Newspaper articles detail announcements about new taxes and taxes that are due or overdue. These articles might provide you with some social history clues about what your ancestor had to pay even if the article doesn't list individual taxpayer names.
There are tax articles that provide lists of names of those who are either being assessed or who owe back taxes. This 1872 newspaper article includes a list of people who owe taxes, plus comments and amounts owed. In some cases, the taxes owed are for 3rd parties (such as in the case of a family member's estate). The men and women listed owed taxes having to do with their lots and improvements like curbing, paving, and even water. For those who did not settle their tax debt, their real estate holding was subject to sale.
This multi-page article could easily be overlooked in our research – but remember, information about when our ancestors didn't pay taxes can be as genealogically beneficial as when they did pay. Other articles that should be searched include mortgages and property records.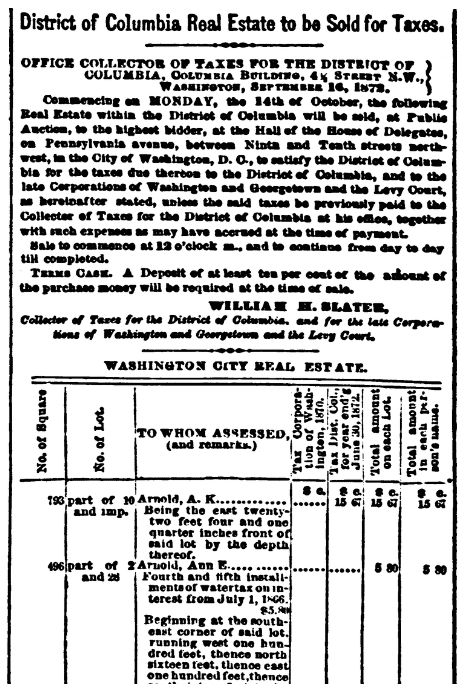 To Learn More
To learn more about tax records, consult the book The Genealogist's Guide to Researching Tax Records by Carol Cook Darrow and Susan Winchester, available in the GenealogyBank store.
——————-
* "United States Taxation," FamilySearch Family History Research Wiki (https://www.familysearch.org/wiki/en/United_States_Taxation: accessed 15 April 2018).
Related Articles: