GenealogyBank.com has over 7,000 funeral sermons – full text digital copies and excerpts.
These are a core source for genealogists searching for the details of their ancestor's lives in Colonial America and the early Federalist period.

(

Photo, Ian Britton. FreeFoto.com

).
It was common in Colonial America to have a funeral sermon printed and distributed "at the request of the family" to the mourners.
These slim pamphlets can range from six to thirty pages. While it was common for these to be printed – they were printed in small press runs, so it can be difficult for genealogists to locate copies. In many cases only one copy of the sermon – with its critical biographical information survives.
In my experience the earliest published funeral sermons that survive were for ministers and their wives. This practice expanded to include older members of the community and by the late 1700s to early 1800s it was common to see printed funeral sermons for children, men, women of all backgrounds and occupations.
Clergy routinely printed and circulated their sermons on all topics as a way to encourage the faithful to live better lives. I always assumed that the reason their funeral sermons survived while the others that may have been printed didn't is that ministers/their wives were more widely known then regular townspeople.
Their funeral and other sermons were likely circulated to clergy in other cities; seminaries; townspeople in prior towns where they had been stationed etc. The wider the circulation – the more likely a copy would be preserved.
These sermons would not just be homilies to promote religious values but "news" – that people would want to read to be informed and reminded of the lives well lived by the ministers that had served them over the years. This would give more opportunities for people to have kept them – making it more likely for these fragile pamphlets to have survived.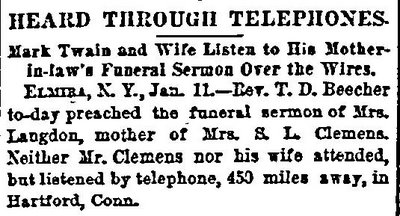 Newspaper accounts of funerals vary – some give the complete sermon and some stories give brief details of the service – like this account of Mark Twain and his wife "listening" to the funeral service of her mother – Olivia (Lewis) Langdon, by telephone. (Inter-Ocean, 12 Jan 1891).
Another newspaper account gave the details of the "Most Impressive Funeral Service Ever Held" – the funeral of the Rev. Thomas Allen Horne. It was also the most unusual since he realized that he would soon pass away and had recorded his sermon to be played at the funeral.
His powerful remarks, in his own voice, made "grown men weep" and "women faint". The family had a recording of the Rev. Horne and his late wife singing the old hymn "There is a Better Land".
Imagine the impact in 1890 of listening to the funeral sermon of the deceased – recorded in his own voice; the shock in 1890 of hearing the recorded voices of he & his wife singing their funeral hymn – the poignant, personal remarks in his sermon – again recorded in his own voice. No doubt, that would have been the "Most Impressive Funeral Service Ever Held".
GenealogyBank has thousands of funeral sermons – elegies, memorials etc. Many of these are full digital copies and others are the full sermon or excerpts that appeared in the newspapers.
Here are some typical examples of what you will find in GenealogyBank.
Harris, Thaddeus Mason, (1768-1842). A tribute of filial respect, to the memory of his mother, in a discourse, delivered at Dorchester, Feb. 8, 1801, the Lord's day after her decease. Charlestown, MA: Printed by Samuel Etheridge, 1801. 20p.
The biographical and genealogical details of the late Rebekah (Mason) Wait (1738-1801) begin on page 16. We learn that she was born on 28 Dec 1738 – the daughter of Thaddeus Mason "of Cambridge, who survives her, in his 95th year."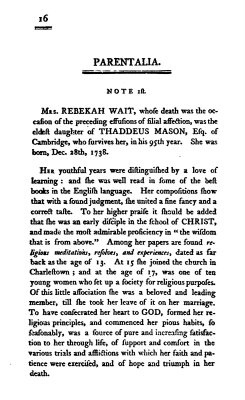 On page 17 we learn that she was married twice. She married her first husband, William Harris of Cambridge, MA on 20 Aug 1767. He died 30 Oct 1778. She married her second husband, Samuel Wait of Malden, MA on 2 Mar 1780. She died on 2 Feb 1801 "leaving behind her a widowed husband and five children (four by her first marriage and one by the second) to mourn their loss."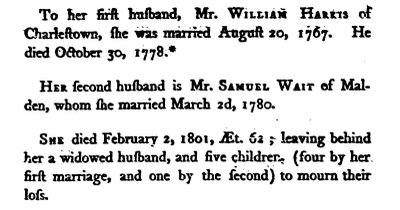 Maxcy, Jonathan, (1768-1820). A funeral sermon, occasioned by the death of Mr. John Sampson Bobo a member of the Junior Class in the South-Carolina College, who was unfortunately drowned in the Congress River, near Columbia. Columbia, SC: Faust, 1819. 16p.

Moore, Martin, (1790-1866). Death of the saints precious in God's sight a sermon delivered in Natick, June 13, 1819, occasioned by the death of Mrs. Hannah Coolidge, wife of Mr. William Coolidge, aetatis 40. Dedham, MA: Mann, 1819. 15p.
.
(Visited 98 times, 1 visits today)