Introduction: In this article – to celebrate January being National Soup Month – Gena Philibert-Ortega searches old newspapers to learn more about the varieties of canned soup Campbell's has made over the years. Gena is a genealogist and author of the book "From the Family Kitchen."
Canned soup is a familiar pantry staple. Besides heating and enjoying it by itself, canned soup can be an ingredient for other recipes, or even "doctored" to make the soup more flavorful, as in the case of tomato soup with shredded cheddar cheese. January is National Soup Month, so let's take a look at some facts about a canned soup familiar to most Americans: Campbell's Soup.
They Didn't Start Out Making Soup
Campbell's was founded in 1869 when fruit merchant Joseph Campbell and icebox manufacturer Abraham Anderson produced tomatoes, jellies, and other canned foods. It wasn't until 1895 that they sold their first can of soup, a ready-to-eat Beefsteak Tomato soup. (1) In 1897 Dr. John T. Dorrance, nephew of the then-president of Campbell's, invented the formula for condensed soup and created five varieties including tomato soup. (2)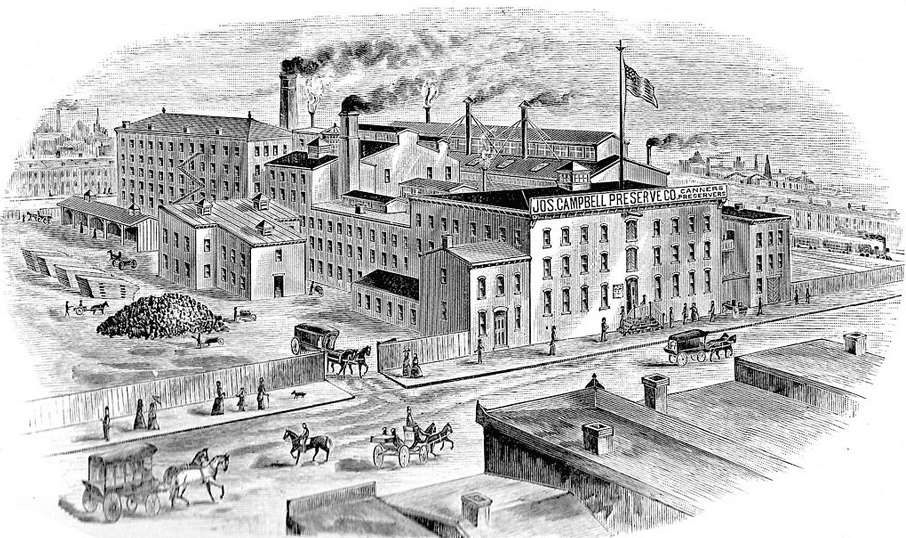 Even after Campbell's became known for soup, they still produced other products including Campbell's Pork and Beans. In addition, they started acquiring other food brands; their first was Franco-American in 1915. Today, Campbell's not only produces soups, broths, and sauces, but through their acquisitions they sell organic foods and snacks. (3)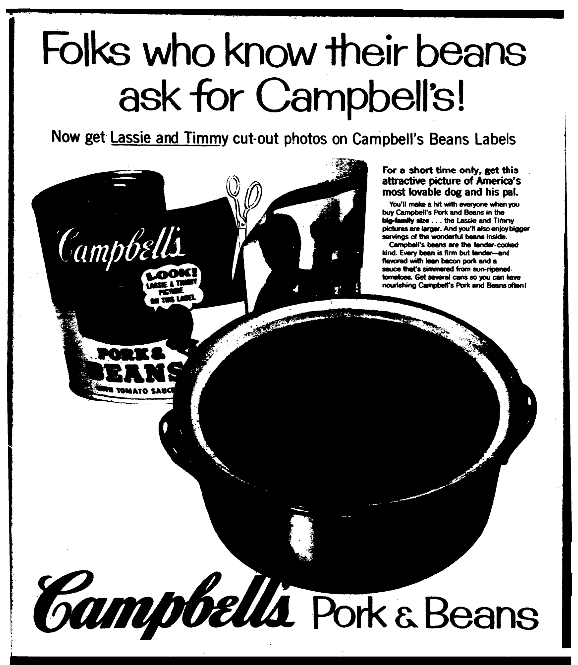 Did Your Ancestors Eat Canned Soup?
It's very likely that your American ancestors ate Campbell's soup or were at least familiar with it. Newspaper advertisements for the soup can be found as early as 1898. More recent generations have used the familiar brand for everything from a meal to combining it with other ingredients to make a casserole (we've talked about Green Bean Casserole in a previous article; see Remembering the Inventor of the Green Bean Casserole: Dorcas Reilly).
Newspapers didn't just feature Campbell's in advertisements. Readers in 1921 could also take a "tour" of the company. This newspaper story provides the reader with a tour of the Campbell's factory that reveals how the company functioned and how the soups were made. My favorite part of the article is some of the suggestions for how to eat or serve soup: "It is an unimaginative woman who looks at her stock of canned soups and sees no possibilities except to 'add water and serve' at dinner time."
The article provides a suggestion for serving Campbell's Mock Turtle Soup: "…add a slice of lemon, a dash of wine, or grape juice and the yolk of a hard-boiled egg, and no one will think of a can in its presence."
The author goes on to say that she also surprisingly enjoys soup for breakfast, claiming that:
"But really a hot cup of clear consomme with a bit of toast and fruit is a mild stimulant – fine for those who fear coffee and who do not want so heavy a beverage as chocolate."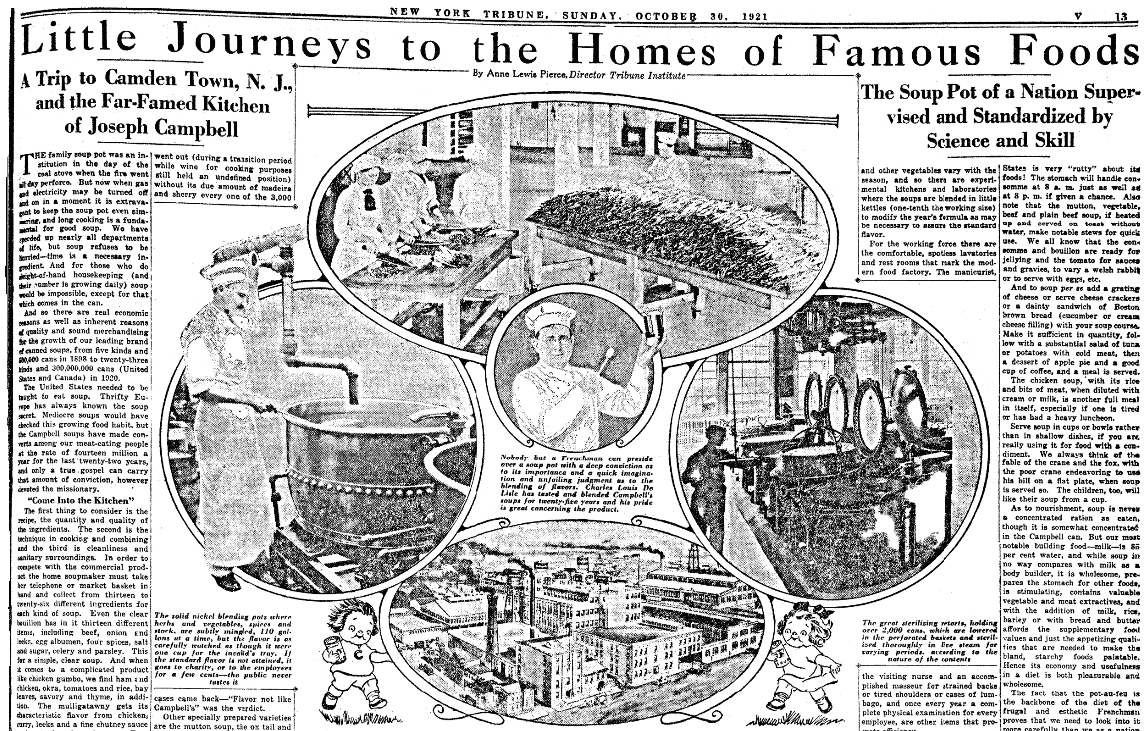 Soups Come and Go
In 1930 Campbell's featured 21 soups in its repertoire. Today, they produce 10 types of soups (Condensed, Chunky, Healthy Request, etc.) with over 250 varieties. (4)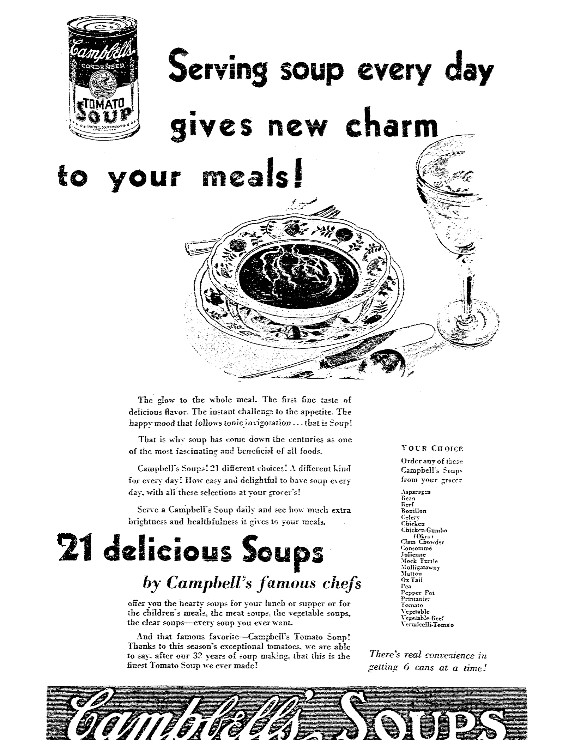 What flavors of soup come to mind when you think of Campbell's? You might respond with the name of one of their most popular soups that have stood the test of time, such as Tomato, maybe Chicken Noodle, or its close cousin, Chicken and Rice. But there are many other flavors to consider, some of which are no longer produced. Consider this 1936 newspaper advertisement from the Evening Star which lists 16 "more famous" soups along with their descriptions. Some of these soups are still popular while others have been discontinued long ago. Those 16 famous soups included: Cream of Mushroom, Beef, Bouillon, Celery, Chicken-Gumbo, Clam Chowder, Consomme, Mock Turtle, Asparagus, Vegetable, Vegetable-Beef, Noodle with Chicken, Ox Tail, Pea, Pepper Pot, and Scotch Broth.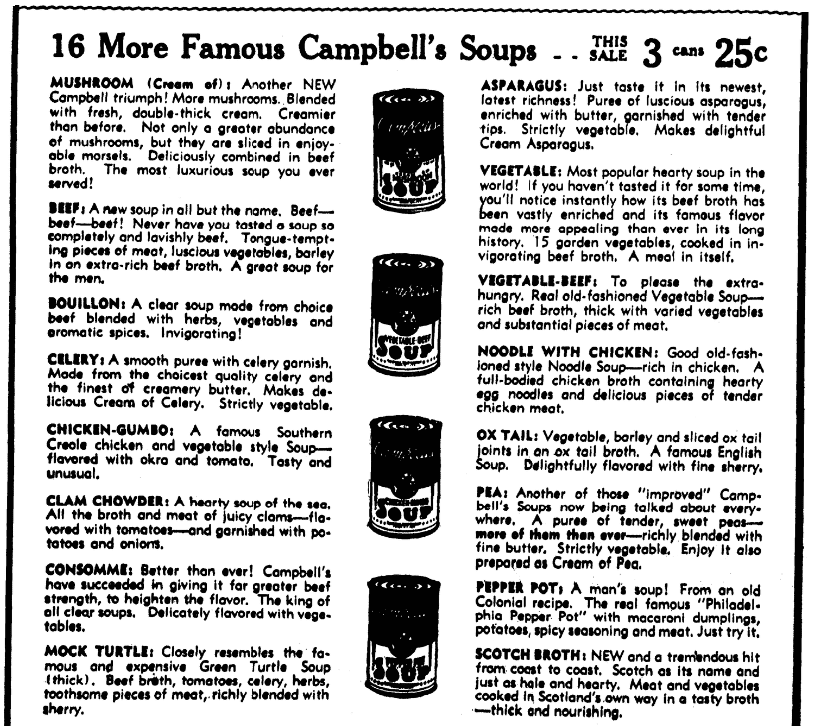 You may be wondering about Mock Turtle Soup. Turtle Soup was very popular with our Victorian ancestors and "mock turtle" was a version of that, but made with meat from calf's heads. Campbell's Mock Turtle Soup "closely resembles the famous and expensive Green Turtle Soup (thick). Beef broth, tomatoes, celery, herbs, toothsome pieces of meat richly blended with sherry."
Flavors and their popularity come and go with each successive generation. Tastes change and sales dictate what is sold. Searching GenealogyBank's Historical Newspaper Archives for Campbell's advertisements reveals some interesting flavor combinations, including this 1959 newspaper advertisement for Campbell's fruit soups. Yes, Campbell's produced fruit soups that were eaten hot or cold. Flavors were: Orange Fruit Soup with Apricots and White Grapes, Prune Fruit Soup with Oranges and Apricots, and Black Cherry Fruit Soup with Burgundy. Suggestions for serving the Prune Fruit Soup include eating it at breakfast over cereal.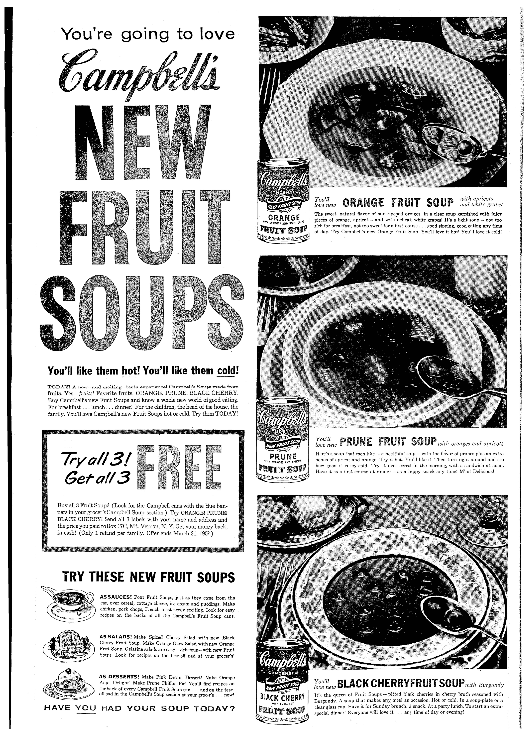 Mmmm…Mmmm…Good!
Canned soup is almost as American as apple pie and has been part of our family's food history in the United States for over 100 years. Growing up in my family, the opening of a can of Chicken Noodle Soup was always one of the first signs that someone in the family was sick and needed the "healing properties" that magically came from Chicken Noodle Soup.
Do you have any special soup memories? Do you have family recipes that use soup for casseroles or other dishes? Let us know in the comments section below.
___________________
(1) Shea, Martha E, and Mike Mathis. Campbell Soup Company. Charleston, South Carolina: Arcadia, 2002.
(2) "Our History," Campbell's (https://www.campbells.com/campbell-history/: accessed 18 December 2018).
(3) Ibid.
(4) "How Many Different Types of Campbell's Soups Are There?" Reference (https://www.reference.com/food/many-different-types-campbell-s-soups-de9d826d63d66c59: accessed 18 December 2018).