Newspapers can be helpful for finding all kinds of interesting and useful information about your relatives, but some of the sweetest discoveries come when you find a newspaper article that relates directly back to your life. Such was the case when I discovered my third-great-grandparents' wedding announcement in an 1833 newspaper article.
I made this sweet discovery by employing the same strategy I used in my last post: searching GenealogyBank's Historical Newspaper Archives for the last name Huse (one of my family names) and the keyword "Sanbornton," which is the Huse family's hometown. (See: Using One Wedding Announcement to Find Multiple Cousins)
I sifted through a few pages of results, some mentioning other Huse cousins, before coming upon the wedding announcement of my third-great-grandparents William Brier Huse (1810-1884) and Fanny Plummer (1812-1888):
"In Sanbornton, by Rev. Mr. Bodwell, Mr. William B. Huse to miss Fanny Plumer, both of S."
It's incredible to think that because of that union on a cold December day in 1833, I'm sitting here today, generations later, typing this article.
William and Fanny went on to have seven children and live long lives together, dying within just a few years of each other. They are buried together in New Hampton, Belknap County, New Hampshire.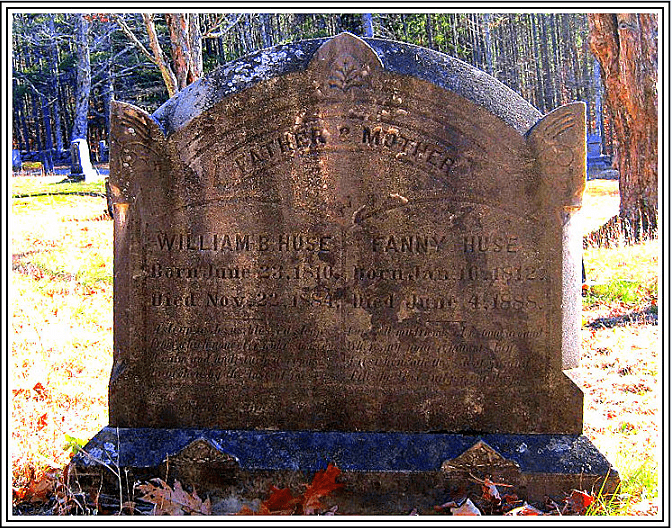 The inscription on their stone reads:
"Farewell my friends who stand around
Where my poor remnants lay
I rest beneath the silent ground
Till the last judgment day"
Genealogy Tip: Notice that abbreviations are commonly used in newspaper articles. The phrase "both of S." refers back to the town, Sanbornton, where they both lived and where the marriage was performed. Become familiar with this common practice and look for it when you read old newspapers.
Related Articles: