During a recent search in GenealogyBank's Historical Newspaper Archives for all Sanborn's living in the surrounding area of my family in New Hampshire, I discovered a likely new relative who was missing from my family tree.
Hoping to find new Sanborn relatives in Gilmanton, Belknap County, New Hampshire, where many of my ancestors lived, I searched the New Hampshire obituary archives with the keywords "Sanborn" in the Last Name field and the place "Gilmanton" in the Include Keywords field. I limited the search to the early period when my family lived there.
Reading through the search results I found this: the marriage announcement of "Mr. Joseph Sanborn, Jr., of Gilford, to Miss Eliza Ann, eldest daughter of Jeduthan Farrar, Esq., of Gilmanton."
According to the Independent Democrat, Joseph and Eliza were married 1 November 1849 in Gilmanton. However, Joseph Sanborn and Eliza Ann Farrar's FamilySearch records included no information on their parents or any details beyond their marriage date and that it took place in New Hampshire.
Fortunately, the newspaper marriage announcement gives some clues.
"Joseph Sanborn, Jr." suggests that his father was also named Joseph Sanborn. Eliza Ann Farrar is listed as "the eldest daughter of Jeduthan Farrar, Esq., of Gilmanton." It is particularly helpful to have such a distinctive name. I immediately searched for Jeduthan on GenealogyBank next.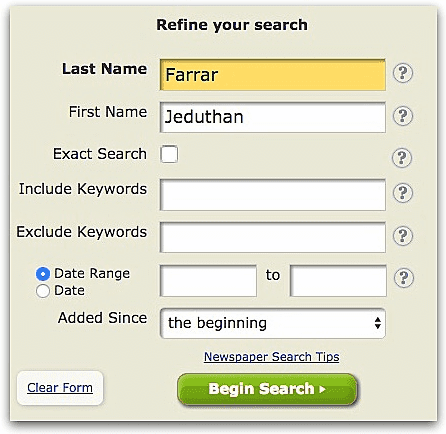 The first result was an obituary for Eliza's father Jeduthan Farrar, who died on 30 July 1863 in Upper Gilmanton.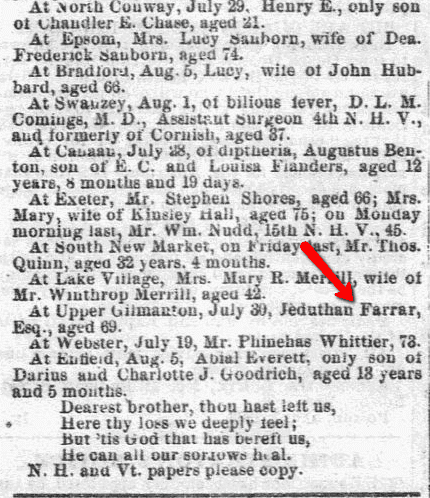 Now that I have some additional information about Eliza and Joseph's family from their marriage announcement and Jeduthan's obituary, I can begin searching for the missing links that will tie them to my family tree. Now to find Joseph Sanborn's parents.
Genealogy Tip: When searching GenealogyBank's Historical Newspaper Archives you want to map out the family by recording the details of all persons of your surname in the target area. Like laying out the pieces of a crossword puzzle, you will be able to see how the individuals fit into your family tree or conclude that they are not related to you.
(Visited 431 times, 1 visits today)