Introduction: In this article, Melissa Davenport Berry continues showing how paternity cases affected life in Colonial America, focusing here on the Hotchkiss family line. Melissa is a genealogist who has a blog, AnceStory Archives, and a Facebook group, New England Family Genealogy and History.
Throughout history, the fever to frolic is a common sport – but for our unwed colonial ancestors, these dalliances were criminal. I have one case from the ancient records of New Haven Colony (before it became incorporated with Connecticut) where two young lovers, Samuel Hotchkiss and Elizabeth Cleverly, were charged "for their filthy dalliance" in 1642.
I found this case cited in a Hampshire Herald article more than a century later, recounting old court cases.
This article reported:
"Samuel Hoskins [Hotchkiss] and Elizabeth, for their filthy dalliance (modern kissing and toying) together, which was confessed by them both, they were both severely whipped."
Despite their punishment, their romance grew – and by September 1642 Samuel and Elizabeth wanted to tie the knot.
Although the magistrates frowned upon their naughty liaison, they gave the couple the go-ahead because, in the eyes of the law, they were no longer virtuous enough to marry anyone else. It can only be assumed a deflowering had occurred.
This same article reported:
"Samuel Hoskins [Hotchkiss] and Elizabeth Cleverly, being desirious to join together in the state of marriage, and not being able to make proof of their parents' consent; but seeing they both affirm they have the consent of their parents; and withall their having entered into contract, sinfully and wickedly defiled each other with filthy dalliance and unclean passages, by which they have both made themselves unfit for any others and for which they have both received publick correction, upon these considerations granted them liberty to marry."
Out of this union of Samuel Hotchkiss and Elizabeth Cleverly came generations of notable patriots, literary artists, civil servants, scientists, and manufacturing inventors.
As the Hotchkiss clan grew through the generations, the family began holding regular reunions starting in 1880. This newspaper article reported on their 18th annual gathering in 1898.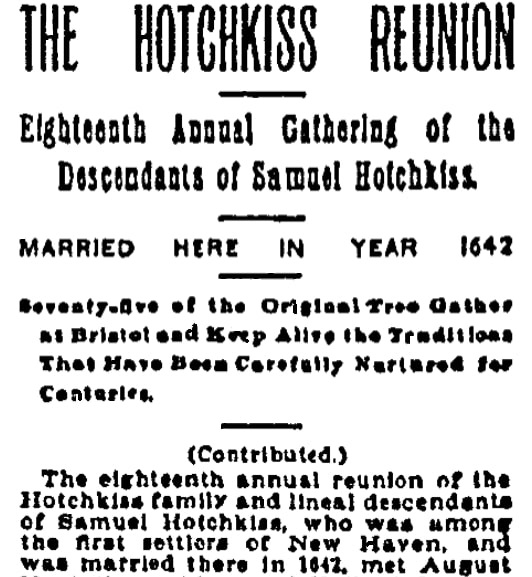 In a speech at this reunion, Samuel Hotchkiss noted the importance of genealogy to the Hotchkiss family:
"His remarks showed that he was conversant with the fact that in matters of record, particularly as relating to families and genealogical matters, the past has been sadly deficient, and earnestly advocated that in their line immediate steps be taken to remedy as far as possible the defects of the past, so that every member of this old and respectable family, so intimately connected with the history of Connecticut, and from that with many parts of the Union, from the earliest time to the present, may be thoroughly conversant with the facts, and able to transmit them to future generations."
In time, members of the family took up Samuel's challenge. One such Hotchkiss genealogist is Miss Nellie Cowdell, daughter of George and Luella Hotchkiss, a member of the Hotchkiss Family Association. In 1984 she published The Hotchkiss Family — First Six Generations. Descendants of Samuel Hotchkiss of New Haven, Connecticut. Volume I. Nellie joined the Lady Fenwick Chapter of the Daughters of the American Revolution, under famed patriot Gideon Hotchkiss, the gr. grandson of Samuel and Elizabeth.
Gideon's sons were also noted patriots of the Revolution. Gideon, son of Stephen Hotchkiss and Elizabeth Perry and grandson of Joshua Hotchkiss and Mary Pardee, had two wives: Anna Brockett and Mabel Stiles.
Gideon was a lieutenant and captain in the French and Indian War, commissioned by Governor Fitch. He was at Ticonderoga, the New Haven Invasion, and the Danbury Raid. He was the founder and the first deacon of the Congregational Churches in Naugatuck and Prospect.
A mortuary notice for Gideon was published in the Columbian Centinel in 1807.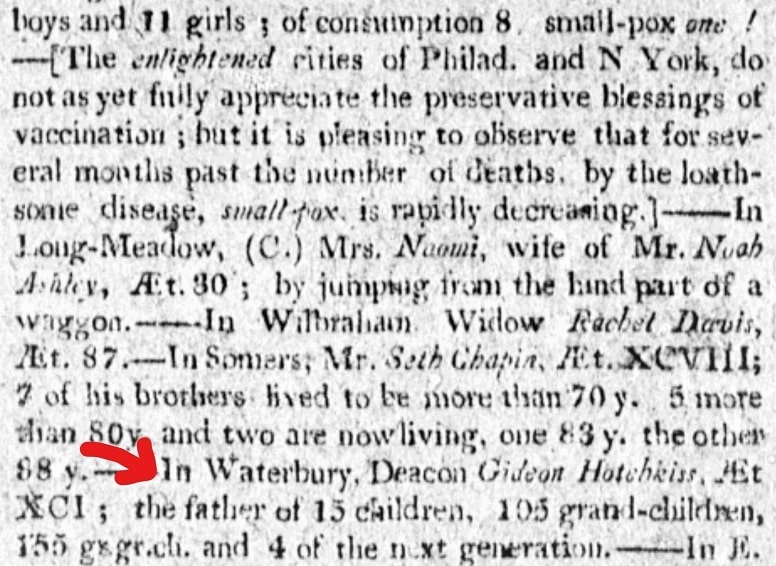 This notice reported:
"In Waterbury, Deacon Gideon Hotchkiss, the father of 15 children, 105 grandchildren, 155 gr. gr. grandchildren and 4 of the next generation."
Gideon and his descendants were highlighted at the 35th Hotchkiss family reunion, covered by the Bridgeport Evening Farmer in 1915.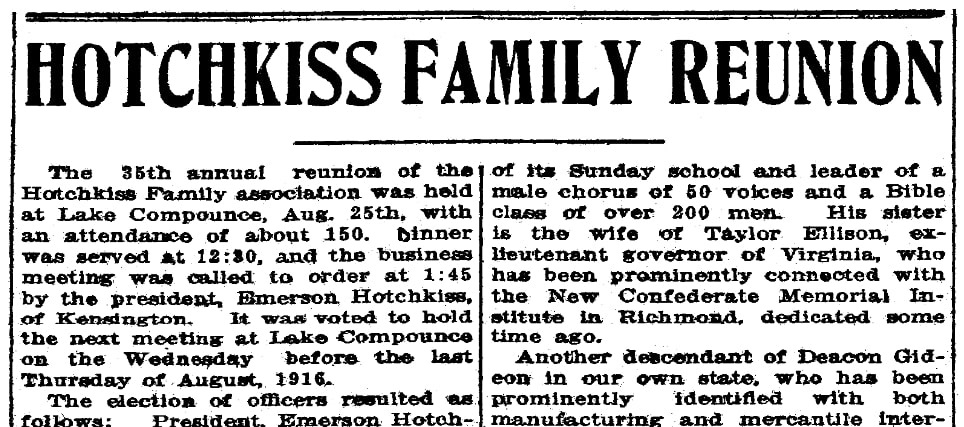 Some of the notable descendants reported in this article included: novelist Chauncey C. Hotchkiss; J. Elizabeth Hotchkiss, New York city editor of the Metaphysical Magazine; George W. Hotchkiss, author and editor of the North Western Lumberman; and William Otis Hotchkiss, mining engineer and state geologist.
The article also noted:
"Benjamin B. Hotchkiss and Andrew his brother, born in Sharon, Conn., became famous as the inventors of the first projectiles for rifled cannon, and of revolving cannon, and rapid-fire guns, and acquired a modest fortune thereby during the Civil War. When the Franco-Prussian War broke out in Europe, the manufactories were removed to Paris, France, and the European nations were supplied all kinds of military weapons and projectiles."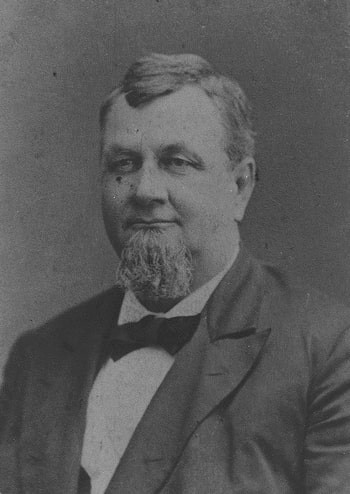 Benjamin's widow, Maria Bissell, established and endowed the Hotchkiss School in Connecticut.
Other famous descendants of that 17th century Hotchkiss love match include actor Edward Norton (11th great-grandson), and various cousins such as Thomas Edison, Harriet Beecher Stowe, Mitt Romney, Richard Gere, and J.P. Morgan.
Note: Just as an online collection of newspapers, such as GenealogyBank's Historical Newspaper Archives, helped tell the stories of the Hotchkiss family, they can tell you stories about your ancestors that can't be found anywhere else. Come look today and see what you can discover!