Introduction: In this article, Mary Harrell-Sesniak provides some good advice for planning your next family reunion, and searches old newspapers to show how reunion notices about past family gatherings can fill in details on your family tree. Mary is a genealogist, author and editor with a strong technology background.

As winter is waning, start thinking about organizing your family's annual reunion—and if you desire a strong attendance, don't delay.
Not only are they a lot of fun, but family reunions are a goldmine to genealogists. Present-day family reunions provide a great opportunity to talk to your extended family, while records and newspaper notices about past family reunions can fill in details on your family tree—and provide plenty of clues for further family searches.
Imagine the fun and lively family history conversations that were had at this large family reunion: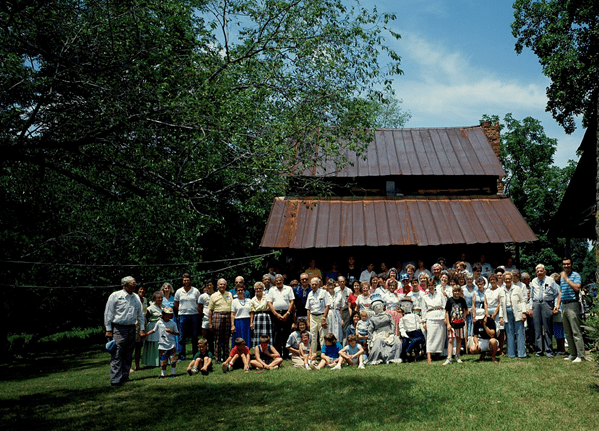 Family Reunion Planning Tips
To make sure your family reunion is a success, plan it carefully, including:
choose historical locations to visit—or, if possible, as the site of your reunion;
try to line up an interesting speaker or two;
have many activities for all age groups, especially the children; and
send out printed or online invitations with as many details as possible, including transportation and lodging advice.
Ask family members to contribute memories, family history records and genealogies. To make the reunion memorable, do it in a grand style.
Family Records of Past Family Reunions
If you've done genealogy research into past family gatherings, present those stories at your upcoming reunion. Whether your family was large or small, or met formally or informally, many members kept records such as letters, diaries, etc., of these family reunions in the past to document what occurred. Try to track down these old records of past family reunions and look for the following information:
Where and when were they held?
Was the scheduling connected with a particular date, such as a wedding anniversary or date of settling to an area?
Who were the organizers, secretaries and presidents of the family association?
Were the speeches transcribed?
What activities were there?
Can you locate the menus or food choices?
Were family charts or family histories created?
Query family members for archived records, and network with genealogy societies, historical societies, libraries and archives (state and national) to see if mementos still exist.
Family Reunion Notices in Historical Newspapers
A helpful—and often overlooked—source of information about past family reunions is the family reunion notice in historical newspapers. Many of these past family reunions were important locally and therefore newsworthy, and were reported in the local newspaper.
Be sure to look for family reunion notices when searching a collection of newspapers, such as GenealogyBank's online Historical Newspaper Archives.
How to Search for Reunion Notices in Newspapers
The first thing you'll want to enter on the newspaper search page, of course, is your family surname. Combine that with each of these related keywords to see which combination gives you the best results:
anniversary
wedding anniversary
annual reunion
clan gathering
descendants
family reunion
grand gathering
marriage celebration
progenitor
To find some interesting family reunion notices to show you, I entered "family reunion" in the keyword field on GenealogyBank's search page, and chose a date range of 1700-1875.
This newspaper search turned up many interesting family reunion notices. Some centered on special occasions, such as a progenitor's birthday. Others celebrated family milestones, such as honoring the first of the family (progenitors) who settled in an area.
An example of the latter type of reunion notice is this one, a family gathering to honor Edward Rawson, who was the secretary of the Massachusetts Bay Colony.
According to the following notice, his clan held their first annual reunion in 1872.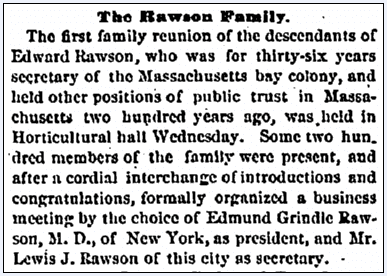 One of the most widely-reported reunion announcements was for a gathering of the descendants of John Eliot (c.1604-1690), described as the "Apostle to the Indians." If you examine the 228 query results from a search in GenealogyBank, you'll soon discover a wealth of history surrounding him.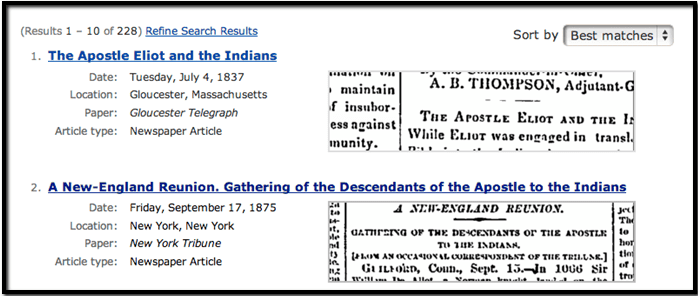 Some newspaper family reunion notices consist of invitations, and others may be brief or detailed recaps of the actual reunion.
And don't neglect to consider other types of reunions and social gatherings, as not all were centered on families. Organizations, military groups and even towns, such as Otisfield, Maine, brought people together for camaraderie and celebration.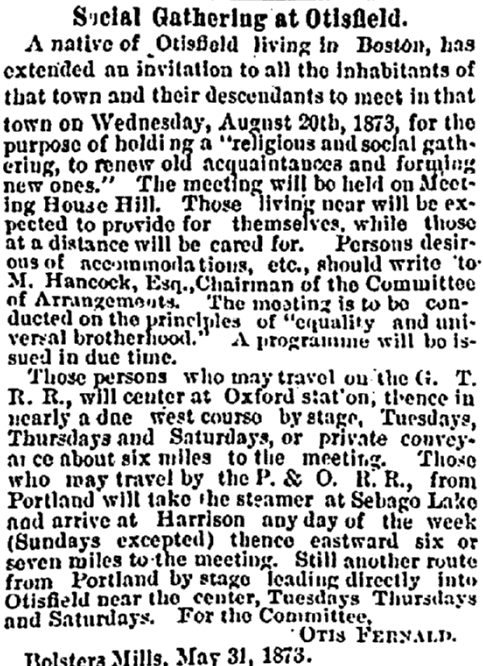 Here's another example of a newspaper reunion notice, this one for a gathering of the McMillan family.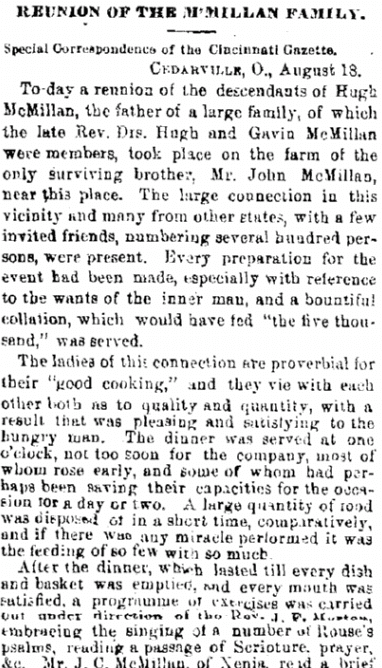 To help you find reunion notices about your family, I've compiled this list of reunion notices I found while doing research for this Blog article. The accompanying notes are a brief summary of information reported in each notice.
Guide to Family Reunion Notices through 1875
(from GenealogyBank's Historical Newspaper Archives)

Compiled by Mary Harrell-Sesniak
March 2014
Ackley, (Rev.) Uriah and wife Sarah (reports names of people married by this minister)
Camden Democrat (Camden, New Jersey), 23 October 1869, page 4
Aldrich family (of New York to Michigan; family members mentioned)
Kalamazoo Gazette (Kalamazoo, Michigan), 17 September 1875, page 3
Allen, Amos D. (60th birthday celebration)
Kalamazoo Gazette (Kalamazoo, Michigan), 28 May 1875, page 3
Ambrose, Mr. (descendants of a Kentucky slave who escaped to Illinois)
Evening Post (New York, New York), 20 September 1865, page 1
Arnim family (from Berlin, Germany)
Indianapolis Sentinel (Indianapolis, Indiana), 25 February 1875, page 7
Babcock family (3rd annual reunion at Bemus Point, 14 September 1875; officers named)
Jamestown Journal (Jamestown, New York), 24 September 1875, page 8
Bancroft family (reunion held in Massachusetts)
New Orleans Times (New Orleans, Louisiana), 3 September 1875, page 6
Bancroft, Joseph (a descendant of Thomas Bancroft, born in England in 1622, who married first Alice Bacon, and second Elizabeth Metcalf, & perhaps a 3rd time; multiple generations and attendees mentioned)
Boston Journal (Boston, Massachusetts), 20 August 1875, page 3
Barton, Candace (of Belchertown; describes a memory of the Battle of Lexington)
Springfield Republican (Springfield, Massachusetts), 12 August 1870, page 8
Bates, Deborah (see Capron)
Benham family (to be held at Angelica, New York; brothers H. L. Benham of Indianapolis & A. M. Benham of San Francisco attending)
Indianapolis Sentinel (Indianapolis, Indiana), 30 August 1875, page 8
Black, Archibald
Cleveland Leader (Cleveland, Ohio), 28 July 1866, page 2
Boyd, Samuel (50-year anniversary celebration of 1825 marriage; mentions Merchant Samuel; children named)
Hartford Daily Courant (Hartford, Connecticut), 23 September 1875, page 2
Connecticut Courant (Hartford, Connecticut), 25 September 1875, page 2
Bradbury, Jacob
American and Commercial Daily Advertiser (Baltimore, Maryland), 20 June 1848, page 2
Broadbent, Abigail (100th birthday celebration; mother of 8 children)
Massachusetts Spy (Worcester, Massachusetts), 13 June 1873, page 4
Brooks family (held at Brooksdale)
Columbian Register (New Haven, Connecticut), 2 October 1875, page 3
Brown, Thomas (hosted by Chauncy Brown of Aubun, New York; mentions attendees)
Auburn Daily Bulletin (Auburn, New York), 16 August 1872, page 4
Burwell, Samuel
Springfield Republican (Springfield, Massachusetts), 24 August 1870, page 8
Cannell family (held at old homestead in Newburgh Twp.; mentions Eli Connell)
Plain Dealer (Cleveland, Ohio), 26 July 1873, page 3
Capron, Deborah Bates (daughter of Gamaliel Bates and Mary Carver of Hanover, Massachusetts; held at Attleboro, Massachusetts; mentions Ezekial and Reform Bates)
Providence Evening Press (Providence, Rhode Island), 19 November 1869, page 3
Clapp family (ancient family; mentions speakers and describes coat of arms)
Springfield Republican (Springfield, Massachusetts), 25 August 1870, page 4
Conant, S. (of Springfield, Illinois; turned 75 years old on 27 February 1876)
Daily Illinois State Register (Springfield, Illinois), 28 February 1876, page 4
Crowell, George (reunion celebrating 10th wedding anniversary)
Jackson Citizen Patriot (Jackson, Michigan), 3 July 1875, page 1
Jackson Citizen (Jackson, Michigan), 6 July 1875, page 4
Cummings, William (of Cape Elizabeth; eldest family members named)
Portland Daily Press (Portland, Maine), 6 September 1875, page 1
Cutter, A.
Cincinnati Commercial Tribune (Cincinnati, Ohio), 12 May 1870, page 8
Darling, Reed S. (reunion at Pawtucket, Rhode Island)
Boston Traveler (Boston, Massachusetts), 8 September 1875, page 1
Jackson Citizen Patriot (Jackson, Michigan), 10 September 1875, page 1
Darnell or Darnall, Charles & Martha (of Maryland & Fleming Co., Kentucky)
Cincinnati Daily Gazette (Cincinnati, Ohio), 6 August 1868, page 4
De Forest, Gideon (of Edmeston, Otsego Co., New York; many names mentioned)
San Francisco Bulletin (San Francisco, California), 29 September 1874, page 3
Denison family (of Mystic, Connecticut)
Norwich Aurora (Norwich, Connecticut), 6 October 1869, page 3
Eastman, (Rev.) T. B. (son of Samuel Eastman and Anna Robinson)
Indianapolis Sentinel (Indianapolis, Indiana), 25 February 1875, page 7
Edwards, Jacob (of Dudley)
Boston Evening Transcript (Boston, Massachusetts), 27 August 1866, page 2
Edwards, Jonathan
Richmond Whig (Richmond, Virginia), 19 July 1870, page 3
Cincinnati Daily Gazette (Cincinnati, Ohio), 23 July 1870, page 1
Lowell Daily Citizen and News (Lowell, Massachusetts), 29 July 1870, page 2
Macon Weekly Telegraph (Macon, Georgia), 2 August 1870, page 1
Columbian Register (New Haven, Connecticut), 13 August 1870, page 2
Boston Daily Advertiser (Boston, Massachusetts), 8 September 1870, page 1
Eliot, John (described as the "Apostle to the Indians"; reunion in Guilford, Connecticut; husband of Hannah Mumford)
Springfield Republican (Springfield, Massachusetts), 27 July 1875, page 6
Cincinnati Daily Gazette (Cincinnati, Ohio), 29 July 1875, page 4
Daily Albany Argus (Albany, New York), 30 July 1875, page 2
Daily Illinois State Journal (Springfield, Illinois), 31 July 1875, page 3
Times-Picayune (New Orleans, Louisiana), 3 August 1875, page 2
San Francisco Bulletin (San Francisco, California), 5 August 1875, page 1
Boston Daily Advertiser (Boston, Massachusetts), 17 August 1875, page 4
Fabricius, Frank
Springfield Republican (Springfield, Massachusetts), 15 July 1875, page 6
Fay, Sylvester and Mary (of Southboro, Massachusetts, Mary being 91 and interested in the Franco-Prussian War)
Massachusetts Spy (Worcester, Massachusetts), 9 September 1870, page 1
Forest (see De Forest)
Fuller, Rufus and Charlotte (of Leicester; Charlotte was probably a Warren)
Massachusetts Spy (Worcester, Massachusetts), 16 August 1872, page 1
Gates (Mrs. & Mrs. Strong Gates of Appleton, Wisconsin, visited Mrs. Wild of Chicago)
Sunday Times (Chicago, Illinois), 14 November 1875, page 8
Gaylord family (reunion hosted by David Gaylor of Wallingford)
Columbian Register (New Haven, Connecticut), 4 September 1875, page 3
Gilbert, J. H. (held on Christmas Day)
Oregonian (Portland, Oregon), 29 December 1875, page 3
Glazier family (to be hosted at West Boylston by Henry Glazier)
National Aegis (Worcester, Massachusetts), 17 June 1871, page 3
Goff, Shubael (of Rehoboth)
Providence Evening Press (Providence, Rhode Island), 30 August 1875, page 2
Griffith family (related to Jeremiah and Mary; stories about settling & log cabins)
Jamestown Journal (Jamestown, New York), 28 August 1874, page 8
Griffith, Jeremiah and Mary (settled in Griffith's Point near Jamestown, New York on 26 March 1806)
Jamestown Journal (Jamestown, New York), 8 August 1873, page 5
Ham, Ebenezer (of Lewiston, Maine)
Evening Post (New York, New York), 1 September 1868, page 1
Springfield Republican (Springfield, Massachusetts), 5 September 1868, page 8
Harrison family (of New Haven Co., Connecticut)
Connecticut Courant (Hartford, Connecticut), 27 September 1873, page 4
Harrison family (1873 notice mentions they were of Brandford Point; 1875 notice reports the 3rd annual meeting and mentions Colonial roots & some attendees)
Daily Constitution (Middletown, Connecticut), 19 September 1873, page 2
Columbian Register (New Haven, Connecticut), 11 September 1875, page 2
Hollister, Nelson (celebration lasted two days)
Hartford Daily Courant (Hartford, Connecticut), 24 November 1864, page 2
Holmes, P. B. (of Greenland, with family from Boston & Portsmouth)
Portsmouth Journal of Literature and Politics (Portsmouth, New Hampshire), 11 September 1875, page 2
Hoodless, William Raithby and Margaret E. Lansing (William born 17 June 1800, Lincolnshire, England)
Daily Inter Ocean (Chicago, Illinois), 25 December 1875, page 3
Howe family (contains Col. Frank E. Howe's speech)
Commercial Advertiser (New York, New York), 4 September 1871, page 1
Howe, Joseph (held at the Revere House in Boston; mentions some officers)
New York Tribune (New York, New York), 31 August 1871, page 1
Hutchison, Ira (a doctor of Cromwell)
Hartford Daily Courant (Hartford, Connecticut), 8 September 1873, page 4
Jones, Thomas (reunion held in Cleveland)
Plain Dealer (Cleveland, Ohio), 17 May 1871, page 3
Knickerbockers (St. Nicholas Society, aka Descendants from Holland)
New York Herald (New York, New York), 29 December 1864, page 8
Little, Barzallai or Barzilla (of Middlefield; a Revolutionary War patriot; descendants known for singing ability)
Springfield Republican (Springfield, Massachusetts), 3 February 1870, page 4
Springfield Republican (Springfield, Massachusetts), 4 February 1870, page 8
Springfield Republican (Springfield, Massachusetts), 21 December 1871, page 8
Springfield Republican (Springfield, Massachusetts), 22 December 1871, page 8
Lowe, G. W. (of Owosso)
Jackson Citizen (Jackson, Michigan), 11 July 1871, page 1
Lyman, Richard
Hartford Daily Courant (Hartford, Connecticut), 12 August 1869, page 1
Connecticut Courant (Hartford, Connecticut), 14 August 1869, page 2
Mathews, James (held 1 September 1875)
Washington Review and Examiner (Washington, Pennsylvania), 15 September 1875, page 3
Maynard, Holland (of Northboro', Massachusetts; died in 1818)
Boston Traveler (Boston, Massachusetts), 5 August 1870, page 4
Springfield Republican (Springfield, Massachusetts), 6 August 1870, page 8
McMillan, Hugh (describes emigration from Ireland to Charleston, South Carolina, and leaving for Ohio, Illinois and Indiana to "escape the contaminating influences of slavery")
Cincinnati Daily Gazette (Cincinnati, Ohio), 19 August 1871, page 1
Merriam, Ebenezer (a printer of West Brookfield)
Massachusetts Spy (Worcester, Massachusetts), 2 June 1858, page 2
Mills, John (of Auburn, New York)
Auburn Daily Bulletin (Auburn, New York), 18 November 1875, page 4
Otisfield, Massachusetts (invitation to all town residents & descendants to renew and make new acquaintances)
Portland Daily Press (Portland, Maine), 3 June 1873, page 2
Massachusetts Spy (Worcester, Massachusetts), 13 June 1873, page 4
Page Family Association (names officers and visitors; 4th reunion in 1875)
Boston Journal (Boston, Massachusetts), 14 July 1875, page 4
Painter, Peter (Christmas Day celebration)
Plain Dealer (Cleveland, Ohio), 31 December 1874, page 1
Pease, Cummings and Thankful (of Enfield, Connecticut; Thankful was probably a Clelland)
Daily Constitution (Middletown, Connecticut), 13 August 1873, page 3
Pepper, (Deacon) Jacob
Springfield Republican (Springfield, Massachusetts), 20 August 1869, page 4
Springfield Republican (Springfield, Massachusetts), 21 August 1869, page 8
Perce, Jeremiah (a grocer; mentions a child abduction)
Sunday Times (Chicago, Illinois), 25 July 1875, page: 1
Perkins, Erastus
Cabinet (Schenectady, New York), 19 March 1850, page 2
Preston, Ira (of Wallingford, Connecticut, to Shelby, Oakland Co., Michigan)
Jackson Citizen (Jackson, Michigan), 11 July 1871, page 1
Rawson, Edward (of Old Newbury; secretary of the Massachusetts Bay Colony; 1st annual reunion held in 1872)
National Aegis (Worcester, Massachusetts), 28 September 1872, page 4
Massachusetts Spy (Worcester, Massachusetts), 11 October 1872, page 2
Providence Evening Press (Providence, Rhode Island), 14 October 1872, page 3
Massachusetts Spy (Worcester, Massachusetts), 26 September 1873, page 3
Salem Register (Salem, Massachusetts), 6 October 1873, page 2
National Aegis (Worcester, Massachusetts), 1 August 1874, page 7
Massachusetts Spy (Worcester, Massachusetts), 14 August 1874, page: 4
Boston Daily Advertiser (Boston, Massachusetts), 17 September 1874, page 1
National Aegis (Worcester, Massachusetts), 19 September 1874, page 1
National Aegis (Worcester, Massachusetts), 14 August 1875, page 4
Reed family (mentions Col. Reed [Horatio?] of the Army of the Khedive in Egypt)
Daily Albany Argus (Albany, New York), 8 September 1875, page 2
Richards, John (family reunion to celebrate his 100th birthday)
Springfield Republican (Springfield, Massachusetts), 24 August 1867, page 8
Rockwell, Jabez and Eunice (of Norwich, Connecticut; held at Providence on Christmas Day)
Norwich Aurora (Norwich, Connecticut), 8 January 1873, page 3
Rodman, John (romantic story)
Daily Constitution (Middletown, Connecticut), 12 November 1875, page 1
Constitution (Middletown, Connecticut), 17 November 1875, page 1
Russell, C. P. (families of five sisters)
Jackson Citizen Patriot (Jackson, Michigan), 27 December 1872, page 4
Sapp, Matilda Boosinger ("An old lady who has smoked fifty years and still lives"; 100th birthday reunion; born 10 March 1775 in Philadelphia; daughter of Conrad and Catherine Boosinger)
Plain Dealer (Cleveland, Ohio), 19 March 1875, page 4
Cincinnati Commercial Tribune (Cincinnati, Ohio), 26 March 1875, page 8
Cleveland Leader (Cleveland, Ohio), 28 April 1875, page 6
Smith family (to be held in New York)
Salem Register (Salem, Massachusetts), 23 August 1875, page 2
Stanley, Herbert (a temperance minister)
Cape Ann Light and Gloucester Telegraph (Gloucester, Massachusetts), 2 August 1873, page 2
Sweezy family (see Swezey; held at Fair Point 8 September 1875; various names mentioned)
Jamestown Journal (Jamestown, New York), 1 October 1875, page 8
Swezey family (see Sweezy; held on 4 September 1874)
Jamestown Journal (Jamestown, New York), 16 October 1874, page 6
Terrell family (held 1 September 1875 at home of Eli B. Terrell of Woodbury)
Columbian Register (New Haven, Connecticut), 2 October 1875, page 2
Tuttle family (first reunion in 230 years)
Connecticut Courant (Hartford, Connecticut), 6 September 1873, page 4
Daily Constitution (Middletown, Connecticut), 2 September 1874, page 2
Hartford Daily Courant (Hartford, Connecticut), 2 September 1874, page 4
Tuttle, John
North American (Philadelphia, Pennsylvania), 20 July 1865, page 1
National Aegis (Worcester, Massachusetts), 22 July 1865, page 2
Portsmouth Journal of Literature and Politics (Portsmouth, New Hampshire), 29 July 1865, page 1
Tuttle, William (from England to Boston in 1635 in the ship Planta)
Hartford Daily Courant (Hartford, Connecticut), 28 July 1873, page 4
Daily Constitution (Middletown, Connecticut), 30 July 1873, page 2
Cincinnati Daily Gazette (Cincinnati, Ohio), 2 August 1873, page 3
Constitution (Middletown, Connecticut), 6 August 1873, page 2
Warren, Judge (family reunion to celebrate his 70th birthday; contains a conversation about temperance and drinking)
Caledonian (St. Johnsbury, Vermont), 5 June 1874, page 1
Willoughby family
Farmer's Cabinet (Amherst, New Hampshire), 25 August 1875, page 2
Wright, Elliot and Louisa (held at Swanzey; veteran Elliot Wright "sleeps on southern soil having given his life for his country")
New Hampshire Sentinel (Keene, New Hampshire), 16 September 1875, page 2