Many of us have holiday traditions that have persisted for years – and have even been passed down through the generations.
Dr. Charles Crouch and his family of Petersburg, Virginia, had a long-running family tradition: they sent the Abner T. Holt family of Macon, Georgia, a fruit cake every Christmas – for 57 years!
It was a tradition that began during the Civil War when Abner T. Holt fought at the Battle of Gettysburg while serving in Company C of the 2nd Battalion of the Georgia Infantry.
According to the National Park Service Soldiers & Sailors Database:
"2nd Independent Infantry Battalion was assembled at Norfolk, Virginia, in April, 1861. The unit contained four companies; two from Macon, one from Columbus, and one from Griffin. It served in North Carolina, then returned to Virginia during the Seven Days' Battles and fought at Malvern Cliff under General J.G. Walker. Transferred to A.R. Wright's Brigade, the battalion was active in the campaigns of the Army of Northern Virginia from Fredericksburg to Appomattox. It reported 2 killed and 26 wounded at Chancellorsville and lost more than forty-five percent of the 173 engaged at Gettysburg. The unit surrendered 8 officers and 74 men in April, 1865. Its commanders were Majors Thomas Hardeman, Jr., C.J. Moffett, and George W. Ross."
This holiday tradition between the Crouch and Holt families captured the public imagination. One year when the fruit cake went missing it was a breaking story in the local newspaper.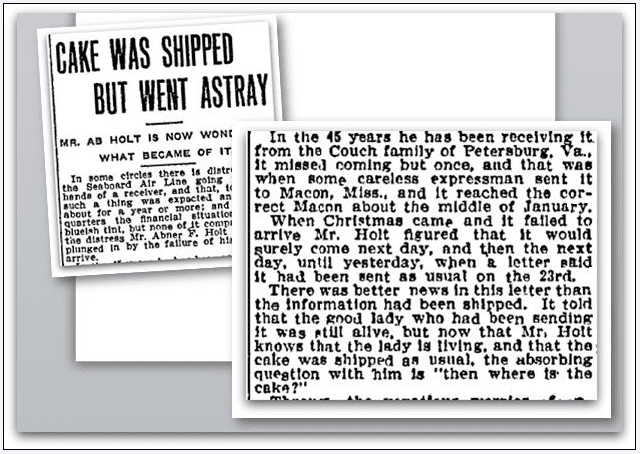 We use GenealogyBank's Historical Newspaper Archives to find our ancestor's obituaries, birth notices and wedding announcements. We can also use it to find their traditions and stories too!
Related Holiday Articles:
(Visited 27 times, 1 visits today)