Introduction: Gena Philibert-Ortega is a genealogist and author of the book "From the Family Kitchen." In this guest blog post, Gena shows how GenealogyBank can help you find holiday recipe ideas in two helpful ways: on our "Old Fashioned Family Recipes" Pinterest board, and in our Historical Newspaper Archives.
What are you cooking up for your family and friends this holiday season? A big traditional family dinner? A casual get-together with friends featuring lots of appetizers? Maybe you love to bake and the holiday season gives you an excuse to make all kinds of festive tasty treats.
Looking for new recipe ideas for the holidays? What about using GenealogyBank to help you find new-to-you holiday recipes? Just as the women in our families once relied on newspaper recipe pages for new ideas for dinner and special occasions, GenealogyBank can help you find holiday recipe ideas in two helpful ways: on its "Old Fashioned Family Recipes" Pinterest board, and in its Historical Newspaper Archives.
GenealogyBank + Pinterest = Tried & Tasty Old Family Recipes
I love Pinterest and I think once you start using this website, you will too. Haven't heard of Pinterest? Pinterest is a social media website that allows you to "pin" images from your computer or the Internet onto virtual "boards." Think of it as a virtual bulletin board where you can share images representing various topics. I have become a great fan of Pinterest and use it to organize recipes and images of old cookbooks, quilts and genealogy resources.
Looking for a new holiday recipe to try? Did you know that GenealogyBank has a group board on Pinterest titled Old Fashioned Family Recipes? Peruse these family recipe pins for new ideas or to locate old-fashioned favorites.
One of my favorite desserts, carrot cake, can be found here. I will admit this pin for Zesty Orange French Toast is also calling my name.
Want to share your old family holiday recipes? You're invited to add to the GenealogyBank Pinterest board. (Please note that you must be a member of Pinterest to pin images, but joining just takes a moment.) Help us curate a collection of the best family recipes to share with other researchers.
It's easy to do:
Go to our Old Fashioned Family Recipes board
Click on the "Follow" button (located toward the top center of the page)
We'll invite you to join as a contributor to our Old Fashioned Family Recipes board
Pinterest will send you a group board invitation to join our Pinterest board group
Click the red "Accept" button to accept our invite
Start pinning images of your family recipe cards or photos of the food itself to our board
In addition, after you share the recipe on our board, start your own Pinterest recipe board for your family food history that can be shared with your extended family this holiday season.
How to Find Holiday Recipes in Newspapers
Have you searched newspapers for holiday recipe ideas? Do you have a favorite family dish but you're not sure how it's made? A tradition in my Sister-in-Law's family is to make various kinds of cookies to give away during the holidays. Each Christmas cookie platter has six or more types of cookies. How do you find various recipes to add to your Christmas cookie repertoire? I found lots of cookie recipes when I searched GenealogyBank's Historical Newspaper Archives, including this one for Mexican Christmas Cookies which are my favorite.
Want more Christmas cookie recipe ideas? Here are some Christmas cookie recipes from California that may help you out in your holiday culinary pursuits. These two Christmas cookie recipes are said to be the favorites of the members of the San Diego Las Amiguitas Auxiliary to the Children's Home Society.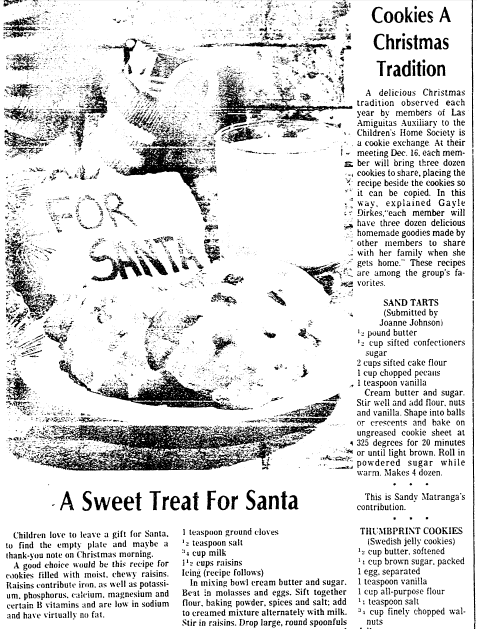 Maybe you're not into Christmas cookies. Perhaps some other holiday dessert is what your sweet tooth craves. Now I know it may seem old fashioned, but I really do like holiday fruit cake. Maybe it's because we never ate it when I was growing up. As an adult living in my first home, one of my neighbors invited me over and served me tea and fruit cake. From the first bite of a dessert that some people dread, I was hooked. Whether you enjoy fruit cake as well—or you want to give it as a joke gift for the holiday office party—you can find a recipe for it in the newspaper.
This "Southern style" fruit cake recipe offers a different take on this traditional holiday dessert. After eating a slice or two, you may realize you really do like fruit cake after all.
The holidays are a great time to record your family's food history and to find old recipes that have long since disappeared from your own family's holiday traditions. Search newspapers to find holiday recipes, and create food memories for the future.
Do you have a favorite family holiday recipe? We would love for you to share it with us so that we can give it a try sometime. Please share your family favorite in the comments section below, and add the recipe to our Old Fashioned Family Recipes  board on Pinterest.
Happy Holidays!