Introduction: In this article, Gena Philibert-Ortega searches old newspapers to learn more about Ellis Island and its history as an immigrant inspection station for 62 years. Gena is a genealogist and author of the book "From the Family Kitchen."
Did your ancestor enter the United States of America through Ellis Island? Located on a small island in New York Harbor, the Ellis Island immigration station was in operation for 62 years and processed over 12 million immigrants. It's believed that 40% of United States citizens can trace their family tree to someone who arrived at Ellis Island. But how much do you really know about this busy port? Discover some of the top Ellis Island Immigration Facts below.
Also Known As: Oyster Island?
Two years after the 1890 closing of Castle Garden — America's first official immigration center – Ellis Island opened its doors.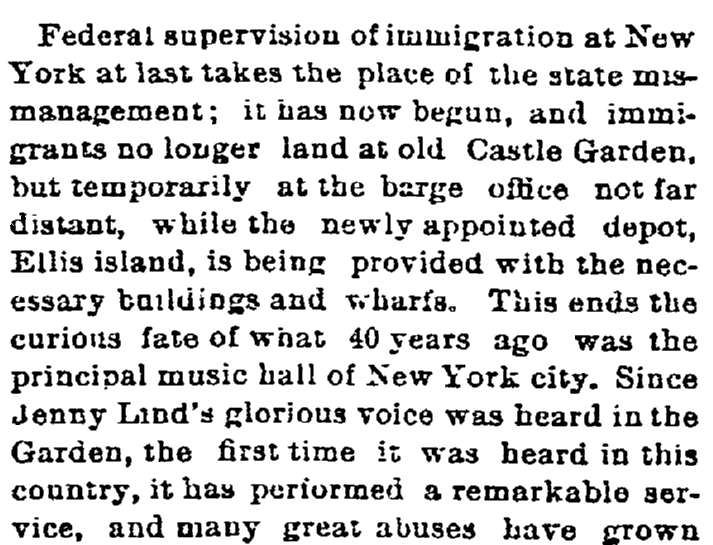 Throughout its history, Ellis Island has been known by many different names. According to the National Park Service, the Algonquian-speaking Native American tribes were the first to visit the island because of its numerous oyster beds. "As a result the Dutch referred to the island as one of the three 'Oyster Islands' in New York harbor."*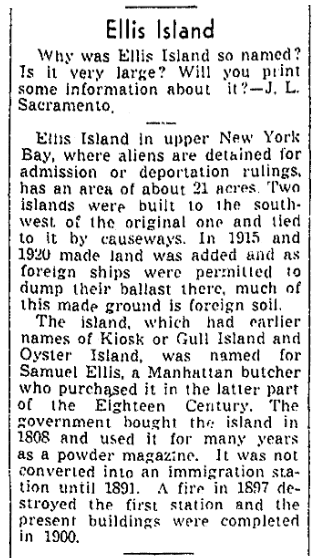 Welcome to America
On the day of Ellis Island's opening, 1 January 1892, three ships with a total of 700 immigrants arrived. Over the course of that first year 450,000 immigrants were processed.**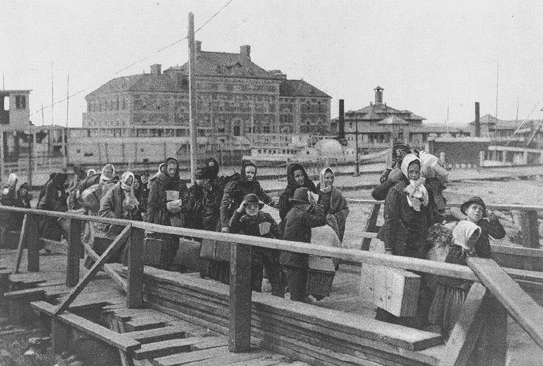 The pre-World War I years were some of the busiest in Ellis Island's history. The year 1907 broke the record for arrivals, with over 1 million immigrants, and included the day when the most immigrants were processed: April 17 (11, 747).***  After World War I, restrictive immigration laws decreased the number of those arriving at the port.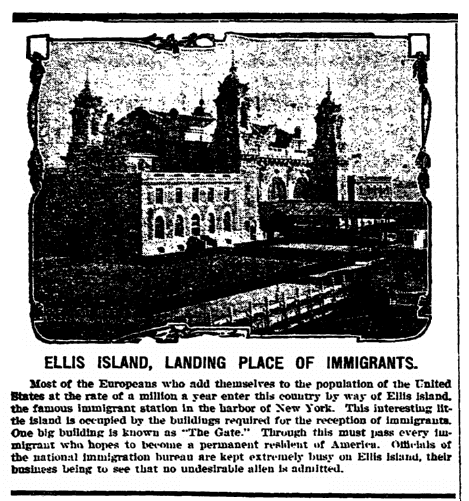 What Was It Like for Immigrants Arriving at Ellis Island?
While the view of land may have been a welcome site for newly-arriving immigrants, the experience of leaving the ship and walking into the unknown was probably a bit scary as well.
According to an article from the American Medical Association Journal of Ethics, "Medical Examination of Immigrants at Ellis Island," a Public Health Service Officer examined the new arrivals for signs they would not make a good citizen. They inspected immigrants for "loathsome and contagious diseases" as well as "diseases or conditions that would render an immigrant likely to become a public charge."
First- and second-class passengers were inspected on board the arriving ship, but third-class and steerage were transferred by barge to Ellis Island for their inspection. Immigrants stood in long lines and filed pass the Public Health Officers who started with visual inspections, believing that most diseases would be apparent by just looking at the person. Those who were suspected of a disease or serious health condition received a chalk mark on their clothing and were sent for further medical examination. About 15-20% of arrivals received a chalk mark, requiring further examination. Around 80,000 immigrants who arrived between the years 1891-1930 were barred from entering the United States of America.****
Ellis Island Wasn't Always Just an Immigrant Station
While we think of Ellis Island as the place where immigrants started their new life in America, it wasn't always just an immigrant inspection center. It's probably no surprise that Ellis Island was used for other purposes during its lifetime. During World War II, the facility was repurposed as a detention center for "enemy aliens" and German American, Italian American, and Japanese American individuals and families were held on the island.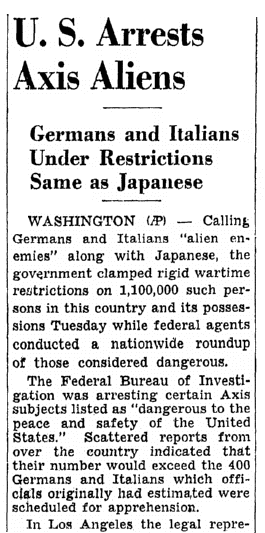 Ellis Island also served as a hospital for military personnel. The Daughters of the American Revolution's history includes service provided at Ellis Island, such as distributing citizenship manuals to the newly arrived. During World War II, they continued their service by assisting recovering servicemen hospitalized there.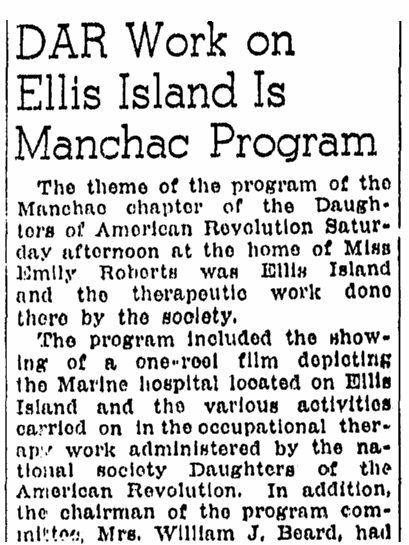 The End of an Era
Ellis Island closed on 15 November 1954. As newspapers marked the occasion, one article summed up the history of this American gateway the best. The Omaha World-Herald said of those who arrived at the port:
…Irish fleeing the potato famine, Germans avoiding conscription, Jews seeking refuge from pogroms, Poles seeking political freedom, Scandinavians in search of better land than they had at home, Italians looking for a chance to prosper as they could not in their overcrowded country, and so on. These people, and their descendants, to a considerable extent made America.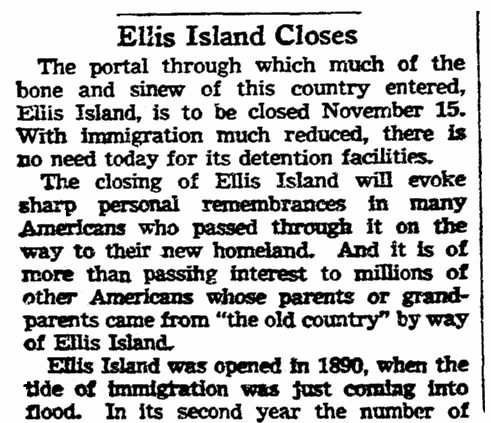 Researching Ellis Island Genealogy Records
Today genealogists can verify family stories of arriving at Ellis Island with a simple Internet search. In 2001 an online database debuted, offering a way to search on the names of more than 22 million immigrants, spanning the years 1892-1924. Volunteers in the United States and Canada spent an estimated 5.6 million hours examining and extracting records of immigrant arrivals to New York.*****
The Ellis Island database is available at The Statue of Liberty – Ellis Island Foundation website.
Did your ancestor pass through Ellis Island? Some famous people, like Rudolph Valentino, Bela Lugosi, Lucky Luciano, and Claudette Colbert all passed through Ellis Island on their way to a new life filled with promise. What was your ancestor's experience? Browse our newspaper archives and passenger lists to trace your Ellis Island genealogy today.
Related Articles:
——————————-
* National Park Service. Ellis Island – Places – Oyster Island. http://www.nps.gov/elis/learn/historyculture/places_oyster_island.htm
** The Statue of Liberty – Ellis Island Foundation. A timeline of Ellis Island. http://www.libertyellisfoundation.org/ellis-timeline
*** The Statue of Liberty – Ellis Island Foundation. A timeline of Ellis Island. http://www.libertyellisfoundation.org/ellis-timeline
**** American Medical Association Journal of Ethics. Medical Examination of Immigrants at Ellis Island by Alison Bateman-House, MA, MPH, and Amy Fairchild, PhD, MPH
http://journalofethics.ama-assn.org/2008/04/mhst1-0804.html
***** Ross, Jeanie. Our Ellis Island Project. The Computerization of Ellis Island Passenger Records. Extraction work by volunteers of The Church of Jesus Christ of Latter-day Saints makes Ellis Island records available. Privately published. In possession of Gena Philibert-Ortega.