As we remember the 75th anniversary of the attack on Pearl Harbor, it was with sadness that we learned of the passing of one of the remaining survivors of that moment etched in our memories.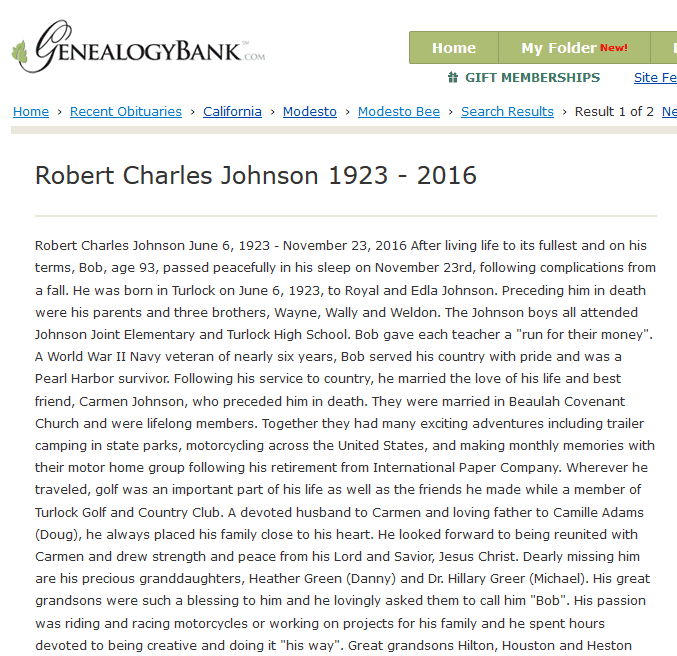 According to his obituary, Robert Charles Johnson "married the love of his life" and they were "lifelong members" of the church where they were married.
We also learn that:
"His passion was riding and racing motorcycles or working on projects for his family.
"Bob looked forward to the camaraderie he had at Latif's for breakfast with his buddies each week.
"In his long life, he never met a stranger and was a helping hand to so many others besides his family."
A grateful nation remembers this man who answered his country's call when he was needed, and was counted on by friends and family throughout his long life.
Here are two front pages about the Japanese attack on Pearl Harbor on 7 December 1941.
Note: An online collection of newspapers, such as GenealogyBank's Historical Newspaper Archives, is not only a great way to learn about the lives of your ancestors – the old newspaper articles also help you understand American history and the times your ancestors lived in, and the news they talked about and read in their local papers. Did you or any of your family experience the Japanese attack on Pearl Harbor? Please share your stories with us in the comments section.
Related Articles: