In my last article, I discussed the Hanson family of Dover, Strafford County, New Hampshire, and my research confirming that they belonged to the Quaker faith (see Finding My Quaker Ancestors in Dover, New Hampshire.)
Digging deeper on this branch of my family tree, I discovered that not only were they prominent members of the Society of Friends, they also were an integral part of Dover's industrial history.
Zaccheaus Hanson (1742-1829), the oldest son of Solomon Hanson (1719-1790), was born in 1742 in Dover. He married Sarah Sawyer (1744-1829) in 1766, and together they had seven children. Interested in learning more about this Quaker cousin, I searched for him in GenealogyBank's Historical Newspaper Archives.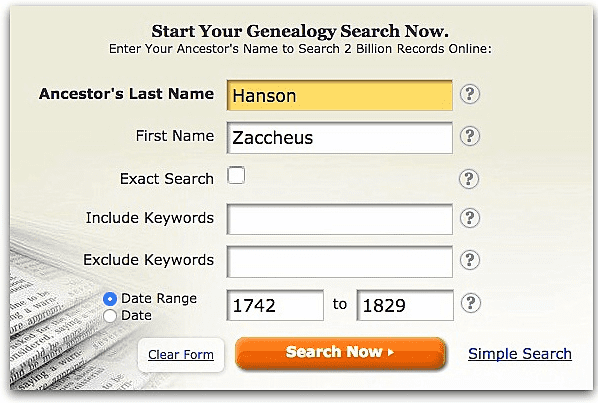 This 1820 newspaper article announced the sale of a factory belonging to Zaccheus that was to be turned into a cotton factory.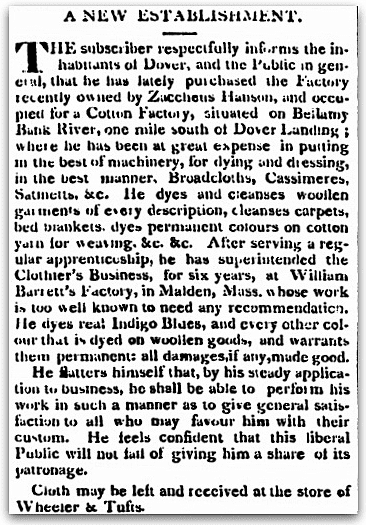 The article reports:
"The subscriber respectfully informs the inhabitants of Dover, and the Public in general, that he has lately purchased the Factory recently owned by Zaccheus Hanson, and occupied for a Cotton Factory, situated on Bellamy Bank River, one mile south of Dover Landing…"
Nine years later, much of the cotton factory's machinery was sold at auction, suggesting that perhaps the factory was changing hands again.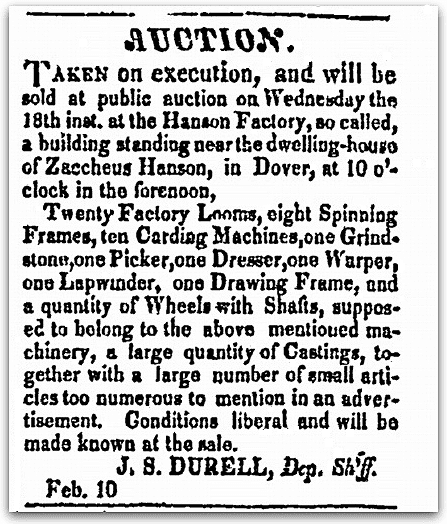 Interestingly, the building was still being referred to as the "Hanson Factory," even though by this time, the Hanson's no longer owned it.
Next, I did an Internet search for factories and mills on the Bellamy Bank River, and discovered that the Hanson Factory was one of many that existed on that river over the years:
"The many falls of the Bellamy River were seen as great resources of water power to run mill machinery. As early as 1650, sawmills and gristmills existed here, and over the next 3 centuries dozens of small industries thrived in these waters. The types of factories included an iron foundry, flannel, cotton, and woolen mills, cloth dressing and carding mills, yarn manufacturing, nail and knife factories, a machinery shop, a brewery, a hosiery factory and a sewing machine manufacturer, a bone grinding mill, a shuttle and axe handle factory, color shops and bleacheries, a railroad box car factory, sash, blind, and door manufacturers, clapboard mills, a shingle, cob, and lathe maker, and a cider mill. During their heyday in the 1840's, the yarn and cloth manufacturers would pay women workers 50 cents a week plus board for producing 40-60 skeins, or $1.00 for weaving 30-50 yards of fabric at home in a hand loom."

Source: Mill Dover Public Library, Dover, New Hampshire
Interesting – I wonder how many industries were housed in the Hanson Factory over the years.
Genealogy Tip: Discover the impact your ancestors had on their communities by searching for them in GenealogyBank's Historical Newspaper Archives.
Related Articles:
(Visited 66 times, 1 visits today)