In November 1828 General Andrew Jackson was elected President of the United States. Just weeks later, three days before Christmas, Rachel (Donelson) Jackson – his wife of nearly four decades – suddenly died. She was 61 years old.
In reporting her death, her obituary said:
The intelligence of this awful and unlooked for event has created a shock on our community almost unparalleled.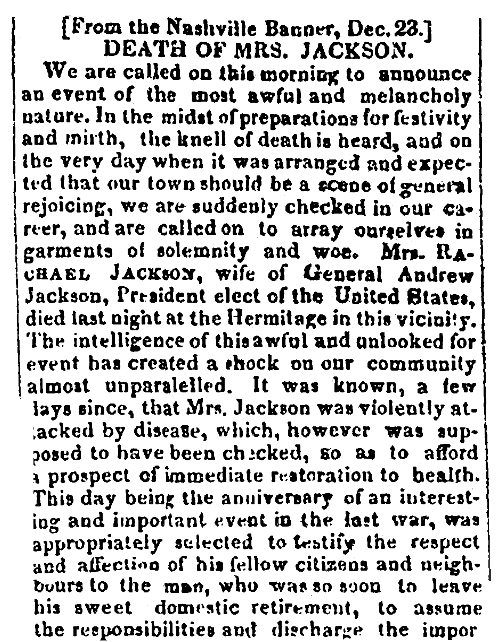 Such a deep personal loss at the pinnacle of their lives together!
She was buried at their home, the Hermitage in Tennessee, on Christmas Eve "wearing the white dress she had purchased for her husband's inaugural ceremonies." (Source: WhiteHouse.gov)
Rachel Jackson never got to serve as First Lady during her husband's presidency. That role was instead filled by her niece, Emily Donelson.
GenealogyBank's online Historical Newspaper Archives (1690-Today) contain the stories of our ancestors and the news of the day. Their grief, their losses – their stories are recorded. Find them, document them – don't let their stories be lost.