Introduction: In this blog article, Gena Philibert-Ortega searches old newspapers to learn more about presidential candidate Hillary Clinton's genealogy. Gena is a genealogist and author of the book "From the Family Kitchen."
Hillary Rodham Clinton's life of public service started with her career as a lawyer and law professor, then on to political roles as First Lady of Arkansas, First Lady of the United States, Senator from New York, Secretary of State, and now presumptive Democratic nominee for President of the United States. While she is not the first woman nominated to be president, she is the first woman nominee of one of our country's two major political parties.
Clinton's blue collar family history and hard work ethic provide a foundation that informs her work even today. A common axiom is that in America anyone can grow up to be President of the United States. Hillary Clinton, with her immigrant origins and middle class background, seems to affirm that axiom – even a girl from Chicago could grow up to be First Lady of the United States and then possibly the first female President of the United States.
Want to know about Hillary Clinton's family history? We can learn more about them – and our own ancestors – in historical newspapers such as GenealogyBank's online Historical Newspaper Archives.
Hillary Rodham Clinton
"I'm with her" is Clinton's campaign tag line –  which made me wonder about who was with her in her family tree.
Hillary Diane Rodham was born 26 October 1947 in Chicago, Illinois, to Hugh and Dorothy Howell Rodham. Their family would later be complete with the addition of two younger brothers, Hugh and Tony. In her autobiography, Living History, Clinton talks about her childhood with a father who was "a taskmaster, but we knew he cared about us" and a mother who was an "affectionate and levelheaded woman."*  It was a home of "…hard work, not entitlement; self-reliance not self-indulgence." Many of the values that her parents raised her with came from their having lived through the Great Depression.
For Clinton's father, the son of an English immigrant raised in Scranton, Pennsylvania, life had been tough but he worked to be tougher.
Hugh Ellsworth Rodham (1911-1993)
Hillary Clinton's father lived a typical blue collar life. The son of a lace factory worker, he went to school, played football at Pennsylvania State University, and eventually graduated from college with a degree in Physical Education. Like his father Hugh S. Rodham, he started his career working at the Scranton Lace Company, until he decided to leave the area and found work selling drapery fabrics. It was while making a sales call to a textile company that he met his future wife, Dorothy Emma Howell. The couple married in 1942 and Hugh joined the Navy, serving during World War II.
When Hugh returned from the war he continued his work in the drapery fabric business, first with a small business called Rodrick Fabrics in Chicago, and then later printing fabric which involved the work of the entire family. To create and print the fabric designs, Hillary, her mother, and brothers would pour the paint onto a silk screen "pulling a squeegee across to print the pattern on the fabric underneath," repeating that process to create the desired fabric pattern.**
Fast forward to 1993 when Hugh Rodham, diehard Republican, became the father-in-law of a Democrat President and father of the First Lady of the United States. He didn't have a lot of time to get used to that idea because his death came just months into his son-in-law's first presidential term, ensuring him an obituary that found its way into newspapers across the country.
His obituary states that "Friends and family remembered Mr. Rodham as a gruff but loving and proud father." One story recounted in the obituary states that when Hillary Clinton would bring home As on her school report card he would reply, "You must go to a pretty easy school."

Hugh Ellsworth Rodham died on 7 April 1993 from a stroke. He was 82 years old.
Hugh Simpson Rodham (1879-1965)
Hillary Rodham Clinton's father, Hugh Ellsworth Rodham, was the son of Hugh Simpson Rodham and Hannah Jones Rodham. Clinton knew her grandfather and spent time with him growing up. After coming to the United States and settling in Pennsylvania with his family, he started working at the Scranton Lace Company (known for its Nottingham lace products) "when he was still a boy and ended up a supervisor five decades later."*** His 50 years at the lace company earned him a gold watch. Clinton wrote of her grandfather: "He was a kind and proper man, who proudly carried his gold watch on a chain and wore a suit with suspenders every day."****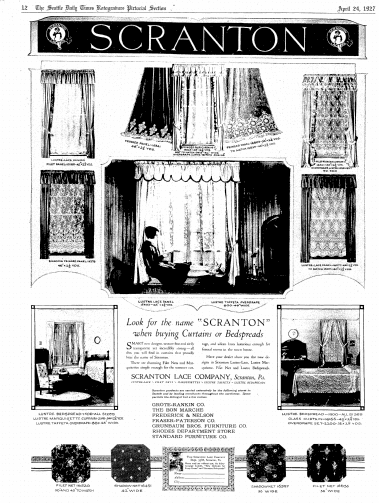 Jonathan Rodham (1843 to 1917)
One set of Hillary Clinton's paternal great-grandparents, Hugh S. Rodham's parents, were Jonathan Rodham and Isabella Simpson Bell Rodham. Hillary Clinton's great-grandfather was 38 years old when he left his native country of England (and, for a short time, his family), for the United States in 1881. He found work in Scranton, Pennsylvania, as a policeman serving his community – but, ironically, his nine-year police career was cut short in 1901 due to politics. Jonathan Rodham was one of a few city employees dismissed due to a "ripper bill" which effectively removed various city officials and transferred political power from the sitting City Assessor.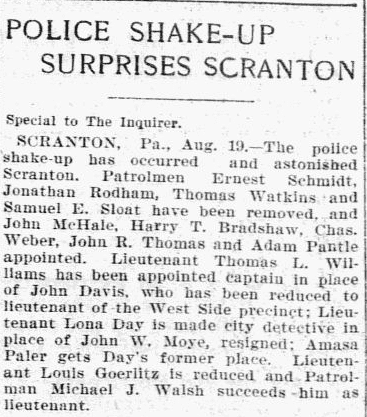 With his public safety career over, at the age of 58 Jonathan reinvented himself and started a new career as a florist.
Living History
Hillary Clinton begins her 2003 autobiography, Living History, by acknowledging: "By the time I crossed the threshold of the White House, I had been shaped by my family upbringing, education, religious faith, and all that I learned before…"***** Looking at her paternal family tree it becomes obvious that what she had learned was influenced by her family's ethic of hard work passed down through the generations.
—————————-
*Clinton, Hillary R. Living History. New York: Simon & Schuster, 2003. pages 11 and 2 respectively.
**Ibid, page 8
***Ibid, page 4.
****Ibid, page 7
*****Ibid, page ix.
Related Article: