Introduction: In this blog article, Gena Philibert-Ortega searches old newspapers to learn more about presidential candidate Donald Trump's genealogy. Gena is a genealogist and author of the book "From the Family Kitchen."
Presidential candidate Donald Trump is lauded as a businessman who knows "the art of the deal" – but he's not the only Trump in his family history who took business risks that paid off. While some attention during this presidential campaign has been given to his father, Frederick Christ Trump, it's a mistake to think that father and son are the only successful business owners in the Trump family tree. Donald Trump's paternal grandfather Frederick Trump was conducting lucrative business deals in the late 19th and early 20th centuries involving real estate, restaurants and hotels. And that grandfather's son – Donald Trump's father – continued the family business success.
Who was Donald Trump's paternal grandfather Frederick Trump and his father Frederick Christ Trump? We can learn more about them – and our own ancestors – in historical newspapers such as GenealogyBank's online Historical Newspaper Archives.
Friedrich (or Frederick) Trump (1869-1918)
Donald Trump's grandfather, Friedrich Trump, immigrated to this country from Bavaria as a teenage boy in 1885. After living in Manhattan for five years and working as a barber, he sought his entrepreneurial fortune out West and left for Seattle, Washington, where he purchased his first restaurant.
The restaurant business was good – but there was the possibility of even more money not too far away in the Yukon. Men were making their fortunes in the gold rush and Trump knew there was money to be made. Gold fever doesn't benefit everyone, especially the miners, but it often is a boon to those selling to the desperate men looking to strike it rich. Trump was just the sort of man who could provide services to those miners in the form of food, housing, and entertainment. In 1898 he prepared to go to the Yukon by securing money and supplies, while at the same time transferring 40 acres of his land near Seattle, Washington, to his sister Louise – as reported in this Washington newspaper article.
By 1900 he was getting ready to open a restaurant with his partner Ernest Levine in the Yukon town of White Horse. A 1900 Alaska newspaper article touting White Horse and its amenities includes the name of Fred Trump as one of the four hotel owners in town:
The town of White Horse is lively and there is activity in building. Streets and blocks in the townsite are being cleared and graded.
It's obvious that the town was experiencing some prosperity because the newspaper reports that:
Lots are selling fast, and some doubled in prices while some have even tripled and quadrupled.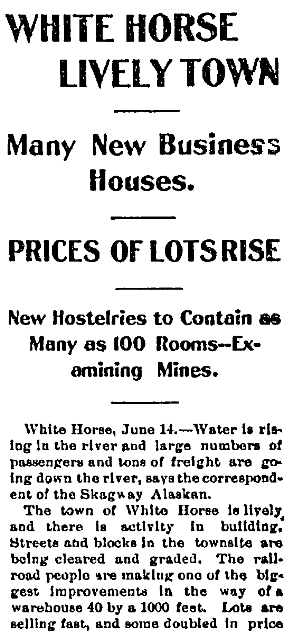 This 1900 Washington newspaper article, highlighting development in Alaska, mentions the Trump restaurant/hotel and says that White Horse "seems likely to become quite a business point."
Frederick Trump made his fortune, sold his interest in the business, and left the Yukon in 1901. He married Elizabeth Christ and moved to New York. He and his wife Elizabeth Christ Trump would go on to have three children before Frederick Trump died in 1918 at the young age of 49 years. One son, his namesake Frederick Trump, would follow in his father's business footsteps and also have a family of his own, with five children – one of which would become presidential candidate Donald Trump.
Frederick (Fred) Trump Jr. (1905-1999)
There's no doubt that Frederick Trump and his son Donald inherited real estate sense from Friedrich and Elizabeth Trump (1880-1966). Tasked with sole care of her young children after the death of her husband, Elizabeth continued her husband's business with her company called Elizabeth Trump & Son – which would evolve to be known today as The Trump Organization.
Fred Trump's work with his mother eventually sprouted his own business selling and building real estate. His real estate dealings can be found in old newspapers, including an article that was reprinted in numerous newspapers across the country in 1954. This article calls Fred, who had real estate holdings in Brooklyn and Queens, a "self-made man… who hopes his tenants will remember him fondly and not as the grasping, crabby type." The article describes him as a builder/landlord who:
…keeps his tenants happy with such extras as summer camps for the children, baby-sitters, bouquets for new mothers and bus service to beaches in summer. In one of his housing developments, there is a school for the younger set.
The article goes on to quote him as saying: "I have a wife and five kids… so I know about family needs."
While not all his tenants remembered Fred Trump fondly, there's no doubt that his real estate prowess was passed down to his son Donald.
You can read more about these three generations of Trumps in the book The Trumps. Three Generations that Built an Empire by Gwenda Blair.
Related Article:
(Visited 5,711 times, 2 visits today)