Weddings are usually a time for joy as the bride, groom, family and friends gather before God to witness them being joined in marriage.
But according to this 1918 newspaper article, it wasn't pure joy at the wedding of "Mary Haley, and Andrew Zasky of Bayonne in the Ukrainian Church Nov. 9."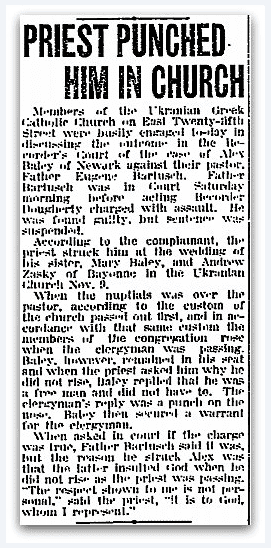 According to Ukrainian tradition, at the end of the ceremony it is customary for everyone assembled to rise as the priest walks down the aisle to exit the wedding. This day it seems that Alex Haley, the brother of the bride, didn't stand as the priest was walking by – so Father Eugene Barlusch punched him.
When asked why he did it, the priest said it was "not personal" – but was because the man didn't show respect "to God, whom I represent."
The article didn't include any response from Alex Haley.
Find the story of your ancestor's wedding in GenealogyBank's Historical Newspaper Archives.
Related Articles:
(Visited 1,330 times, 1 visits today)