I usually search my family history on GenealogyBank – but did you realize that you can also search and link GenealogyBank's recent obituaries directly into your online family tree on FamilySearch.org?
You can simplify this into one search on the FamilySearch website's GenealogyBank Obituaries page.
You will only be able to search the 15 million records that have been added to FamilySearch, just a slice of the 2+ billion historical family records on GenealogyBank itself – but that is more than enough to keep me busy finding and linking all of my cousins' obituaries into my online tree.
I have been doing this with my "known" relatives, finding them and adding their obituaries directly into my family tree on FamilySearch. Wow – that was easy and now they are preserved online for future reference.
Today I decided to take this a step further and explore this approach to look for "likely" relatives that I did not already know about. I'd do this by selecting a "Kemp" obituary – for a person who is probably my relative – attach him to the tree and research back on his line and confirm if he is or is not my relative.
It would accomplish two of my personal goals:
Document all of my Kemp cousins in my online family tree
Document all "Kemp" families – even if they are not my relatives
Kemp is a relatively uncommon surname.
I actually have two Kemp lines – my surname line and a second Kemp line on my mother's side of the family tree that connects to our family in the Colonial New England period.
Bonus: I like to put "all" Kemp lines in my online tree so that I can easily sort them out and see how each line is or is not related.
I picked Albert Kemp (1907-1999) at random from a search for recent "Kemp" entries in the GenealogyBank search results on the FamilySearch website.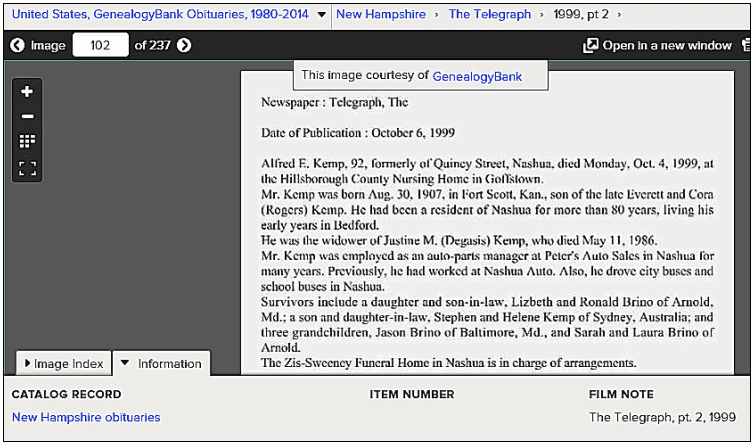 Once I find an obituary, I can click and "attach" the record to his page in the FamilySearch Family Tree – or if he is not already in the tree, I can add him and then attach the GenealogyBank obituary to his record.
Easy to do in just a minute or two.
After I attached Albert's obituary to the online Family Tree, I spent a few minutes researching his family history. I quickly found out that Albert is my cousin. We are both descendants of Samuel Kemp (1637-1697).
Even if he didn't turn out to be my cousin, I would have been just as happy – paying it forward by helping other genealogists with accurate documentation of another "Kemp" family line in the online Family Tree.
By searching, linking and syncing the "Kemp" obituaries on GenealogyBank with my tree on FamilySearch.org, I am easily and permanently documenting my Kemp line and also making it easier for other genealogists to sort through all of the Kemp lines to find their part of the tree.
This is a handy approach to multitask researching and documenting our family tree.